Valero Energy Rallies on Q4 Results; Stock At Best Levels Since 2008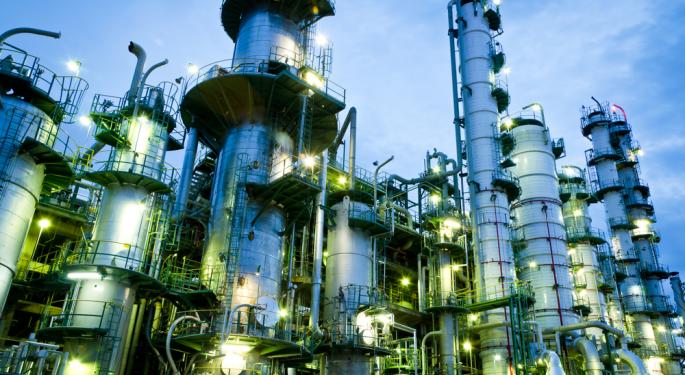 The entire refining sector is higher on Tuesday after Valero Energy (NYSE: VLO) released a strong fourth-quarter earnings report prior to the opening bell.
The stock gapped sharply higher at the open and was trading up better than nine percent around mid-day. The results from Valero have helped to lift other refiners, including Tesoro (NYSE: TSO), Alon USA Energy (NYSE: ALJ), Western Refining (NYSE: WNR), Marathon Petroleum (NYSE: MPC) and HollyFrontier (NYSE: HFC).
At last check, Tesoro had added around four percent on the day. Western Refining was up five percent, and Marathon and HollyFrontier were both up better than four percent. Alon was underperforming other refiners with a gain of roughly two percent. As a whole, the entire energy sector is outperforming the broader stock market.
During mid-day trading, the S&P 500 was last trading up around 0.37 percent compared to a gain of more than 1.20 percent for the Energy Select Sector SPDR (NYSE: XLE) which has been trending higher throughout the session. NYMEX crude oil futures contracts, which is the U.S. benchmark for crude prices, also had added more than 1 percent on the day to roughly $97.50.
Valero reported a sharply higher profit for its fiscal fourth-quarter, easily beating Wall Street earnings estimates. "This was Valero's best fourth-quarter earnings per share since 2005, and we made important progress on our strategic goals. In the fourth quarter, we had a smooth start-up of our new hydrocracker at the Port Arthur refinery, which was the largest project in Valero's history," Chairman and CEO Bill Klesse said in a statement.
The San Antonio-based refiner reported net income of $1.01 billion or $1.82 per share, compared to $45 million or $0.08 per share, in last year's corresponding quarter. Heading into the report, Wall Street analysts had consensus earnings per share estimates of $1.18 for the company's fourth-quarter.
Valero also reported very strong sales in the period. The company said that revenues were $34.70 billion, a slight gain versus the $34.67 billion Valero reported last year. Analysts had actually anticipated that the company's top line growth would contract in the period with consensus revenue expectations of $31.01 billion.
The results were driven by a huge jump in profitability in the company's refining segment which had income of $1.68 billion versus just $40 million last year. Valero's retail segment grew income by $12 million from $83 million to $95 million. The company's ethanol division, however, saw operating income plunge from $181 million to $12 million amid reduced demand and higher corn prices.
Valero was also helped in the quarter by a contraction in operating expenses which went from $34.51 billion last year to $33.1 billion in the most recent quarter.
For the full-year, the refiner reported a slight contraction in net income, but higher earnings per share due to a lower share count. In fiscal 2012, Valero earned $2.08 billion or $3.75 per share, compared to $2.09 billion or $3.68 per share, in fiscal 2011.
Over the last 52-weeks, the stock has surged primarily on the back of strong sales momentum. Operating revenues in fiscal 2012 were $139.25 billion, a roughly 10.50 percent increase versus the $126 billion in sales last year. This easily beat Street consensus revenue estimates of $133.72 billion. Valero shares have now climbed around 77 percent over the last year and the stock is current sitting at levels not seen since the summer of 2008.
In addition to its strong fiscal 2012 and Q4 operating results, the stock has a number of other tailwinds. The company's board of directors approved a 14 percent increase in Valero's dividend to $0.20 per share. At current levels, VLO is now yielding around 1.90 percent.
Another upcoming catalyst for shares is the planned spin-off of Valero's retail business into a separate company called CST Brands. Under the plans for the deal, Valero will get around $1.1 billion in cash and current shareholders will receive an 80 percent pro rata distribution of common stock in the new company, which will be traded on the New York Stock Exchange under the ticker CST.
Valero's Corner Stores number 1,027 in the United States and 775 in Canada. Management has said that the spin-off "will create operational flexibility within the businesses and unlock value for our shareholders."
Investors have primarily treated Valero as a refining business and its retail operations arguably have not been given credit for their full value. The separation of the business into a new publicly traded entity should help shareholders realize a more robust valuation for their stake in the retail segment. The deal is expected to be completed in the second-quarter of 2013.
Klesse said in a statement on Tuesday that "We believe the separated retail business will perform well and unlock value for our shareholders. In addition to its large and geographically diverse network of high-quality sites, the retail business has a long history of strong brand recognition and financial performance, as well as significant growth opportunities in merchandise, food service, and new-build locations."
Energy investors will want to pay close attention to the upcoming spin-off as similar deals have produced big returns of late. For example, shares of Phillips 66 (NYSE: PSX), which was spun-off from Conoco (NYSE: COP), have already surged more than 83 percent since May 2012 when the deal was completed.
View Comments and Join the Discussion!
Posted-In: Earnings Long Ideas News Guidance Management Intraday Update Movers Trading Ideas Best of Benzinga