General Dynamics Earnings Fall Short, Shares Dive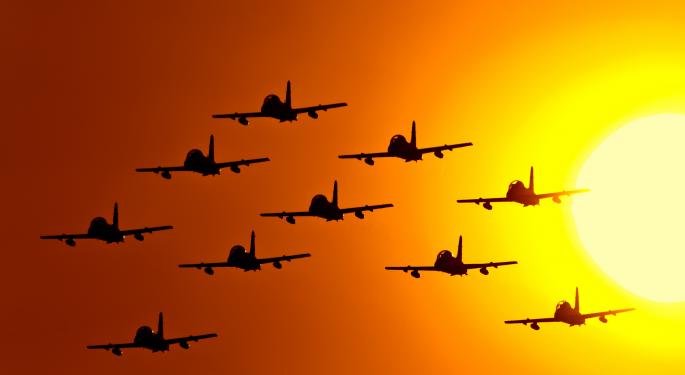 General Dynamics (NYSE: GD) Wednesday reported fourth quarter earnings that missed analyst estimates and shares fell. Further, revenue came in short of analyst projections for the quarter and the company guided well below forecasts for the full year 2013. Shares moved sharply lower on the news.
For the fourth quarter of 2012, General Dynamics reported earnings per share of $1.39, well below analysts estimates of earnings per share of $1.90. Also, revenue came in light in the quarter at $8.08 billion, below the forecasts of $8.8 billion.
And if the large miss on both the top and bottom lines was not enough, General Dynamics guided full year 2013 earnings per share between $6.60 and $6.70, well below the street consensus of $7.32 for the year.
In the fourth quarter, General Dynamics reported a few one-time charges that affected performance. The company recorded a $2 billion charge in its Information Systems and Technology Group, recognizing the slowed impact of defense spending in the business segment.
The company was also forced to take charges totaling $867 million, a large amount relating to impairments of intangible assets.
The company's total backlog was $51.3 billion at the end of 2012. In the fourth quarter, orders were strong for the Marine Systems group, including $2.4 billion in awards to continue the development of the U.S. Navy's next-generation strategic deterrent submarine, to purchase materials for Virginia-class attack submarines and to construct two commercial containerships.
Other large orders received in the quarter include awards for additional Stryker infantry combat vehicles, for Abrams tanks, and for the production of tactical networking equipment and radios for the U.S. Army.
Total potential contract value, the sum of all backlog components, was $78.1 billion at the end of the year.
Phebe N. Novakovic, chairman and chief executive officer of General Dynamics, said, "General Dynamics' operating results in 2012 and the charges that we have recorded in the fourth quarter reflect the fact that some of our markets are contracting as government budgets shrink at home and abroad. They also suggest opportunities for improvement in some areas of our performance, which we are addressing."
"General Dynamics is a strong corporation with relevant product and service offerings that are critical to our customers' missions. We will continue to manage our business aggressively as we approach the opportunities and the challenges of the future," Novakovic said.
General Dynamics shares slid in the pre-market following the weak earnings and the guidance cut. Shares fell as much as 5 percent pre-market and, as of writing, traded lower by 4.67 percent.
Investors await the start of the earnings conference call for more clarity into the quarter and the full year from management.
Posted-In: Earnings News Guidance Pre-Market Outlook Best of Benzinga
View Comments and Join the Discussion!