Texas Instruments Earnings, Revenue Beat, Lowers Guidance, Shares Fall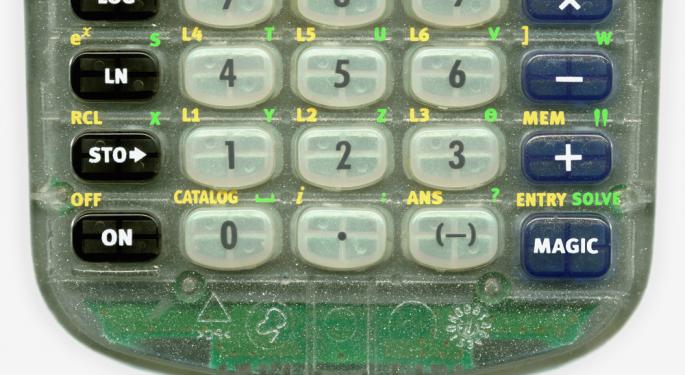 Texas Instruments (NASDAQ: TXN) reported fourth quarter earnings Tuesday. The company beat analyst expectations on both the top and bottom lines.
However, lower guidance sent shares slightly lower after-hours, with shares falling after popping on the initial earnings beat.
For the fourth quarter of 2012, Texas Instruments reported adjusted EPS of $0.08, beating analyst estimates of $0.07 per share. On a GAAP basis, EPS came in at $0.23 per share, 52 percent lower than the same period last year. The company also reported revenue that beat expectations, with sales totaling $2.98 billion in the first quarter, beating analyst expectations of sales of $2.95 billion.
Shares fell after-hours despite the stronger than expected earnings following the company's first quarter guidance report. Texas Instruments guided first quarter EPS between $0.24 and $0.32, well below the estimate of $0.34 per share. Also, the company expects revenue to be between $2.69 and $2.91 billion in the quarter, whereas analysts had been looking for $2.89 billion in sales.
"We continue to operate in a weak demand environment," said Rich Templeton, Texas Instrument's Chairman, President, and CEO. "Our visibility into future demand remains limited as our lead times are short and our customers are reluctant to commit to extended backlog. On the positive side, we believe customers and distributors are operating with lean inventory. Our own operations are disciplined and performing well, with gross margin up despite increased underutilization costs, and with operating expenses down from a year ago."
Templeton also hinted that continued share buybacks and dividend increases could come in the future.
"For the full year, free cash flow of almost $3 billion grew 20 percent and was 23 percent of our revenue. We returned 90 percent of this free cash flow to our shareholders through our continued share repurchases and higher dividend payments. Our strong free cash flow is the result of more of our revenue coming from Analog and Embedded Processing, which offer solid growth and high margins and have low capital needs. Our free cash flow will also benefit from our strategic purchases of manufacturing capacity during the past few years."
Texas Instrument's shares fell 1.02 percent after-hours following the lower guidance for the first quarter. Notably, the company recorded an $88 million expense in the fourth quarter resulting from the amortization of intangible assets following its acquisition of National Semiconductor in 2011.
Posted-In: Earnings News Guidance Dividends Buybacks After-Hours Center Markets Movers Best of Benzinga
View Comments and Join the Discussion!