Apple Options Skew: An Earnings Indicator?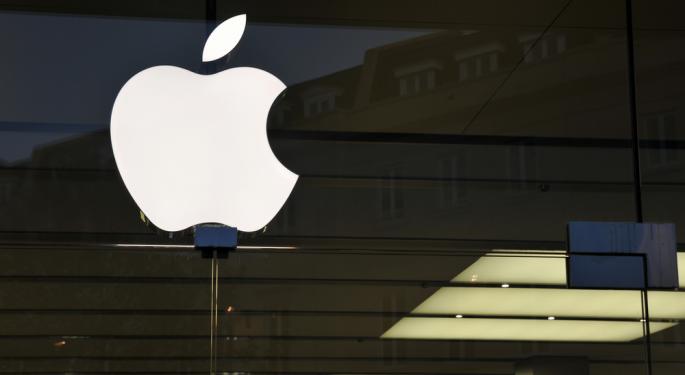 Contrarian traders, by nature, tend to fade the prevailing market norm. According to some, when the options market gets too bearish one should get bullish. This is in line with the old theory that the market tends to punish the greatest amount of people possible.
When options gets overly bearish, the relative price of an 'out of the money' (OTM) put is pumped up compared to a similar probability OTM call: the skew is increased.
Perhaps the most interesting underlying optionable asset is Apple (NASDAQ: AAPL). Shares have slid over 25 percent from their all-time high, and questions over Apple's valuation is also getting heated. Moreover, Apple options volume surges before earnings; thus, Apple is a perfect candidate to test the idea of options skew.
In order to test options market sentiment, Benzinga went back eight earnings reports and gathered data on weekly 34 delta Apple options.
The 34 delta options were chosen because prices between the two options represent a one standard deviation range -- a 68 percent chance Apple expires between the two strikes.
If a 34 delta option was not listed, the closest option to 34 deltas was chosen. These two options have a similar probability of expiring 'in the money' (ITM), but they are selling for two different prices.
The data is presented in the following excel sheet. The sheet outlines the price of a 34 delta OTM put & call, the quotient of the prices, and implied volatilities.
Any number over one in the quotient column represents the skew. These prices should more of less be the same, for the probability of an up move versus a move down is the same in random walk and option pricing models.
Skew can be a function of sentiment or what is called an "index phenomena."
Apple can almost be considered an index because of its massive weighting in portfolios, another reason why it was chosen. Managers tend to sell OTM calls and buy OTM puts on indices in order to hedge their portfolio. The result is index skew.
Another reason why this exists is simply because of human nature. Investors tend to be more fearful of downside rather than upside. This is consistent with the given prices. One explanation could be that Apple is a massively held stock and thus it sees the "index phenomenon" where calls are cheap because of overwriting (selling) and puts are expensive because of hedging (buying).
This is backed up by the data, for AAPL is held in large amounts by mutual and pension funds -- not to mention retail -- more than any other stock.
The correlation coefficient between the earnings move and skew was 0.04. This figure is negligible because of its weak nature. A coefficient over plus or minus 0.80 is considered rather strong.
Considering the relationship was near zero, there is not a correlation between Apple's earnings move and skew. This is not to say that contrarian trading does not work. In this instance, it was just not supported by the data.
Follow me: @Mark_Benzinga
Stock chart:


Posted-In: Earnings News Options Markets Tech Trading Ideas Best of Benzinga
View Comments and Join the Discussion!