Finish Line Falls on Disappointing Q3 Results and Outlook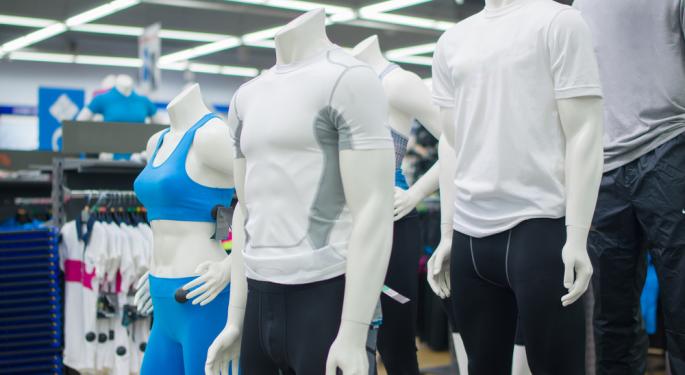 Finish Line (NASDAQ: FINL) released its fiscal third-quarter earnings results prior to the opening bell on Friday. The company also provided earnings guidance for the fourth-quarter which was below consensus estimates and cut its outlook for fiscal 2013. In afternoon trading on Friday, the stock was down 9 percent to $17.33.
"The third quarter was clearly more challenging than we anticipated. Sales came in below plan due primarily to a shift within athletic footwear trends and a less than favorable consumer response to the new e-commerce site we launched in mid November," Chairman and CEO Glenn Lyon said in a statement.
The company said that sales for its largest product segment, running gear, slowed at the end of September while basketball products became more popular with Finish Line consumers. This caused the company to cut prices ahead of the holiday season and add more basketball inventory. The price cuts drove gross margins down to 30.3 percent versus 32.3 percent last year.
Speaking about the problems with product mix in the quarter, Lyon said that "We have successfully navigated through transitional periods in athletic footwear before. And I am confident that we will do so again."
The company's results were also impacted by the launch of a new e-commerce site ahead of the holiday season. Lyon said that the timing of the launch "was a huge mistake." While traffic was still strong, conversions fell because of the site design and functionality issues. The company has since closed the new site.
"We had so much confidence built into the fact that this platform was going to improve our business," Mr. Lyon said. He added that executives had not considered it could hurt the company's sales. Digital sales were up 25 percent in the quarter, but Finish Line estimated that it lost $3 million in revenue during the roughly three-week period that the site was operating.
Shares of Finish Line competitor Foot Locker (NYSE: FL) were trading up around 2 percent on Friday as analysts believe that the product shift towards basketball will help that company. Traditionally, Foot Locker has had a more basketball-centric focus while Finish Line has done well previously by focusing on the running product segment.
For the third-quarter, Finish Line reported a net loss of $0.11 million or break-even per share, compared to net income of $5.55 million or $0.11 per share, in the year ago period. This missed Wall Street analysts' consensus earnings per share estimates of $0.10 by a wide margin.
Net sales in the period were up 5.2 percent to $296.62 million from $282.01 million in last year's corresponding quarter. This was just barely ahead of consensus revenue estimates of $296.09 million.
Looking ahead, the company sees fourth-quarter earnings per share between $0.74 and $0.78. This is below current consensus EPS estimates of $0.82 for the fourth-quarter.
The company also cut its full-year earnings guidance to a range of $1.47 to $1.51 compared to its prior forecast of an increase between six to nine percent over the $1.53 per share it earned in fiscal 2012. This is well below current Street consensus EPS estimates of $1.64.
Following our recent challenges, we have taken immediate actions to improve near-term results. This includes reverting back to our previous e-commerce site, implementing cost controls that allow us to better manage expenses, and elevating the assortment of key basketball products in our stores and online," Lyon said.
View Comments and Join the Discussion!
Posted-In: Earnings News Guidance Intraday Update Movers Best of Benzinga