The Best Small Cap Performers of 2012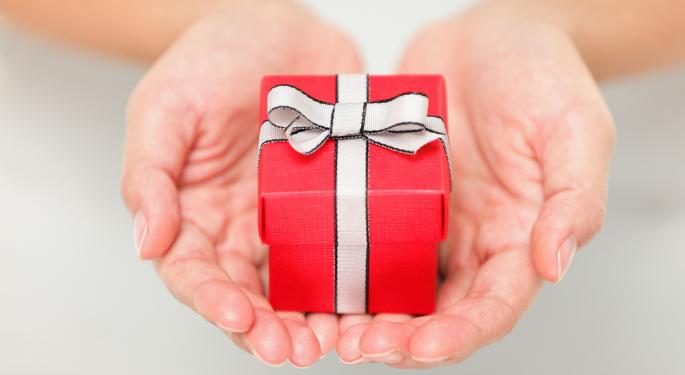 Overall, 2012 was a solid year for stocks. Barring a major collapse in the final few trading sessions, the S&P 500 looks like it will close out the year up over 10 percent.
In a bullish year, small caps -- given their tendency to have higher volatility -- might offer traders a way to outperform the broader market, although they obviously carry a greater degree of risk.
Here are five of the best performing small caps of 2012. Traders who held these stocks through 2012 more than tripled their investment:
Sarepta Therapeutics (NASDAQ: SRPT): is up nearly 450 percent in 2012. Nearly all of those gains came in October, when the company announced that testing on its treatment for Muscular Dystrophy had met its primary endpoint.
Like all small biotechs, the company is susceptible to the success or failure of a handful of its drugs. In 2012, Sarepta managed to strike gold.
Ellie Mae (NYSE: ELLI): is up over 380 percent in 2012. At first, one may be inclined to believe that the stock is related to Fannie Mae and Freddie Mac. It isn't.
Rather, Ellie Mae is a private company that makes mortgage software.
The company has a had great year on the back of powerful earnings, which have largely blown away analyst expectations. With low mortgage rates supporting refinancing and the housing market in the U.S. appearing to rebound, it's little wonder that Ellie Mae has found strong demand for its product.
Arena Pharma (NASDAQ: ARNA): is up roughly 367 percent in 2012. It's been overshadowed in the biotech world by Sarepta, but more than tripling in a single year can't be seen as too shabby.
Like Sarepta, most of that gain came over a very short period -- in Arena's case, May and June.
In late June, Arena's BELVIQ was approved by the FDA. The drug is meant to treat obesity, helping patients lose weight.
Given the widespread (and worsening) obesity epidemic, BELVIQ may find strong demand over the coming years.
Hovnanian (NYSE: HOV): is up about 360 percent in 2012. No surprises here, the housing sector has been tremendous for investors in 2012.
Hovnanian, however, highlights the small cap risk/reward dynamic. Other home builders, like KB Home (NYSE: KBH), also posted great years, but not to the same extent as Hovnanian. KB Home is up a little less than 130 percent year-to-date.
The housing rebound has benefitted even secondary players like Home Depot (NYSE: HD), which is up a bit less than 50 percent this year.
Infinity Pharma (NASDAQ: INFI) rounds out the list, posting a 2012 gain of nearly 300 percent.
Infinity has seen most of its yearly gains come recently. On December 10, the company posted favorable data from its Phase I trial on IPI-145 -- a drug intended to treat lymphoma.
The company looks to head into the end of the year trading near a 52-week high around $35 per share.
Posted-In: Earnings News Small Cap Analysis FDA Movers Trading Ideas Best of Benzinga
View Comments and Join the Discussion!