Market Uptrend Gains Traction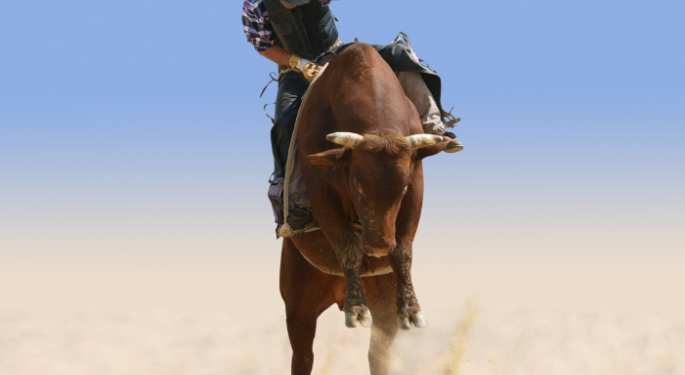 Apparently, Wall Street is growing more confident about a fiscal-cliff deal and what the Fed might have to say about additional stimulus when its two-day meeting concludes today.
The most encouraging part of Tuesday's rally was the Nasdaq Composite's gap up at the open and close above its 50-day simple moving average (SMA). It was an unequivocal day of accumulation for the tech index. Volume rose nicely from Monday's level to just over 1.8 billion shares.
The term "melt-up" has been used to describe the market's recent rally. It's appropriate because it still doesn't strike me as a market that's under meaningful accumulation. All of the Nasdaq's gains since November 16 have come in average or below-average volume.
It would have been nice to see a plentiful supply of technical breakouts Tuesday, but that really wasn't the case. The more you see of them in the early stages of a rally, the better.
Salesforce.com (NYSE: CRM) was happy to oblige, however, as shares jumped 4.2 percent to $165 in heavy volume. Volume spiked to nearly 4.4 million shares, well above its average daily volume of 1.8 million shares. Volume expansion like this was a sign of at least some buying by mutual funds and other institutional investors. They are the true drivers of a stock's price. Without institutional buying, a stock will have a hard time making meaningful headway.
Rackspace Hosting (NYSE: RAX) is also making a case it wants to be a leader as it sets up in a bullish base. It cleared a swing point of $67.18 on November 28 but didn't make much progress. It's been drifting lower in light volume in recent days, bringing the possibility of a new breakout over $70 into play. Rackspace normally trades about 1.5 million shares a day. A bona fide heavy-volume breakout for Rackspace would see the stock trade that amount during the first few hours of trading.
Meanwhile, the underperformance of the home builders wasn't hard to notice Tuesday. They sat out the rally as the group continues to face selling pressure. The iShares Dow Jones U.S. Home Construction Index Fund (NYSE: ITB) remains under distribution, below its 50-day SMA. Big buyers may come into the group again but for now, sellers remain in control. For now, it's better to look elsewhere for leadership.
Finally, earnings season is pretty much over, but after the close today, watch for earnings from small-cap Restoration Hardware (NYSE: RH). The upscale home-furnishings retailer is expected to earn $0.04 a share, reversing a year-ago loss of $0.13. Sales are seen rising 21 percent to $282.4 million. It's a high-multiple stock, currently selling at 38 times trailing earnings and 35 times forward earnings, but earnings growth prospects look pretty good for fiscal 2013 and 2014 so its valuation isn't entirely unreasonable. Fiscal 2013 earnings are seeing rising 82 percent to $1.02 a share and 27 percent in 2014 to $1.30 a share.
Its relative price strength is worth noting ahead of the results. The company recently came out of a re-organization and started trading again in early November. If earnings impress, a heavy-volume breakout over its recent high of $38.33 could be in the cards. Shares closed Tuesday at $36.06, down 1.2 percent in light volume.
Posted-In: Earnings News Pre-Market Outlook Movers Tech Trading Ideas Best of Benzinga
View Comments and Join the Discussion!