Despite Revenue Beat, Deere Shares Tumble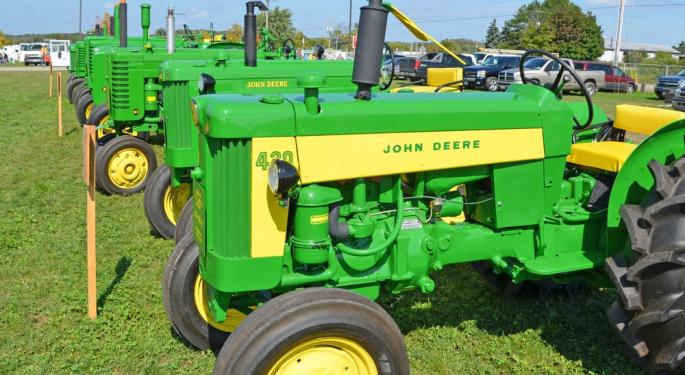 Deere & Company (NYSE: DE) reported its quarterly earnings Wednesday, posting a net income of $687 million, $1.75 per share. This is an improvement over the same quarter of last year, when the company's net income was $699.6 million and $1.62 per share.
Still, those earnings fell short of analyst expectations; the Street was looking for $1.88 a share. Following the earnings report, shares of Deere traded lower by over three percent.
Net sales and revenue for fiscal year 2012 stands at $3.065 billion ($7.63 per share), up from $2.8 billion ($6.60 per share) in FY 2011. Worldwide net sales for the fourth quarter were $9.72 billion, an increase of 14 percent. Worldwide net sales for the year were $36.157 billion, an increase of 13 percent.
Net sales in equipment operations were $9.047 billion in the fourth quarter, comparing favorably with the last quarter of last year, when equipment operations net sales were $7.903 billion. The number stands at $33.501 billion for the year, compared to $29.466 billion in 2011. In the U.S. and Canada, equipment net sales rose 26 percent this quarter, finishing at 20 percent for the year.
Outside the U.S. and Canada, equipment net sales decreased two percent this quarter, but rose five percent for the year. Currency-translation effects had a part to play in the reduction this quarter.
Equipment operations reported a net income of $576 million for the quarter and $2.616 billion for the year, above $552 million and $2.329 billion in 2011.
Factors that led to improvement this year included higher shipment volumes and price realization. Deere's success this year can also be attributed in part to developing operations in China, Brazil and India. Though there were some losses this year due to foreign currency exchanges, higher production and raw materials costs also offset some of the company's gains.
Advanced new equipment, strong farm incomes, and high commodity prices are all expected to help improve the company's outlook going in to fiscal year 2013. Capacity expansions for tractors, sprayers and cylinders in the U.S. market were announced.
Equipment sales are projected to increase five percent in 2013, with a 10 percent increase in those sales for the first quarter of 2013 compared to 2012. Net income is projected to be $3.2 billion for FY 2013.
Samuel R. Allen, chief executive officer and chairman, said that "Deere remains well-positioned to carry out its growth plans and capitalize on positive long-term trends," though he was cautiously optimistic about global economic and fiscal concerns. "We are proud of the company's performance in 2012 and look forward to building on these gains in 2013 and beyond. Despite fragile economic conditions in many regions, we have great confidence in the company's prospects and in our ability to deliver value to investors and other stakeholders in the future."
Posted-In: Samuel R. AllenEarnings News Management Global Best of Benzinga
View Comments and Join the Discussion!