'Call of Duty: Black Ops II' Earns $500 Million in 24 Hours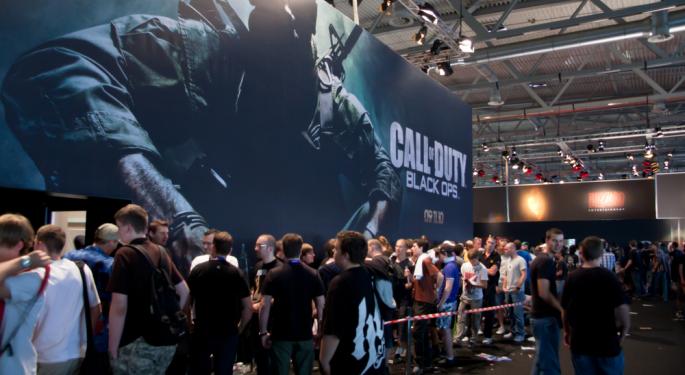 Activision's (NASDAQ: ATVI) Call of Duty: Black Ops II has earned more than $500 million in worldwide retail sales during the first 24 hours of its release.
Thousands of retailers nationwide, including GameStop (NYSE: GME) and Best Buy (NYSE: BBY), opened at midnight on Monday evening to give consumers the chance to acquire the game a few hours early.
"With first day sales of over half a billion dollars worldwide, we believe Call of Duty is the biggest entertainment launch of the year for the fourth year in a row," Bobby Kotick, CEO of Activision Blizzard, said in a company release. "Life-to-date sales for the Call of Duty franchise have exceeded worldwide theatrical box office receipts for Harry Potter and Star Wars, the two most successful movie franchises of all time."
Kotick also said that given the "challenged macro-economic environment, we remain cautious about the balance of 2012 and 2013."
Activision has faced a challenging environment since it unofficially retired Guitar Hero and Tony Hawk's Pro Skater two years ago. These games were among the many cash cows that the firm had used to raise annual revenue. That changed as consumers lost interest in the perennial rehashes of both franchises. Tony Hawk survived many years of declining sales, but Activision pulled the plug on Guitar Hero after only a few failed releases.
Call of Duty is often compared to Activision's weaker franchises because the series is updated annually. But in alternating between two different development studios (Treyarch created Black Ops II, Infinity Ward developed Modern Warfare 3), Activision has managed to maintain the level of quality that consumers expect.
This is not the only franchise that has been consistently profitable for Activision. The company continues to make money from World of Warcraft, which charges players a monthly or annual fee and is upgraded with expansion packs every year. The long-awaited Diablo 3 performed very well when it was released in May, selling more than 3.5 million copies during the first 24 hours.
Activision also found a new cash cow in the birth of Skylanders, a video game that features real toys that can interact with the game. The new franchise was introduced last year and is expected to add $500 million to Activision's 2012 earnings.
Unlike Call of Duty and World of Warcraft, which appear to be here to stay, Skylanders has yet to prove that it can stand the test of time. With only a year on the market, it is wholly possible that kids will eventually tire of the franchise and move on to something else.
Follow me @LouisBedigianBZ
View Comments and Join the Discussion!
Posted-In: Activision Call of Duty: Black Ops IIEarnings News Success Stories Tech Best of Benzinga