Monster Beverage Plunges After Q3 Results; Trading at New 52-Week Low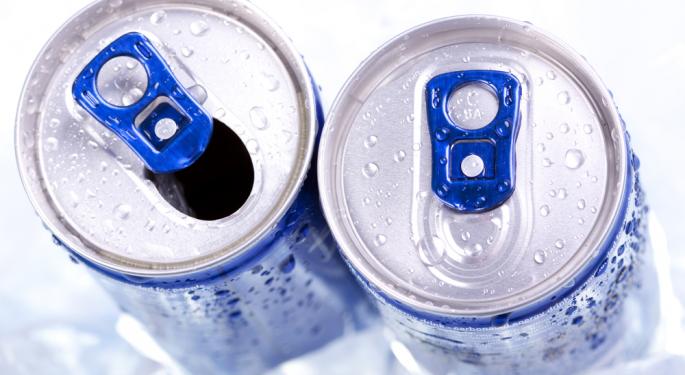 Energy drink-maker Monster Beverage (NASDAQ: MNST), which has been among Wall Street's favorite momentum stocks in recent years, plunged Wednesday after the company released disappointing third quarter financial results. Shares were down nearly 14 percent to $38.75 in late trading.
Over the last six months, Monster shares have been under significant pressure as the company has been experiencing some operating headwinds. It would appear, however, as if investors were somewhat optimistic heading into the earnings release. The stock closed the regular trading day down just 0.26 percent to $44.97 despite a better than 300 point loss for the Dow Jones Industrial Average after Tuesday's election results.
Monster reported net income for the fiscal third quarter of $86.1 million or $0.47 per share. This was an increase versus last year's corresponding period when the company earned $82.4 million or $0.44 per share. The results, however, came up significantly short of Wall Street earnings estimates of $0.55 per share. Revenus also missed Street consensus expectations.
Monster reported total sales for the period of $541.9 million. While this was a significant increase versus last year's $474.7 million in sales, it missed consensus estimates of $578.48 million by a fairly wide margin. Despite the fact that the quarter was a record for the company, the results show that the company's business is not matching up to the growth rates that investors have come to expect.
Monster's Chairman and CEO Rodney Sacks acknowledged the slowing trends at his company. He said, "While the Company achieved less robust growth in sales dollars than in previous quarters, gross sales for the Company in October 2012 increased by approximately 28 percent over the same month last year."
While Monster is still growing at an impressive rate, investors are likely to re-calibrate their forward-looking projections in the wake of the report. For the first nine months of the fiscal year, Monster said that its net income rose 22.7 percent to $1.47 per diluted share versus the same period last year.
Monster is an impressive secular growth story, but its valuation is also rich for its industry. Prior to the plunge in after-hours trading, the stock had a P/E ratio over 25, and a forward P/E of 18.5. Its PEG ratio, which is a measure of the company's P/E divided by its growth rate was 1.51. While this is not exactly exorbitant, generally a PEG closer to 1 would be considered a conservatively valued stock.
In the wake of the third quarter results, Monster's recent downtrend will continue on Thursday. If the stock were to open where it is currently trading in the after hours, it would represent a new 52-week low in the name.
The 52-week high in the stock is just below $84.00 or more than twice as much as its current price. Traders should expect for significant volume and volatility in MNST on Thursday and Friday as investors react to the slowing momentum at the company.
Posted-In: Earnings News After-Hours Center Movers Best of Benzinga
View Comments and Join the Discussion!