Don't Stay Married to the Old Leaders; Target New Leadership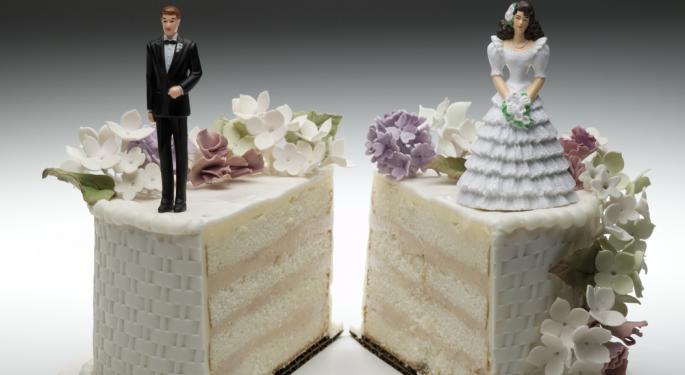 A rally into the end of the year for the major averages isn't out of the question by any means, but indices still need to flash a sign of strength -- a buy signal in the form of a big percentage gain of at least 1.5 percent in higher volume. It could come as early as Friday, or it could take a while longer.
Friday marks the fifth day of a rally attempt for the Dow and the fourth day of a rally attempt for the Nasdaq Composite and S&P 500. Market buy signals are best seen four to 10 days after an initial rally attempt.
If it comes, the goal is target emerging leadership -- NOT stocks that have made huge moves already , seemingly on sale after sharp pullbacks. A large group of investors are bound to make the common mistake of staying married to the old leaders -- stocks that have been hit hard by institutional selling that most likely won't be rallying back anytime soon. Some names in this boat include Ross Stores (NASDAQ: ROST), Alexion Pharmaceuticals (NASDAQ: ALXN) and Baidu (NASDAQ: BIDU).
As a growth investor, the goal is to buy a stock with strong fundamentals and technicals in the early stages a move. Three-plus years into a bull market, they're not easy to find, but several new issues fit the bill, including high-end apparel designer Michael Kors (Nasdaq: KORS).
Kors hasn't done much wrong since its IPO in December at $20. It's been a standout performer, and a good argument can be it's still in the early stages of an upward move. It has the look of an emerging leader.
In September, the company raised its fiscal second-quarter and full-year earnings and revenue guidance. It also said quarter-to-date same-store sales, for the 11 weeks ended Sept. 15, increased 45 percent. Try to find another company with same-store sales growth as strong as that. It won't be easy.
Fiscal second-quarter Earnings are due November 13. The consensus estimate calls for profit of $0.40 a share, up 74 percent from a year ago with sales up 70 percent to $519.3 million.
Great opportunities arise in the stock market when bullish fundamentals and technicals collide, and it's happening now in Kors. Annual return on equity is huge at 56 percent. You'd think short sellers would be all over a stock selling at 58 times trailing earnings and 30 times forward earnings, but they're not. As of October 15, 4.2 million shares were held short, but that's not a lot considering it trades about 3.5 million shares a day.
After a technical breakout in mid-August, Kors has been consolidating gains for nearly six weeks -- taking a breather -- and firming up at its 10-week moving average. Buyers were in the stock Friday and shares outperformed, rising 4.2 percent to $56.97. Keep an eye on this name for a possible heavy-volume breakout over its recent high of $57.92.
Meanwhile, LinkedIn (Nasdaq: LNKD) also has the look of an emerging leader. Late Thursday, the online professional network showed once again that its growth story is very real. Third-quarter profit soared 267 percent from a year ago to $0.22 a share, double the consensus estimate. Sales came in at $252 million, up 81 percent and nicely above the consensus estimate of $244 million. In the U.S., sales rose to $162.4 million, up 73 percent. International revenue doubled to $89.7 million.
LinkedIn now boasts 187 million members, up seven percent from the second quarter. LinkedIn has three business segments. Revenue at Talent Solutions soared 95 percent from a year ago to $138.4 million. The group collects fees from companies and headhunters looking for workers. Its Market Solutions segment sells ads. Revenue here rose 60 percent to $64 million. Premium Subscriptions, which gives users bang for their buck, reported revenue of $49.6 million, up 74 percent.
Linkedin also has the potential to be a big market leader. The stock recently corrected down to a long-term support level -- its 40-week moving average -- and found support. This brings the possibility of a breakout over $125.50 into play.
Another feather in Linkedin's cap is that fund ownership has been on the rise in recent quarters. It's more than doubled since the end of 2011, from 321 funds to 660 funds. Strong third-quarter results from Linkedin show that the company continues to execute well, and it raises the likelihood of increasing sponsorship in coming months.
Stock chart: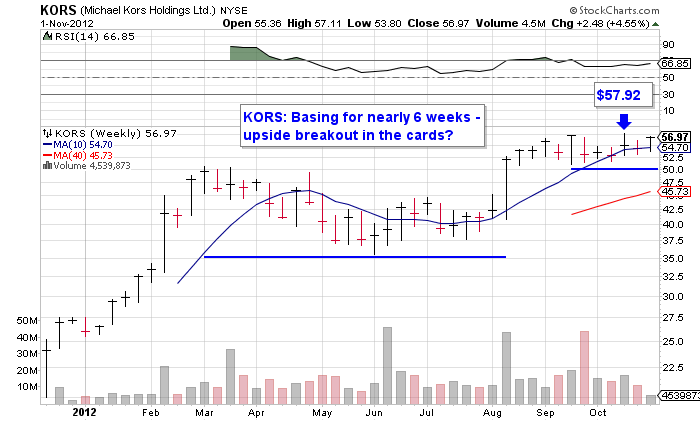 Posted-In: Earnings Long Ideas News Hot Movers Tech Trading Ideas Best of Benzinga
View Comments and Join the Discussion!