Ford Beats Earnings Despite European Challenges, Reliability Questions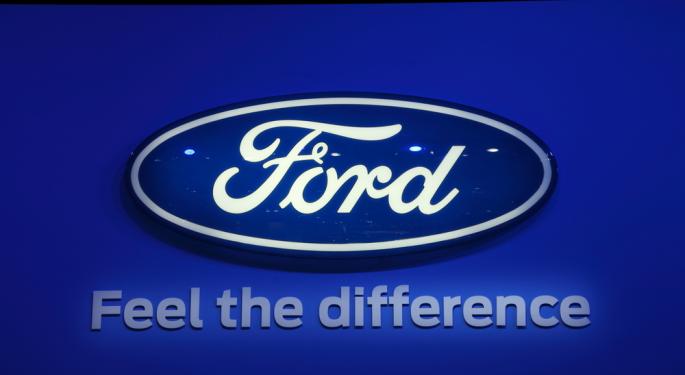 Ford (NYSE: F) reported stellar earnings on Tuesday, beating Wall Street's expectations of $0.30 per share by a full $0.10. Revenues also beat, coming in at $32.1 billion, more than the $31.3 billion anticipated.
Ford's earnings were notable as the company has faced immense pressures from Europe in recent months. The widely publicized eurozone economic turmoil has taken its toll on Ford, with the company opting to close two plants in the U.K. and let go some 5700 workers.
Yet, Ford's stellar North American results were able to offset Europe, as Ford reported record North American earnings. Due to Hurricane Sandy, Ford shares were unavailable for trading on Tuesday, but they may see a strong move to the upside when markets reopen Wednesday.
Still, traders may be wondering if Ford's positive momentum can be sustained. A number of factors may call into question Ford's future earnings potential.
First is the issue of declining quality. Ford's CEO Alan Mulally has made quality a focus of his efforts to turn around the automaker. That focus may be shifting. Consumer Reports' annual reliability survey released on Monday showed a marked decline in Ford's ranking -- the second-consecutive year reliability at Ford has declined.
The second issue is one of management. Mulally, 67, has been widely speculated to be in the final stages of his career at Ford. Although Mulally himself has shot down the rumors of his imminent retirement, reports that Ford's board is mulling replacements continue to circulate among the financial media. As Mulally appears to have been so instrumental in turning around the automaker in the wake of the financial crisis, a loss of his leadership may affect the company's earnings going forward.
Of course, the last issue that might weigh on Ford is one the company has faced for roughly 40 years: competition from abroad.
Japanese automakers like Toyota (NYSE: TM) continue to dominate those very reliability rankings that have not been kind to Ford. And while their quality has held up, they have been held back by a significant force outside of their control: the strong yen. The record relative strength of the Japanese yen has been brutal to Japanese automakers like Toyota. The bank of Japan has intervened several times in an attempt to drive down the value of the yen, but thus far to no avail.
But with exporters remaining such a vital part of the Japanese economy, it is likely that the Bank of Japan will continue with further efforts to push down the yen's value. It would be aggressive, but speculation has remained that the Bank of Japan could go so far as to peg the value of the yen -- a step the Bank of Switzerland took in 2011 to fight against the rapid appreciation of the Swiss franc in the face of the eurozone crisis.
If the value of the yen is driven down meaningfully, it would create a positive tailwind for Japanese automakers, as imported vehicles would look comparatively cheap to their American-made counterparts.
At any rate, it is hard to argue with solid earnings. Ford's shareholders are likely to see a solid boost to their portfolio on Wednesday. Over the longer-term, Ford's continued success remains unclear.
Posted-In: Earnings News Forex Management Global Economics Markets Trading Ideas Best of Benzinga
View Comments and Join the Discussion!