Could AMD Go Bankrupt?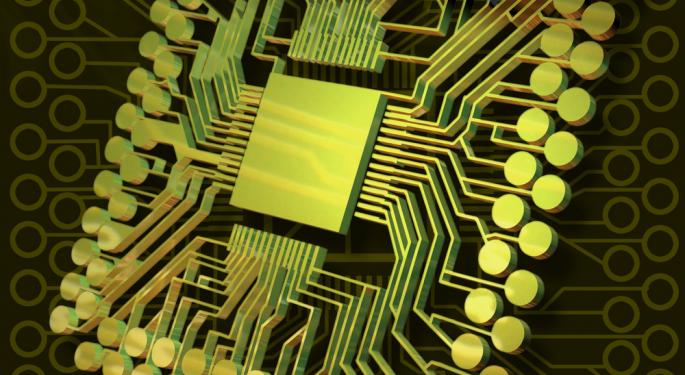 On Thursday after the closing bell, struggling chip-maker Advanced Micro Devices (NYSE: AMD) released its fiscal third-quarter financial results. In what has become a disturbing trend, the company's earnings and revenues missed Wall Street analysts' expectations and the stock is getting decimated on Friday. Shares were down better than 16 percent near $2.19.
What is really troublesome about the company's third-quarter results and the subsequent plunge in the stock price is that the bar was set extremely low for AMD heading into the quarterly report. Analysts had been slashing their estimates and price targets on the stock for months prior to Thursday's earnings release.
In fact, three months ago, Wall Street was looking for AMD to post a profit of $0.09 in the upcoming fourth quarter. Now that estimate has plunged to a loss of $0.04. Over the last 30 days, twenty-eight analysts have cut their EPS estimates for AMD. As Wall Street got more and more pessimistic on the near-term outlook for the company, the share price fell on an almost daily basis.
Over the last three months, not including Friday's massive plunge, the stock fell 46 percent. In other words, investors were prepared for the worst, but AMD managed to disappoint these extremely deflated expectations. This is a pattern that tends to precede bankruptcies and fire-sales. Year-to-date, AMD shares have now fallen nearly 60 percent.
Despite the steep decline in the stock, however, the company still has a market cap of $1.55 billion and a considerable amount of cash on its balance sheet. As of the end of September, AMD was holding $1.3 billion in cash and cash equivalents, making an imminent bankruptcy extremely unlikely.
Nevertheless, the trajectory of the stock and the company's business suggests that a bankruptcy filing at some date farther into the future is a distinct possibility. A sale would seem to be even more likely if things do not turn up for the company in the near-term. AMD's spiraling share price could make the company and its considerable assets an attractive acquisition target. Furthermore, AMD may be forced to initiate a sale.
What is abundantly clear is that AMD's business is deteriorating rapidly. This was underscored in the most recent quarter where the company reported an adjusted loss of $150 million or $0.20 per share, compared to a profit of $110 million or $0.15 per share, in last year's corresponding quarter. This was 5 cents worse than the already very pessimistic Street consensus EPS estimate of a loss of $0.15. Revenues also missed expectations.
AMD reported sales of $1.27 billion versus $1.69 billion last year. For those keeping track, that is a 25 percent decline in revenues in a year's time. That is an extremely ugly number, which missed Wall Street consensus estimates by $100 million. Looking ahead to Q4, the company said that it expects revenues to decline 9 percent, plus or minus 4 percent, on a sequential basis.
Furthermore, AMD said that it is planning to cut 15 percent of its workforce in order to reduce operating costs. While this move is likely completely necessary, it is a very poor sign for AMD's business. After the company's third-quarter results, it is plainly obvious that the deterioration in AMD's business is picking up steam. The company has now experienced sequential revenue declines for the last four quarters and will post another decline in sales in the fourth-quarter.
This isn't the first time that AMD has found itself caught in a near-death spiral. In November 2008, AMD shares traded as low as $1.82 as the financial crisis devastated the Sunnyvale, California technology company. Only two years prior, the stock had been trading abvoe $20.00 and in February of 2006 AMD was briefly a $40.00 stock.
After losing a staggering $3.13 billion in 2008, it seemed as if the chip-maker was on the road to recovery. In recent years, shares have traded between roughly $5.00 and $10.00 prior to the stock's most recent descent into the $2.00 range.
AMD's problems stem from a slowdown in the PC market which just might drive the company right out of business. Furthermore, competitors such as Intel (NASDAQ: INTC) are much more diversified and financially sound than AMD. Intel is a company with a market cap of over $106 billion and is the undisputed global semiconductor leader. As AMD gets weaker and weaker it becomes ever more difficult to compete with behemoth's like Intel.
The semiconductor industry has been experiencing falling margins on account of fierce global competition and a cyclical downturn. Adding to AMD's problems in this environment is its heavy debt load. At the end of September, its total debt was $2.04 billion. Fortunately, most of the debt is long-term, which gives the company room to breathe, but in order to remain solvent over the long haul, AMD has to actually make money. This has proven to be a real problem in recent quarters.
Over the last five quarters, the company has managed to lose $790 million on a GAAP basis. Only two of the five quarters have shown profits. The bottom line is that this is a debt-laden company, with much larger and financially flexible competitors which is operating in an environment which is experiencing a cyclical downturn.
It is clear that Wall Street is coming to the realization of how dire things have become at AMD and the stock price remains in free-fall. This company has been resurrected from the dead before, but for investors, AMD remains a very risky play.
Posted-In: Earnings Long Ideas News Guidance Short Ideas Technicals Economics Intraday Update Best of Benzinga
View Comments and Join the Discussion!