Navistar's Shares Surge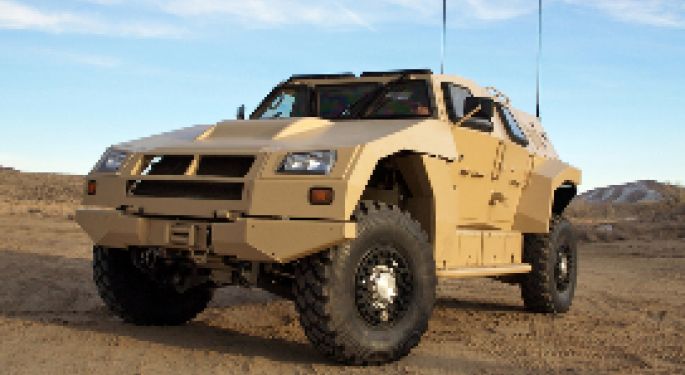 Shares of truck manufacturer Navistar (NYSE: NAV) traded up 7 percent to $21.76 Thursday.
Navistar reported an $84 million profit for the quarter ended July 31, exceeding analyst expectations. Navistar said in a statement that it was reviewing "its non-core businesses" to help shore up profitability.
Navistar has seen its stock plummet 57 percent since February, and that encouraged Icahn and hedge fund manager Mark Rachesky to increase their stakes in the company to just below 15 percent each. The 15 percent level would trigger a hostile takeover, so the move was a strategic nudge by Icahn and Rachesky. A not-so-subtle way of saying, you'd better get your act together because we're right here. In total, Icahn, Rachesky and Franklin Resources own about 50 percent of the business.
Thursday's third-quarter results saw the company report net income of $84 million, or $1.22 per diluted share, compared to third quarter 2011 net income of $1.4 billion, or $18.24 per diluted share.
Navistar reported a pre-tax loss of $100 million in the third quarter 2012 versus a $54 million loss in the third quarter 2011. Revenues in the quarter were $3.3 billion, down 6 percent from the third quarter of 2011.
The company says that the loss was driven by lower net sales in the company's U.S. and Canada truck and engine segments, in particular lower military sales and reduced engine volumes in South America, respectively.
"Clearly we are not pleased with these results," said Lewis B. Campbell, Navistar chairman and chief executive officer. "However, I was satisfied to learn on day one that Troy Clarke and his team were already working on a plan to deal with many of the important issues we face, most importantly restoring our core North American Truck, Engine and Parts businesses to their market leader positions. I believe we have good line of sight and a keen sense of urgency for moving forward."
Navistar revealed Thursday that it is planning 200 more job cuts on top of the 500 people it has already let go in recent months. Navistar expects the layoffs to cost $50 million to $75 million.
On Friday morning, Navistar traded at about $24, up roughly 17.5 percent.
Posted-In: Earnings News Rumors Management Markets Movers Trading Ideas Best of Benzinga
View Comments and Join the Discussion!