Bell Tolls For Bellwether FedEx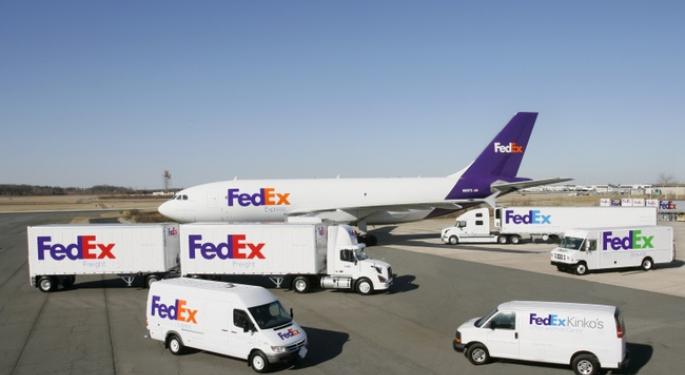 FedEx (NYSE: FDX), the second-largest package delivery firm behind rival United Parcel Service (NYSE: UPS), is worthy of its status as a bellwether stock. Simply put, using the delivery services offered by FedEx and UPS is a luxury for many businesses.
The luxury is indulged when the broader economy is humming along, but cutting back on the FedEx or UPS tab is an easy way for firms to save cash when business is sluggish. Hence why FedEx is viewed as a telling of the health of the broader economy. What the stock is telling investors now is not good.
After the bell Tuesday, Tennessee-based FedEx slashed its fiscal first-quarter profit guidance to $1.37 to $1.43 a share, well below a previous forecast of $1.45-$1.60 per share. Analysts were expecting the company to post a profit of $1.58 per share when it delivers results on Sept. 18. Shares of FedEx fell by nearly three percent in Tuesday's after-hours session. Trading just over $85 following the downbeat guidance, the stock is residing in an area not seen since early January.
Constrained Revenue
"Earnings during the quarter were lower than originally forecast, as weakness in the global economy constrained revenue growth at FedEx Express more than expected in the earlier guidance," the company said in a statement.
Weakness in the company's FedEx Express operation is ominous sign. It underscore's the status of FedEx as a bellwether stock because the Express business is the firm's most important revenue driver. This is the service customers use when they need to move anything from documents to books to product samples in a jiffy.
FedEx Express accounts for almost two-thirds of the company's revenue and 40 percent of operating income. In another bad sign regarding the state of the U.S. economy, FedEx derives 70 percent of its revenue from the U.S.
FedEx Express is also not cheap. A customer that wants to send a five-pound package from Los Angeles to Dallas using FedEx First Overnight service with an 8:00 AM local pickup time may pay more than $120, according to FedEx.com. Shipping the same package using FedEx 2Day service costs barely more than a third of FedEx First Overnight and most business owners know the U.S. Postal Service is far cheaper than FedEx or UPS.
Moving packages and cargo is a staple of business, but FedEx and UPS represent the discretionary avenues of doing so. Discretionary and luxury spending are nice, but can be easily trimmed or eliminated when businesses, particularly small firms, want to rein in spending. FedEx's guidance reiterates to investors that the company is vulnerable to economic whims.
FedEx Joins The Club
Unfortunately, FedEx is not alone in sounding a glum tone regarding an upcoming profit report. CNBC reported in early August that half of the S&P 500 member firms had pared third-quarter estimates. The telecom and utilities sectors, of which FedEx is not a member, are home to the most positive earnings revisions.
More importantly, is the "who" among the companies that are sounding cautious tones. FedEx is merely latest economically sensitive name to give investors reasons to be skittish. Deep cyclical plays such as Caterpillar (NYSE: CAT), Joy Global (NYSE: JOY) and other high-beta names have sent chills down the spines of investors.
FedEx is also engaging in another practice plenty of other companies employ: Cost-cutting. That is cost-cutting to prop up the bottom line in the absence of top-line growth. The company has grounded some of its air fleet due to slack demand for package shipping and last month, FedEx said it plans to offer buyouts to some U.S. workers to cut costs Bloomberg reported.
It is a simple equation. Downward earnings revision + planned staff shrinkage + a slow global economy = A bad environment for FedEx.
Posted-In: Earnings Long Ideas News Guidance Short Ideas Economics Pre-Market Outlook Intraday Update Best of Benzinga
View Comments and Join the Discussion!