Will Salesforce's Earnings Match its Growth?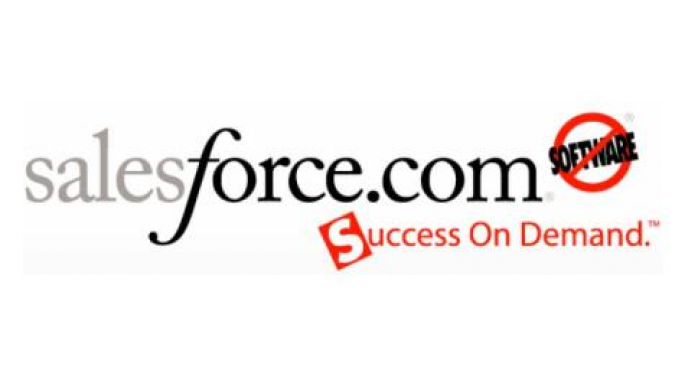 Enterprise Cloud Computing provider Salesforce.com (NYSE: CRM) is set to report second quarter earnings after the stock market close on Thursday, and expectations are high after the company reported 45 percent growth so far in 2012.
Chief Executive Marc Benioff has turned Salesforce.com into a leader in the field of cloud computing. Recent acquisitions of companies like Radion6 and Buddy Media prove just how serious Salesforce.com is about towering over competition such as Oracle (NASDAQ: ORCL), SAP (NYSE: SAP) and DropBox.
In addition, Benzinga reported last month that Salesforce was about to acquire GoInstant, a young startup specializing in downloads-free co-browsing.
GoInstant serves corporations who wish to implement co-browsing in sales and customer support scenarios, among others. The service differs from other co-browse and screen share technologies by allowing its users to interact together in real-time. Salesforce will reportedly pay more than $70 million for GoInstant, a far cry from the $600 million the company dished out for Buddy Media.
In June, Salesforce and Twitter announced a strategic global alliance to provide Twitter's stream of public tweets to Salesforce's Radian6 customers. This served as further proof that Salesforce is always looking for new ways to expand its already-broad horizons.
However, as is the case with Facebook (NASDAQ: FB), analysts struggle in knowing how to place a valuation on a company that provides web-based services, rather than a tangible product. According to Piper Jaffray, industry insiders expect Salesforce's second-quarter to be, "fine, not great, not bad, inline. [Salesforce] will report a decent quarter, not far exceeding expectations but a good solid quarter."
Another insider said that, "We are seeing pretty robust demand…the pie keeps growing…there is just so much momentum in the install base for incremental growth."
Analysts are expecting revenue of $728 million, a 33 percent rise from the previous year. What's amusing is that they don't seem to know why; they just know that there is a ton of momentum in Salesforce's favor. Whether or not that will continue remains to be seen.
On Thursday afternoon, Salesforce traded at about $146.30, down roughly 1.5 percent.
Posted-In: Buddy MediaEarnings News Contracts M&A Markets Tech Trading Ideas Best of Benzinga
View Comments and Join the Discussion!