UBS Profits Plunge, Hit by Facebook IPO Loss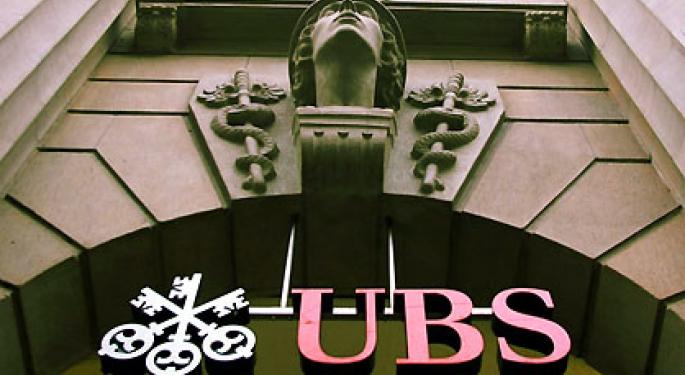 UBS (NYSE: UBS), Switzerland's largest bank by assets, announced Tuesday a 58 percent drop in net profit to 425 million francs. Losses stemming from the Facebook (NYSE: FB) initial public offering (IPO) were 349 million Swiss francs ($356 million).
UBS indicated in a statement, "We will take appropriate legal action against NASDAQ to address its gross mishandling of the offering and its substantial failures to perform its duties."
As a market maker, the investment bank likely felt obligated to participate in one of the largest U.S. IPOs in history.
The bank's equity unit was hurt by "gross mishandling" of Facebook's IPO. UBS said it had entered orders multiple times because NASDAQ had not confirmed that any orders were filled hours earlier.
Moreover, UBS acknowledged that a large portion of the losses came from its wealth management business.
In Zurich early trading, UBS shares were down as much as 5.9 percent before recovering slightly.
The Swiss lender reported second quarter earnings that were below the consensus analyst expectation. The bank suffered a pre-tax loss of 130 million francs. Frankfurt based analyst Dick Becker for Kepler Capital Markets indicated, "The investment bank has been underperforming for a while."
Following the Facebook debacle, UBS said it will trim its risk-weighted assets further than previously planned. However, while this strategy may potentially curb UBS's risks, it might also lower the company's opportunity for future earnings.
Chief Financial Officer for UBS, Tom Naratil, stated on a conference call that the market environment remains "challenging" and the bank intends to continue to remain "vigilant" on costs. The bank had cut 3,500 jobs last year to lower expenditures, and vows to continue improving efficiency.
UBS is still repairing its reputation from last year's $2.3 billion loss from unauthorized trading, which resulted in former CEO Oswald Gruebel's departure. The company has also been named among banks involved in the LIBOR rigging investigation.
The Swiss bank is not alone in disappointing investors. Deutsche Bank's (NYSE: DB) earnings dropped 63 percent in the second quarter. UBS and cross-town rival Credit Suisse AG (NYSE: CS) are trying to navigate through the euro zone's weak economic outlook and debt crisis.
Looking ahead to the third quarter, UBS said it feels revenue growth, net interest margins and new money will be under pressure.
Until the euro zone's sovereign debt and banking issues abate and while the looming U.S. "fiscal cliff" hangs in the balance, UBS and other major European banks may face challenges improving revenues.
Posted-In: Credit Suisse Deutsche Bank Dick Becker Kepler Capital MarketsEarnings News Topics General Best of Benzinga
View Comments and Join the Discussion!