Chipotle and Panera's Earnings: Two Similar Businesses Headed in Opposite Directions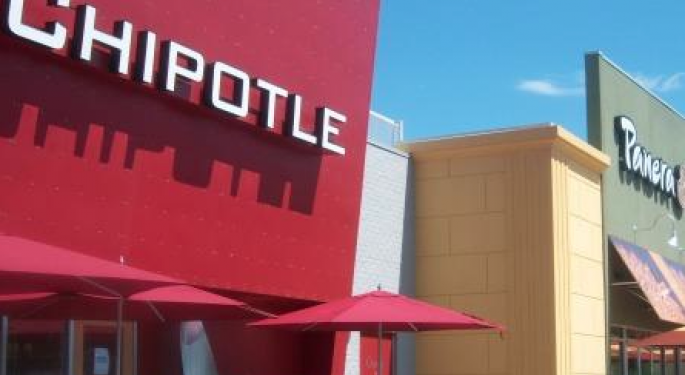 Two similar restaurant chains that reported earnings recently are Chipotle Mexican Grill (NYSE: CMG) and Panera Bread (NASDAQ: PNRA). Both are fast-casual restaurants that seek to use high-quality ingredients in their food while still delivering fast service. A popular trend in the U.S. has been for many consumers to look for fast-casual restaurants that offer an alternative to traditionally unhealthy fast food restaurants.
However, despite their similarities, Chipotle recently reported disappointing earnings while Panera reported earnings that beat expectations.
Chipotle reported earnings on July 20 and subsequently shares have dipped this week after the company hinted at sales slowdowns. The company announced that sales growth in restaurants was 8 percent, short of the average analyst estimates of 10 percent. In the first quarter of 2012, Chipotle's sales increased 12.7 percent.
With a price to earnings ratio of 36.29, Chipotle is a high growth company. Investors expect for sales and revenue to grow at a fast pace for this reason. John Hartung, Chief Financial Officer at Chipotle, noted that the slowdown was most likely due to a weak economy and a reduced consumer spending. Hartung continued warning that the drought that the US has experienced recently could hurt food costs later in the year. Although Chipotle reported sales that suggested a slow down, investors may see the 26 percent decrease in the stock price as a buying opportunity.
Panera Bread reported earnings on Tuesday, July 24 after the market close. Shares of Panera have traded up about 8 percent since announcing its second quarter earnings. The company reported earnings of $1.50 per share, compared to Wall Street estimates of $1.43 per share. The company also saw revenues increase 18 percent to $530.6 million. Along with reporting favorable earnings, the company raised its guidance for full year earnings per share.
Panera stated that its growth in sales could be attributed to strength in its catering segment, where sales increased by 20 percent. Sales were also increase by a meal upgrade program, in which customers can get a bakery treat for $0.99 with a purchase of a meal and a beverage. For the rest of 2012, the company is focusing on investing in food quality, investing in marketing and growth in its catering business.
Bill Moreton, President and Co-CEO, commented, "We are pleased to deliver 27% earnings growth in the second quarter, the ninth out of the last ten quarters where earnings growth has exceeded 20%. Our strong comparable sales growth in the quarter of 7.1% is the direct result of our past and current investments in the quality of our food, marketing, operations, and customer experience."
If these companies are so similar, why were their earnings results so different? One large difference is in the size of the companies. Chipotle has a market capitalization of $9.4 billion, compared to Panera's market capitalization of $4.45 billion. Chipotle could be experiencing a natural slow down of growth that occurs when a company begins to mature.
Panera seems to be expanding and developing its business faster than Chipotle. Panera has a catering service, stores with drive-thru windows and increasing menu selections. Chipotle only caters in Colorado, where it is testing the service.
Both companies are still growing and have a business plan that is becoming increasingly popular amongst restaurant goers. As people continue to look for alternatives to unhealthy fast food, restaurants such as Chipotle and Panera will continue grow.
Panera Bread traded up about 8.85 percent while Chipotle traded up about 1.5 percent on Wednesday.
Posted-In: Bill MoretonEarnings Long Ideas News Guidance Short Ideas Movers Trading Ideas Best of Benzinga
View Comments and Join the Discussion!