Under Armour's Ironclad Quarter Tops Wall Street Estimate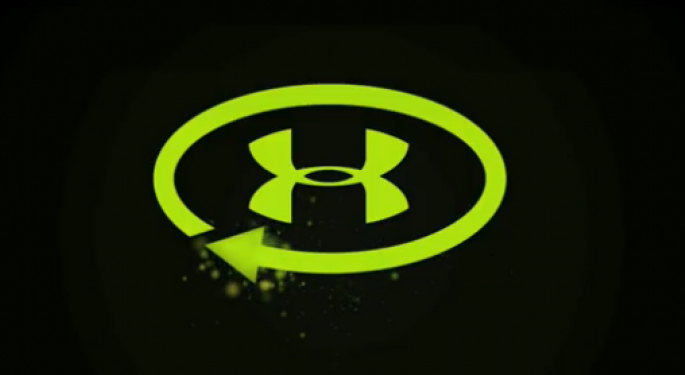 Under Armour (NYSE: UA) beat analyst's expectations for the second quarter. Results for the developer and distributor of apparel, footwear and accessories were impressive given the recent economic head winds.
Net income rose $6.7 million vs. $6.2 million in the same quarter last year. The 6.8 percent increase was $0.06 per share, or a penny better than Wall Street expectations.
Revenues increased by 26.8 percent to $369.5 million from the prior year's second quarter. Analysts were putting Under Armour's revenue estimate at $358.4 million.
There was a slight gross margin compression from last year from 46.3 percent down to 45.9 percent. The short fall was attributed to high commodity prices which surged 24.8 percent and a strong dollar.
New running foot apparel helped to prompt the double-digit jump in top-line growth with a 23.8 percent increase from a year ago quarter.
"Our heightened attention across all our product lines continues to resonate with consumers," Chairman, CEO and President of Under Armour Kevin Plank said.
New products such as the Studio line, Armour Bra as well as Coldblack were instrumental in the company's revenue growth.
There is, however, a fly in the ointment looking forward. Third quarter estimates were dropped from $0.54 to $0.53. For the fiscal year average, estimates come in at $1.19, up from $1.18.
Under Armour's lofty stock trades at 44 times 2012 earnings and 34 times 2013 estimates. Nike (NYSE: NKE) , Under Armour's closest competitor, trades at a far more compelling multiple at 19.6 times 2012 earnings and 17.9 times 2013 projections respectively.
Nike, however, is expected to see less than half of Under Armour's sales and earnings growth, putting Under Armour in a great position to steal market share. With the recent expansion in the athletic footwear market, Under Armour is directly challenging both Nike and Adidas.
Under Armour's recent employment of former Adidas Executive Karl-Heinz Maurath is expected to help boost sales and further brand recognition in the U.K., France, Germany and Switzerland.
Under Armour numbers were well received by Wall Street investors this morning, jumping 11.7 percent to $54.09 a share.
Posted-In: Adidas Karl-Heinz Maurath Kevin Plank Wall StreetEarnings News
View Comments and Join the Discussion!