An Options Strategy for Michael Kors
Shares of Michael Kors (NYSE: KORS) soared 4% after its announcing fourth quarter earnings on Tuesday. Kors beat revenue and profit expectations for the quarter and its forward full-year earnings and revenue guidance exceeded estimates. For the fourth-quarter, profit was 22 cents a share, greater than the estimated 17 cents a share.
The earnings beat came on robust demand for Kors luxury brand in North America. In addition, Kors managed to increase its European revenue by 122.6%, while same store sales increased 36.1%. The company operates in three segments: retail, wholesale, and licensing. All of the segments experienced year-over-year growth.
Kors' growth strategy is based on increasing brand awareness, expanding its North American retail store base, and growing its international retail and wholesale business.
Using a range bound options strategy can be profitable. At the moment, the stock has priced in high growth in revenue and profits. Moreover, Kors has shown outstanding revenue growth in Europe. The news, to a certain extent, may potentially insulate Kors from European macro headwinds going into the Greek elections. Kors briefly traded over $49 a share in March of 2012. The $49 level in the past has acted as resistance. If Kors trades at $40 a share in the future, bullish traders would foreseeably incur significant down-side risk in attempting to bid up the stock further past a historical resistance level.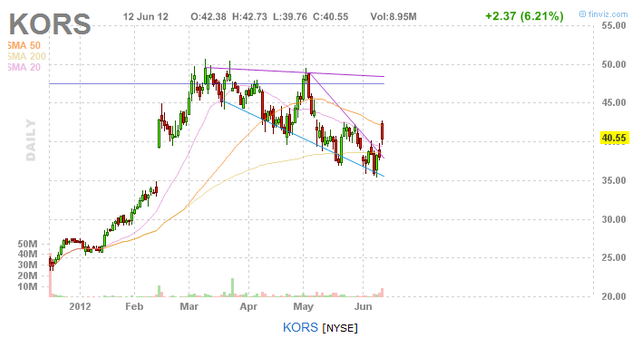 A range-bound options strategy can be profitable given the potential for Kors to stay in a trading range of $35-$49 per share. Potential upside may be limited because of the $49 a share resistance level and the high growth expectations currently priced into the stock. Potential downside may be limited because of Kors' past ability to greatly increase revenue in its European business segment.
A long iron condor is a potential profitable strategy involving options. In general, a long iron condor involves purchasing out of the money puts and calls along with writing out of the money option puts and calls with inner strikes. Since the option contracts being sold should be of greater premium than the contracts purchased, the strategy is a net credit transaction.
Options on Kors stock exhibit a negative horizontal skew. Horizontal skew examines how implied volatility changes depending on strike prices. Negative skew means that options with lower strike prices, this being in the money calls and out of the money puts, have higher implied volatility than options with high strike prices.
Given Kors as a specific example, traders could write and purchase options all with July 21 expiration. The iron condor will involve an out of the money call and put structure. Selling a call with a strike price of $49 for $0.50 and buying a call with a strike price of $50 for $0.40 results in a net credit of $0.10 per share or $10 total. The second half of the trade involves selling a put with a strike price of $30 for $0.375 and buying a put with a strike price of $29 for $0.225 resulting in a net credit of $0.15 per share or $15 total. Overall, the combined call and put structure results in $25 and only ties up $200 of capital. If the stock stays within $30-$49 a share for the next 38 days, the strategy would yield 12.5% (not including commissions).
Since the call and put options we are selling are very far out of the money, compared with the typical iron condor strategy, this version of the Iron Condor is sometimes called an Iron Albatross Spread.
The iron condor strategy is not without several risks. Since high revenue and sales growth is priced into Kors stock, Kors will need to consistently beat Wall Street's revised estimates. As with many high-flying growth stocks, any kind of earnings miss can send shares tumbling possibly below $30 a share. There is also risk to the upside. KORS will not report until after the options expire but there could be an unforeseeable catalyst which may drive KORS past its $49 a share resistance level.
View Comments and Join the Discussion!
Posted-In: Earnings Long Ideas News Short Ideas Futures Options Markets Movers Best of Benzinga