Flagstar's 'Initial Pistons Offering' Allows NBA Fans To Earn Interest While Awaiting Return Of Live Events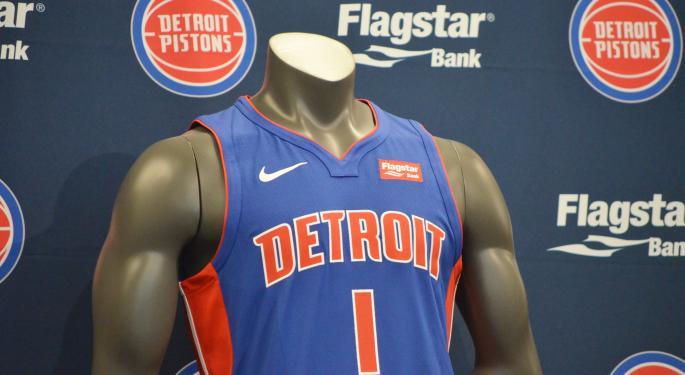 In a twist on the usual IPO model, Flagstar Bancorp, Inc (NYSE: FBC) has announced an IPO — an Initial Pistons Offering — with the NBA's Detroit Pistons.
Initial Pistons Offering: The program was announced on the Pistons' ticket sales page.
Fans who purchase a full- or half-season membership or a 10-game plan above $500 will receive a 5% annual percentage yield on their total purchase price via a 30- to 130-day CD set up by the bank, according to the Pistons.
The CD matures until Dec. 31.
At that point, if it is announced that fans are able to attend games, the season ticket funds will be transferred back to the Pistons. Otherwise, the full balance would be distributed to the fan's checking account within 10 business days.
Fans who participate would see the interest that accrues automatically deposit into their bank account.
Why Now? Given the fluidity of professional sports due to the coronavirus pandemic and the unknowns surrounding when fans will be able enjoy live events, this program allows them to invest in tickets now and have that money work for them in the future, Michael Sarage, director of premium sales and development for the Pistons in an email to Benzinga.
"We are excited to work with our partners at Flagstar Bank in creating an innovative season ticket promotion that provides a money-making opportunity for Pistons fans," he said.
It's incumbent upon the Pistons to be at the forefront of the fan experience, Sarage said.
See Also: Why StockX Activity Is Up 50% Year-Over-Year: A Rally In The Stock Market Of Things
New IPO Models: The new IPO isn't the first time companies have taken their own twists on the IPO model.
Detroit-based StockX has run its own IPOs using a blind dutch auction model and even partnered with sportswear giant Adidas (OTC: ADDYY) to launch a special shoe collaboration last year.
The Detroit Pistons, owned by Tom Gores, were last valued at $1.45 billion by Forbes. Flagstar Bank has been partnered with the Pistons since 2017 and is the team's official jersey ad sponsor.
Benzinga file photo by Dustin Blitchok.
View Comments and Join the Discussion!
Posted-In: Detroit Pistons NBASports General Best of Benzinga