Opinion: How Organizational Transformation Impacts Shareholder Value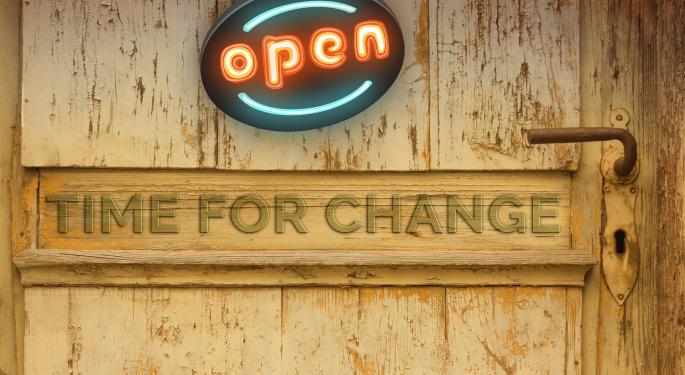 Public companies need an edge. They are surrounded by powerful competitors, pushing against them in their space to become the top contender. Staying on top has never been harder, so these companies are constantly looking for their next piece of leverage—something that significantly appreciates their shareholder value. This leverage, in whatever form it takes, can cause stock prices to skyrocket. Adversely, absence of it can make them plummet.
One way that public companies can obtain this leverage is by constantly looking at their organization and continually updating their processes. This idea — organizational transformation — is integral to a company's success, and there are countless examples that prove its value.
In 2016, health insurer Anthem Inc (NYSE: ANTM) brought on a new Chief Technology Officer to implement a shift from traditional waterfall processes to the Agile methodology for much of its technology-driven operating methods. In October of 2017, Anthem leased a 21-story, 325,000 squarefoot building in downtown Atlanta to house its budding Agile development team. At that time, Anthem's stock price was around $183 a share. In early-December of 2018 the company's stock traded at $280 a share — a 52 percent jump in just over 13 months.
At the end of 2016, Anthem had between 70 and 80 Agile development teams, former CIO Tom Miller says. By the end of 2017, the company had more than 400, and nationwide job boards were packed with posts seeking to add even more Agile Anthem employees.
Anthem is one of the perfect examples of how companies that embrace Agile and other forms of organizational transformation or restructuring often realize sharp spikes in shareholder value.
Leadership Changes Can Increase Shareholder Value
Companies often realize significant growth through organizational reorganization and reshuffling. When organizations both large and small undergo reorganization and other noteworthy leadership transformations, it often increases the speed of delivery for new products and solutions that allow them to become more competitive and efficient, which in turn boosts their value.
In June of last year, Starbucks Corporation's (NASDAQ: SBUX) share price was languishing around $47 a share. Founder Howard Schultz stepped down over the summer, and in September the Seattle-based global coffee titan announced it would thin its executive ranks by eliminating positions at the senior vice president and vice president levels in an effort to increase the speed of innovation.
By mid-December of 2018, Starbuck's share price had jumped to more than $66, a 40-percent spike in less than six months.
How Leadership Quality And Organizational Transformation Impact Shareholder Value
The caliber of an organization's leadership often is directly linked to shareholder value. Facebook, Inc. (NASDAQ: FB) splashed across national business headlines in April of 2012 when it purchased little-known photo sharing app Instagram for $1 billion in cash and stock. When Instagram founders Kevin Systrom and Mike Kreiger announced in September of 2018 that they were leaving Facebook after six years, the social media giant's shares continued a downward trend that began over the summer. On the day of the Instagram founders' announcement, Facebook's stock was trading at $165. By mid-December, the stock had dipped to the $140 range.
While changes in senior leadership can negatively impact stock performance, this isn't always the case. Investors familiar with a company's mission and market dynamics often embrace organizational change at the most senior levels because — like in the case of Anthem — these new leaders are brought in to infuse fresh corporate strategies that increase the speed of delivery and boost shareholder value.
New leaders typically bring about new ways of thinking and working that can transform the culture of an organization for the better. In January of 2013, Aetna announced a senior leadership shakeup. Its stock was trading at $48. Six months later, the company's stock was at $63, and 18 months later it traded at $83 a share. Four years later Aetna was above the $120 threshold, and when CVS Health Corp (NYSE: CVS) acquired Aetna this year for roughly $70 billion, the company's shares closed at a valuation of $212 — a 341 percent increase from the time it announced its senior leadership reshuffling.
More recently, Intuit Inc. (NASDAQ: INTU) announced in late-August that longtime CEO Brad Smith would step down at the end of 2018 after 11 years at the helm of the global business software company. On the day of the announcement, when CTO Tayloe Stansbury also announced his departure, Intuit's shares closed at $216. However, by early-October Intuit was trading at a 52-week high of $231.
Other public companies with changes at the highest levels of organizational hierarchy over the past few years include McCormick & Co (NYSE: MKC) and Fastenal Company (NASDAQ: FAST). When Dan Florness took the helm of construction parts provider Fastenal at the start of 2016, the company's stock traded at $38. This year it hit a 52-week high of $61 and closed in early-December at $59. When McCormick CEO Lawrence Kurzius took the helm of the global spice manufacturer at the start of February 2016, the company's stock traded at $87, but it lifted to a 52-week high of $155 in December of 2018.
Leadership Changes? Consider Adding These Companies To Your Portfolio
Organizational transformation and significant shifts in corporate leadership often equate to competitive advantages and other benefits. New leaders bring fresh vision and direction for companies that often tangibly impact their stock price – especially when leaders present their strategies to investors early in their tenure.
When a company announces some form of an organizational transformation, simply observing the process can help with understanding the sheer impact of the strategic move. The examples above only further prove the benefits associated with undergoing transformation.
Organizations that announce significant leadership changes, or announce the inception of transformational leadership initiatives such as shifting to Agile methodology, could be worth paying closer attention to and possibly adding to your portfolio to reap the benefits of their projected growth.
Related Links:
Should Amazon Investors Be Concerned With The Bezos-Enquirer Scandal?
The preceding article is from one of our external contributors. It does not represent the opinion of Benzinga and has not been edited.
Posted-In: contributor contributorsNews Management Opinion Best of Benzinga
View Comments and Join the Discussion!