Market Remains Under Pressure Amid Fizzling Optimism On Trade, Worry About Yield Inversion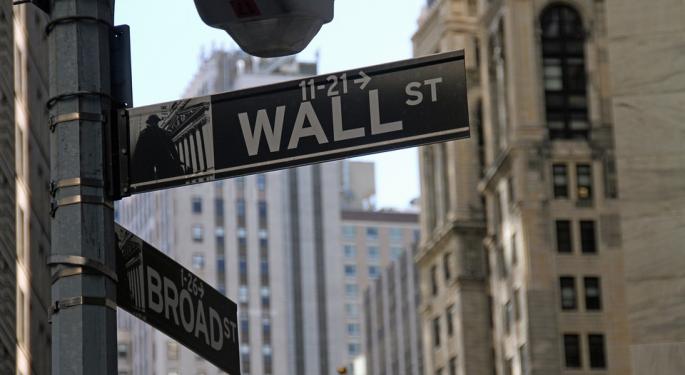 Despite a mid-week break in trading, the market doesn't seem like it's able to break its downward momentum as worries appear to continue about a possible U.S. economic slowdown and progress on the U.S.-China trade front.
The back-and-forth swing in the headlines about bullish or bearish news on the trade front can be frustrating, and it may be worth remembering that these trade negotiations are part of a long process and could be an overhang on the market for some time. But even though we don't know how everything will shake out, investors with a long enough time horizon could see the ups and downs eventually smooth out.
Overseas Shares Slump
Although the, U.S. stock and Treasury markets were closed yesterday in honor of the late President George H.W. Bush, overseas markets didn't take a break. But they did get taken out to the woodshed.
Asian and European shares slumped after the arrest of Huawei's chief financial officer in Canada. The executive of the telecommunications equipment and consumer electronics multinational faces extradition to the United States, according to media reports, and the situation appears to threaten the already-tense trade relationship between the world's two largest economies just days after the two agreed to a truce in their ongoing trade war.
Investors appeared to worry that the Huawei news could set back talks between the U.S. and China over a trade dispute that has been simmering for months and has raised concerns about global economic growth.
In U.S. economic news, weekly jobless claims fell less than expected, dropping to 231,000. That was a better showing than the 225,000 expected in a Briefing.com consensus estimate. Later this week, investors are scheduled to get a more comprehensive look at the U.S. jobs market, with the November government payrolls report due out Friday. (See more below.)
The weekly jobless claims news probably wouldn't be enough to alter the Fed's rate-hiking trajectory, and market participants appear to be widely expecting a rate hike in December—futures markets point to a 71.5 percent of a hike this month, which is down about 10 percentage points from where it was a week ago. Market expectations for Fed rate action next year are less clear.
The Two Ts
When U.S. stocks last traded, on Tuesday, it was a wild ride as Wall Street's main fear index, the Cboe Volatility Index (VIX) rose sharply and all three of the major indices fell more than 3 percent. With the added market pressure this morning, the VIX jumped another 16 percent ahead of the open to above 24.
Two Ts seemed to dominate trading on Tuesday: Treasury yields and tariff talk.
Investors appeared to fret after parts of the Treasury yield inverted. Sometimes inversions in the Treasury market have been associated with economic slowdowns, though it's unclear if it's cause or effect.
The big "inversion" investors seem to be watching for is between 2-year and 10-year Treasuries, which hasn't happened yet. Ahead of today's open, the spread between the two stood at 12 basis points.
Amid the worry about an inversion, financial stocks got hit Tuesday. An inverted yield curve can make it harder for banks to do their business, which typically involves paying interest on deposits at the short end and lending on the long. Also, banks might be getting hit by concerns that loan demand and perhaps trading volume could fall if the economy slows.
Also on Tuesday, investor confidence in the possibility of a longer-term U.S.-China trade deal appeared to begin to fray after Trump called himself a "Tariff Man." That contrasted to the market optimism Monday after a meeting between Trump and his Chinese counterpart resulted in promises to work together to resolve issues, an agreement by China to buy more U.S. goods, and no new impositions of tariffs for the next 90 days.
Pumping the Oil
Oil is taking it on the chin this morning after a Saudi official said a slighter-than-expected cut in production would be sufficient for OPEC and its allies. If OPEC and its producer allies do cut production less than expected, that would leave more oil in a market that has been plagued by fears of oversupply even as market watchers appear to worry that slowing global growth could hit demand.
In corporate news, ride hailing company Lyft has filed paperwork to sell shares via an initial public offering. It could be interesting to watch the timing of such an offering as it would be an indicator of the company's optimism about market and economic conditions.
In other company news, after the market closes today, we're scheduled to see earnings from Lululemon Athletica (LULU). The athletic clothing retailer can be a marker of sorts for the health of the consumer, and it could be interesting to see if management has anything to say about how things are going this holiday shopping season.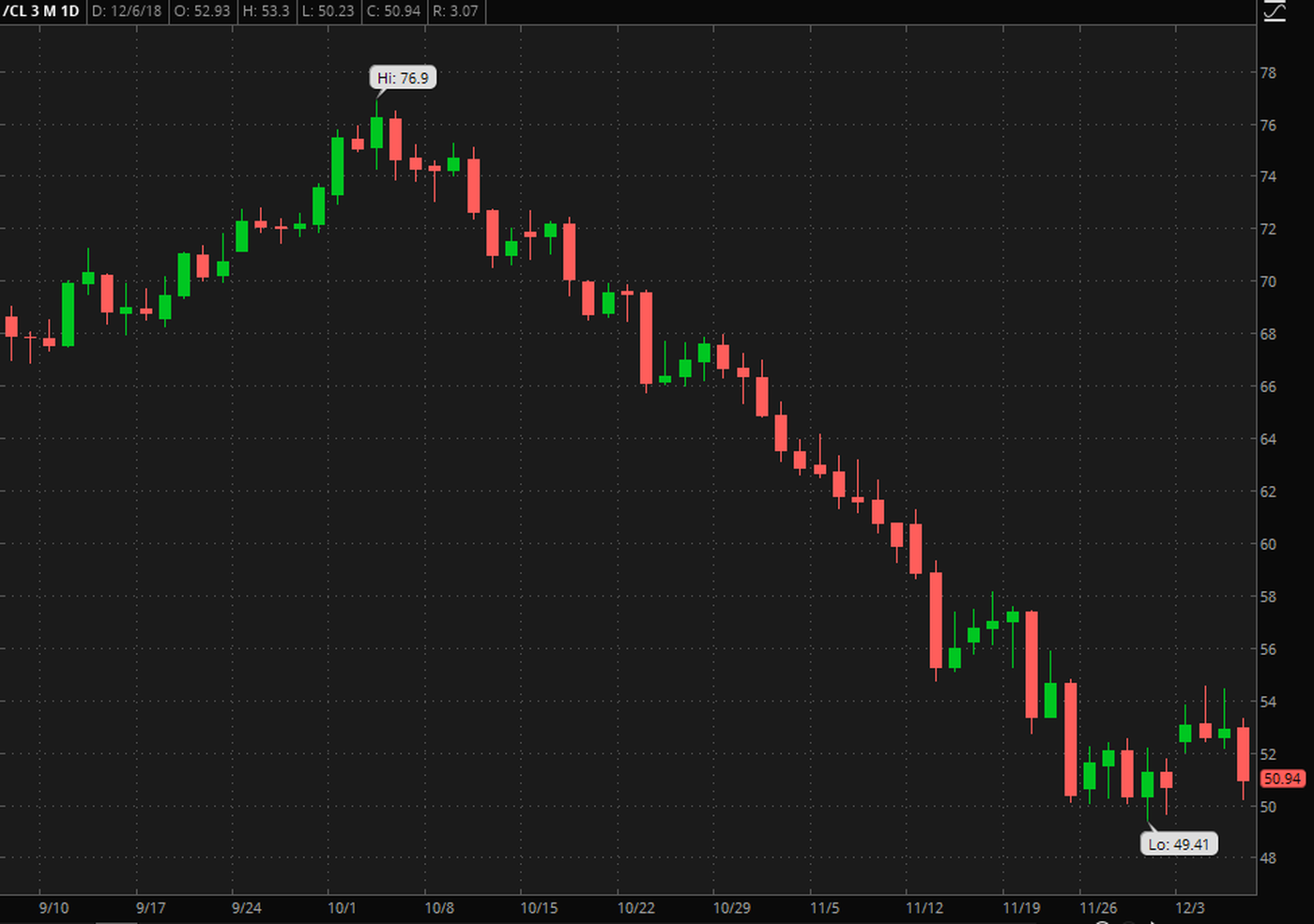 Figure 1: Pumping it Out. As OPEC and its allies hash out their production plans, oil prices have fallen again after a Saudi official suggested that a production cut could be less than expected. It's just the latest bearish news for a market that has taken a drubbing in recent weeks, as shown in this candlestick chart of U.S. oil prices. Data Source: CME Group. Chart source: The thinkorswim® platform from TD Ameritrade.For illustrative purposes only. Past performance does not guarantee future results.
Payrolls Data on Tap
Tomorrow, the market is scheduled to see the government's latest report on the nation's employment situation. Typically, the jobs data is closely watched by investors eager for a glimpse about how well the economy is doing and how that might affect the Fed's monetary policy stance. Nonfarm payrolls for November are expected to show an increase of 189,000 and average hourly earnings growth of 0.3 percent, according to Briefing.com consensus estimates. That last bit is arguably important to watch, as changes in wages factor into inflation readings and are closely watched by the Fed.
Color on the Economy
Speaking of the Fed, yesterday, the central bank's latest Beige Book was largely positive on the economy, but it did say tariffs are a headwind, as is the softness in the housing market. It appears to be another illustration of the balancing act the Fed seems to be facing as the economy seems to be doing well overall but faces pockets of potential problems. On the one hand, central bankers have been on a path of raising interest rates gradually to try to stave off problematic inflation, but on the other hand it would seem they don't want to raise rates too fast in a way that could squelch growth.
Playing Defense
Investment research firm CFRA is embracing a more defensive posture as a result of its projections for slowing gross domestic product and earnings per share growth next year. Even though it doesn't see a recession starting in the next six to 12 months, the research firm is projecting 2.7 percent GDP growth by Q4 2019 from 3.2 percent this year and S&P 500 EPS growth of 7.5 percent next year compared with this year's projected rise of about 23 percent. So its investment policy committee has adjusted its sector recommendations by upgrading consumer staples and real estate and downgrading communication services and financials.
Information from TDA is not intended to be investment advice or construed as a recommendation or endorsement of any particular investment or investment strategy, and is for illustrative purposes only. Be sure to understand all risks involved with each strategy, including commission costs, before attempting to place any trade.
Posted-In: TD AmeritradeNews Bonds Commodities Treasuries Global Econ #s Markets
View Comments and Join the Discussion!