GBP/USD Forecast: The Government Losing A Parliamentary Vote Is Sterling Bearish
The UK government was defeated in parliament on Tuesday will have to publish full Brexit legal advice at 11:30 GMT.
The UK parliament begins a debate about the Brexit agreement with the meaningful vote resuming on December 11.
With the loss in the UK parliament, the market sentiment turned sour with Sterling trading near fresh 2018 lows.
The GBP/USD is trading little changed on the downside around 1.2700 after the UK government was defeated in the UK parliament on Tuesday with lawmakers voting to give parliament more power over next Brexit steps if May's Brexit deal is voted down on December 11. The GBP/USD fell to a fresh 2018 low of 1.2658 and retreated from the lows to trade near 1.2700.
The UK Conservative party parliamentary leader Andrea Leadsom said the legal advice will be published at 11:00 GMT although there are contradictory times from Bloomberg saying iot will be published at 11:30. No matter what is the time of the publishing, the crutial debate about the Brexit deal is opening upo in the UK parliament providing tons of headlines.
The UK services PMI from IHS/Markit is due today with the activity in services seen picking up to 52.5 in November, but the number is likely to be overviewed by the market palyers amid British parliamentary debate on the Brexit agreement.
Technically the GBP/USD is still trapped in the bearish trend and with the break of 2018 low further bearishness is set to arise, especially after the UK government defeat in the parliament that is seen as pre-cursor of December 11 vote. The short-term technical indicator all favor correction higher on GBP/USD as the currency pair bounced off lows and the Momentum, the Relative Strength Index and Slow Stochastics are now pointing upward. The relative dependency of the GBP/USD move on Brexit headlines makes it hard for GBP/USD to break above 1.2800 to confirm the bullish reversal and the currency is likely to test new 2018 lows should parliamentary debate assure markets that the Brexit deal won't pass pressing on Sterling to beak to new lows.
GBP/USD 1-hour chart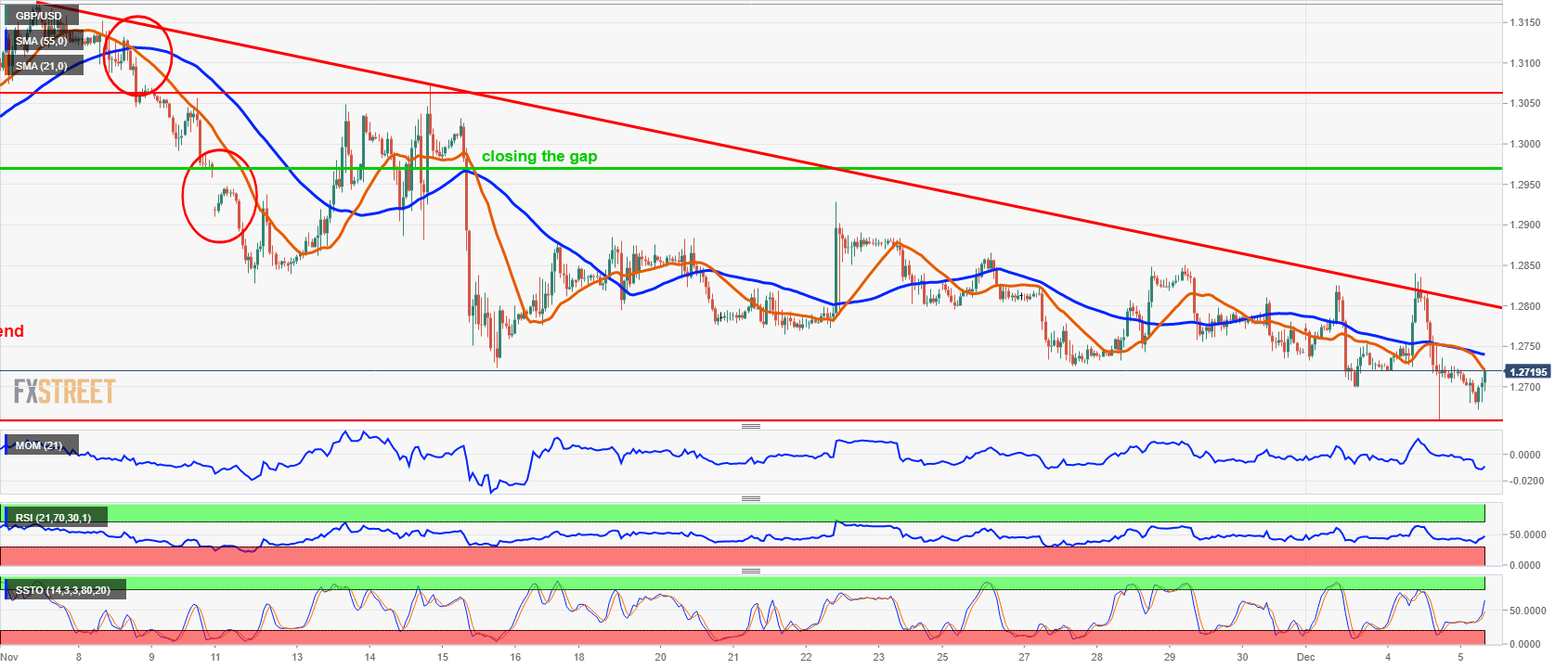 View Comments and Join the Discussion!