Campbell, Third Point Reach Agreement On Board Involvement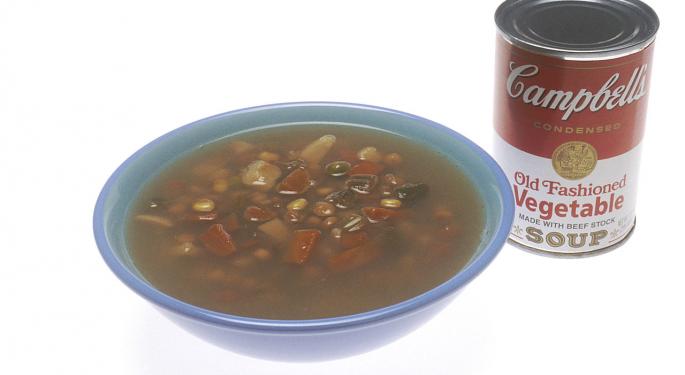 After months of back-and-forth between Campbell Soup Co. (NYSE: CPB) and activist investor Third Point LLC regarding the addition of board members and company involvement, the two have reached a deal.
What Happened
Following its annual shareholder meeting Nov. 29, Campbell will increase the number of board seats from 12 to 14, adding two independent directors, the two companies said in a press release.
"The two parties have also agreed that Third Point will provide input into Campbell's ongoing CEO search process."
The final decision on Campbell's permanent CEO will be made by its board of directors, the companies said.
"Underscoring the open channels of communication between the parties, Campbell has invited Third Point to present its views at two meetings of the board and two meetings with Campbell's CEO within the next 12 months."
Why It's Important
Third Point is consequently withdrawing its board nominees, as well as any litigation against Campbell, the announcement said.
"We are pleased to have reached an agreement with Third Point that is in the best interests of Campbell shareholders, and we look forward to welcoming both Sarah and Kurt to our Board of Directors," said interim Campbell President and CEO Keith McLoughlin, referring to incoming independent board directors Sarah Hofstetter and Kurt Schmidt.
"We will continue to maintain an active and productive dialogue with all of our shareholders, including Third Point, as we execute our strategic plan and build a stronger and more focused company that creates long-term value for shareholders."
Third Point will work collaboratively with Campbell to improve shareholder value, Daniel Loeb, the hedge fund's CEO, said in the statement.
"We are confident that Campbell will find a world-class CEO who is given the necessary support to execute on the strategy to strengthen the company, and that Sarah and Kurt will provide valuable perspectives to the Campbell board."
What's Next
As part of the agreement, a third director will be appointed by May 2019, and the complete agreement will be included in an 8-K form to be filed with the Securities and Exchange Commission. Third Point owns roughly 7 percent of Campbell and has been instrumental in outlining plans to help revitalize the food business.
Related Links:
Campbell Soup Falls Amid Report Company Doesn't Plan To Sell Itself To A Strategic Buyer
Warren Buffett Talks Apple, Campbell Soup And Elon Musk
Public domain photo via Wikimedia.
View Comments and Join the Discussion!
Posted-In: Activist investors Daniel Loeb Food Companies Third Point LLCNews Hedge Funds Management General Best of Benzinga