The NZ Employment And RBNZ Preview: Rates Could Go Up Or Down Depending On Incoming Data
The RBNZ is widely expected to keep the OCR at 1.75 percent and reaffirm that the next move could be up or down retaining cautious approach.
Weakening commodity prices are set to flatten the projection for the OCR in the environment of a softer global growth outlook.
The New Zealand employment is expected to rise 0.5 percent over the quarter with the unemployment rate dwelling at 4.5 percent.
The outlook for the New Zealand's Official Cash Rate (OCR) to remain stagnant at 1.75 percent at the upcoming policy meeting of the Reserve Bank of New Zealand (RBNZ) is well anchored. The OCR is set to remain unchanged even as both GDP and inflation data surprised on the upside with inflation at 1.9 percent in September quarter almost at the middle of 1-3 percent target range for RBNZ.
The RBNZ is actually expected to sound increasing cautious pointing out that the risk of the OCR moving up or down in future are balanced. The RBNZ will reason its cautiousness by core inflation in New Zealand being stubbornly sluggish and by deteriorating international growth outlook that may weigh on New Zealand economy.
Cern about the New Zealand inflation relates to core inflation that needs to increase sustainably toward the 2 percent targeted rate for RBNZ to consider any OCR changes.
In terms of GDP growth, the June quarter GDP growth surprised on the upside rising 1.0 percent over the quarter and 2.7 percent over the year. Current growth momentum though might be belittled by RBNZ that is likely to point out to a slowing global growth as a reference. The trade tensions and global economic slowdown have negative implications for New Zealand's economy.
At the same time, the New Zealand labor market is expected to remain tight in the September quarter with the unemployment rate flat at 4.5 percent and spare capacity being gradually absorbed by relatively robust growth in the economy. The employment is expected to increase by 0.5 percent over the quarter and the nominal wages are expected to remain soft rising by 0.4 percent over the quarter.
In term of annual wage growth, it is expected to remain moderate increasing 1.8 percent over the year in the September quarter. The effect of the inflation picking up to 1.9 percent during the September quarter is expected to be negative on real, inflation-adjusted wages. This contradicts with the development over the past few years when nominal wages outpaced the inflation in support of the household purchasing power.
The New Zealand labor market report is important for the RBNZ policymakers, that want to see broad-based nominal wages growth in order to meet their inflation objective, which is expected to occur only gradually.
New Zealand inflation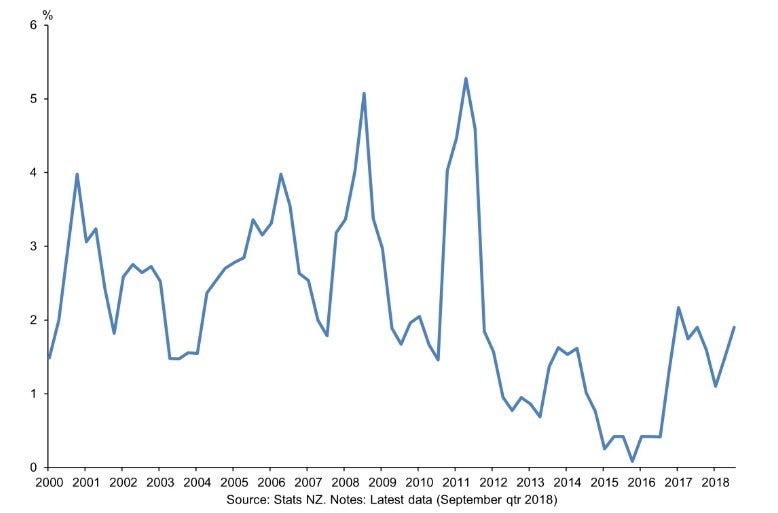 View Comments and Join the Discussion!