EXCLUSIVE: Mark Cuban Short 2 Biotech Stocks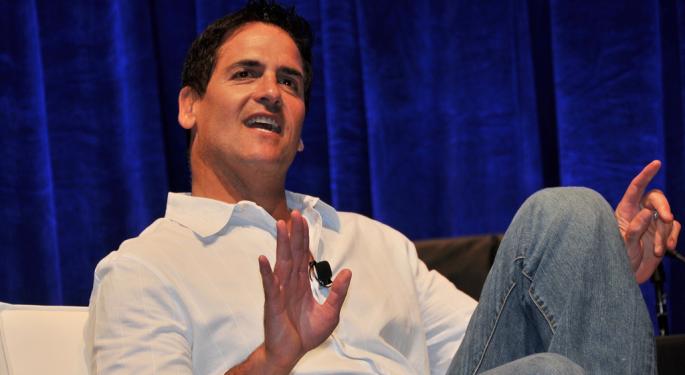 Mark Cuban confirmed to Benzinga he is short Opko Health (NASDAQ: OPK) and PolarityTE (NASDAQ: COOL) earlier Friday.
Recently, Cuban refused to answer questions about his short positions on CNBC, instead referring to investigative site ShareSleuth. "If you want to know where my short interests traditionally have been, just check out that site, because we publish it all. Because you know I'm not best friends with the FCC, so literally anything that I have shorted has been published," stated Mark Cuban.
The billionaire is known to be an especially savvy investor. He is famous for hedging his 14.6 million share position in Yahoo (NYSE: VZ) (which he recieved for the sale of Broadcast.com) into the burst of the dotcom bubble. In 2014, Cuban announced a 50+ thousand share position in Netflix (NASDAQ: NFLX), which up more than 500 percent since then. He has remained bullish on Netflix for more than four years, stating after a period of weakness in 2016, "Stocks go up and down. Netflix will be fine. They have so many options that are untapped."
Cuban initially made a name for himself as an investor by leveraging his knowledge in local area networking to profit from market inefficencies in his early 30s.
It appears that Cuban once again had the Midas touch with Opko Health and PolarityTE. Earlier today shares of billionaire Philip Frost's Opko Health traded down 18 percent before being halted on code T12. This uncommon halt code indicates the exchange wants more information from the company. PolarityTE shares finished the day down 16 percent. The stocks traded lower on news that an investor in both companies, Barry Honig, was named as defendant in a securities fraud lawsuit filed by the SEC.
Mark Cuban's short positions in Opko Health and PolarityTE were first reported on Benzinga Pro, a real-time newswire for investors to stay informed on key words such as Mark Cuban, at 3:16pm ET Friday.
View Comments and Join the Discussion!
Posted-In: Mark Cuban Philip FrostNews Short Sellers Short Ideas Legal Exclusives Trading Ideas