The T-12 Nasdaq Halt: When Stocks Get Called To The Principal's Office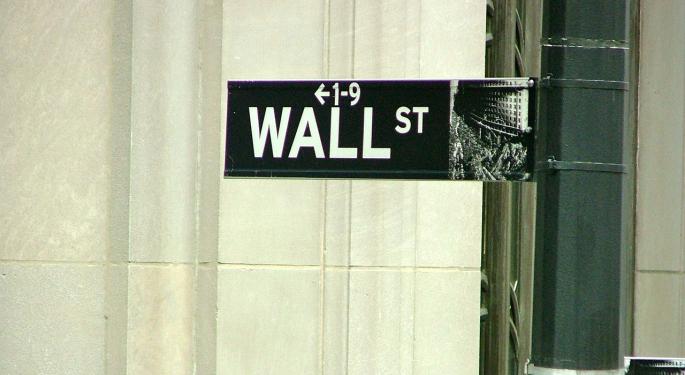 Updated 8/17/2017 to include a BenzingaTV clip on Digiliti Money Group Inc (NASDAQ: DGLT) August 16 T-12 halt.
DryShips Inc. (NASDAQ: DRYS) earns the title of one of Wall Street's strangest stories.
The owner of drybulk carriers and offshore support vessels saw its stock trading in the low-single digits for the past few months, but something unusual happened over the past week.
On November 9, the stock closed at $5.10, but just a few days later the stock was trading in the triple digits and recorded a 1,500 percent return. Ahead of Wednesday's market open, the stock traded above $120 per share but was halted by the Nasdaq stock exchange.
Whenever a stock is halted, there is a code assigned to the company. For example, the most common stock halt code is "T1" which is slapped on a company ahead of the pending release of material news.
A less common but still frequent trading halt code is "T5" which is put in place when a stock moves at least 10 percent in a five-minute period.
From August 16: Digiliti Money Halted On A T-12 After Urban FT Makes Bid
DryShips Halted On T12
One of the more uncommon trading halt codes is "T12" which is what was assigned to DryShips' stock halt. The "T12" halt code is put in place when the Nasdaq exchange requests additional information from the company.
The Nasdaq exchange is likely questioning why the stock soared from around $5 per share to above $120 per share in just a week.
As of Thursday morning, DryShips did not comment on the stock halt.
Now What?
According to FINRA, a trading halt can last up to 10 business days and is issued when the SEC believes the investing public may be at risk.
The SEC holds the authority to halt trading in a stock based on trading activity alone, even if the company is up to date in its regulatory filing.
Can't Be Good News
According to Nasdaq's website, there is another company whose stock is halted on a "T12" code - DS Healthcare Group Inc (NASDAQ: DSKX). The nano-cap personal care, product development and marketing company has seen its stock halted on April 4.
This Has Happened Before
The SEC suspending trading in a stock called Force Energy last year.
According to Goodetrades, the company's stock was halted on July 20 at 10:21 a.m. with a T12 halt code and the SEC suspended trading in the pre-market session the next day.
The reason for the suspension was attributed to: "Questions have also arisen concerning potential manipulative activity of FNRG's stock, including transactions between February 25 and April 2, 2015 and the funding of those transactions."
Visit http://bit.ly/BZTeach for more awesome educational content!
View Comments and Join the Discussion!
Posted-In: DryShips DryShips Trading Halt NASDAQNews Education Legal Top Stories General Best of Benzinga