Wonder Women Of Weed: Tahira Rehmatullah, The Exec 'Creating An Ecosystem Of Like-Minded Cannabis Companies'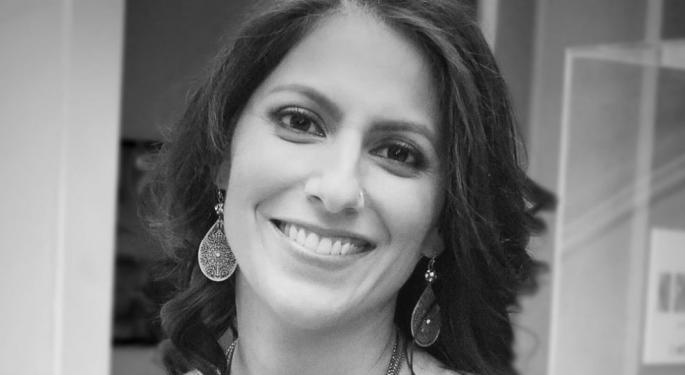 "Wonder Women Of Weed" is a show co-hosted by Javier Hasse and Adelia Carrillo, featuring accomplished female leaders in the cannabis industry. #WWoW is brought to you by a collaborative effort that includes Benzinga, Industry Power Women and Direct Cannabis Network.
This week, we present Tahira Rehmatullah, CFO at MTech Acquisition Corp (NASDAQ: MTEC) and Managing Director of Hypur Ventures.
Tahira Rehmatullah is one of those inherently impressive people. She hasn't turned 40 yet, and already sits at higher management positions at two big companies, in addition to holding a Board of Directors seat with cannabis-focused Dope Media. Tahira has also been named one of the most powerful women in the cannabis business by Fortune Magazine and Complex.
Prior to joining Hypur Ventures, Tahira served as General Manager of Marley Natural, where she was responsible for the brand's launch and managing day-to-day operations of the company. She was also an Investment Associate at Privateer Holdings, one of the first and best-known investment firms in the cannabis industry. As if this weren't enough, Tahira also holds an MBA from Yale University.
Check out the first part of this interview in the clip below:
Trading Ivy For Weeds
Aware of how Tahira got into the cannabis industry, we wanted to know what her role looks like nowadays.
Hypur Ventures is a venture capital fund dedicated to investing in businesses operating within the bounds of the legal cannabis industry. Like other funds in the space -- such as Snoop Dogg's well-known Casa Verde Capital -- Hypur Ventures focuses on ancillary businesses, meaning those that, instead of touching the plant, are aimed at "creating more compliant, transparent companies," Rehmatullah explained, pointing out the importance of these businesses' scalability potential.
"We have nine investments in our portfolio, which range from insurance to fintech, to brands, to media," she said. "As you can tell, our brands are quite varied but they are all connected in some kind of way. By creating an ecosystem of like-minded companies in various verticals within cannabis, we hope to create more synergies and cohesion amongst these companies – and among the industry."
Wonder Women, Unite!
Considering Tahira has been in the cannabis industry for a few years now and has seen it evolve considerably, what was the biggest challenge she had to overcome?
For her, one of the most difficult things to adapt to was the industry's constant and rapid change.
"It can be both wildly fast and incredibly slow," she said. Check out some advice on how to deal with this, along with some general thoughts on being a female entrepreneur in the video below.
"One of the biggest things for me has been learning to ask for help early and often," Tahira said in relation to being a woman entrepreneur. "Women [and some really great men] want to support each other.
"Being able to utilize those networks is really important," she added.
But looking for guidance isn't enough, she warned. One must also be willing to take the feedback, even (and sometimes, especially) when it's not what one was expecting to hear.
Related Links:
Women Execs React To Cannabis Trends Report Highlighting The Rise Of Females In The Marijuana Industry
The Cannabis Industry's Go-Public Frenzy: A Chat With Companies That IPOed This Year
View Comments and Join the Discussion!
Posted-In: Adelia CarrilloCannabis Movers & Shakers Top Stories Success Stories Markets Interview General Best of Benzinga