MoviePass Unveils Plan To Stay In Business: Price Hike, Limited Tickets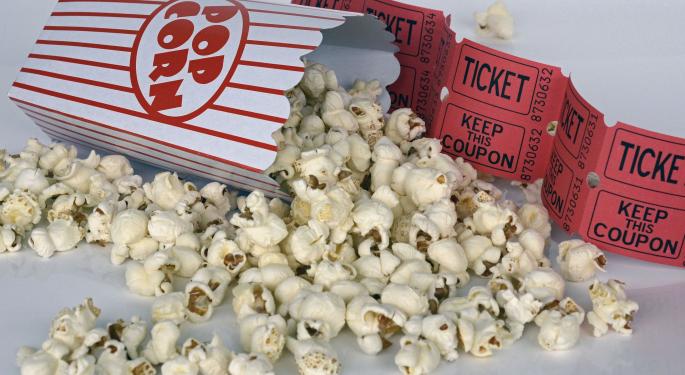 MoviePass parent company Helios and Matheson Analytics Inc (NASDAQ: HMNY) announced a new, higher pricing plan for MoviePass, but investors remain skeptical about Helios.
What Happened
Helios said on Tuesday it will be raising monthly MoviePass subscription prices from $9.95 per month to $14.95 per month within the next month as it looks to demonstrate to the market a path to long-term profitability. Helios also said it will be restricting access to new release movies at more than 1,000 theaters within two weeks of a movie's release.
Why It's Important
Helios said the changes will help the company reduce its cash burn by 60 percent. Unfortunately for Helios investors, it may be too little too late.
Helios stock has plummeted 99.9 percent in the past year, and the new pricing plan produced only a brief spark of optimism in the market. Helios stock was halted Tuesday morning after it spiked more than 150 percent to above $2, but it quickly traded back down to 80 cents, essentially flat on the day.
At risk of delisting from the Nasdaq for failure to maintain a $1 minimum share price, Helios last week implemented a 250-to-1 reverse stock split, which pushed the share price to around $21 per share. Within the past five days, the stock is down another 96 percent to below $1 once again.
What's Next
At this point, it appears as if Helios needs a miraculous change in sentiment to get the stock back on track. Investors will be watching Helios' quarterly earnings report expected out on Aug. 10 for any commentary from the company on the health of its balance sheet and the progress it has made toward creating a viable business model.
The stock traded around 60 cents per share at time of publication, down 26 percent on the day.
Related Links:
MoviePass Experiencing Service Interruption, Helios And Matheson Continues Fall
What You Should Know About Helios And Matheson's 1-For-250 Reverse Split
Posted-In: MoviePassNews Best of Benzinga
View Comments and Join the Discussion!