Arcadia's Extended Shelf Life Tomatoes Move One Step Closer To Commercialization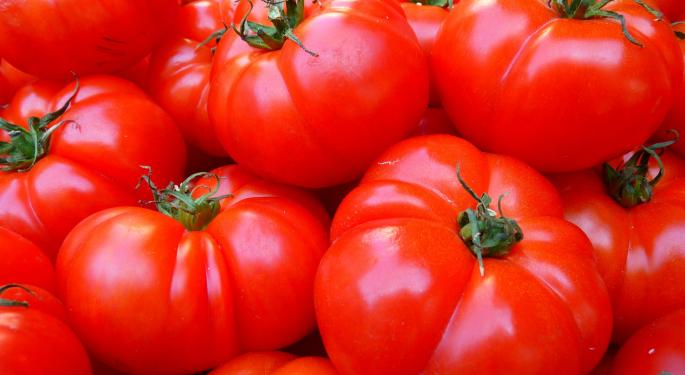 Arcadia Biosciences Inc (NASDAQ: RKDA) shares are on a roll Thursday after the company reported progress in its quest for developing extended shelf life tomatoes.
The stock was up 7.27 percent to $7.38 at the time of publication.
What Happened
Field testing of Arcadia's extended shelf life technology by the hybrid seed development company Shriram Bioseed found that significant and consistent improvements were observed in terms of firmness, shelf life and color development, according to Arcadia.
The technology was tested in multiple tomato hybrid backgrounds in multiple locations and seasons, Arcadia said.
The company said it used a non-genetically modified advanced screening and breeding technique called "TILLING" to zero in on genetic variations that possess the attribute of full ripening on the vine while also remaining durable through the packing and shipping process.
Why It's Important
The new hybrids should come as a boon to all stakeholders, as tomato food waste costs U.S. households $2.3 billion annually, according to Environmental Protection Agency estimates.
"These new varieties will reduce waste and spoilage in the production cycle while ensuring that the produce is fully ripe, better tasting and still fresh when it reaches consumers," Arcadia President and CEO Raj Ketkar said in a statement.
Arcadia sees India as a major market opportunity for ESL tomato technology, as the nation is the fourth-largest producer of tomatoes globally.
What's Next
Arcadia said it expects to launch the new hybrids — which are currently in the precommercial, wide-area field testing stage — in 2019.
Related Links:
Will Ag Stocks Flourish Now That California's 5-Year Drought Is Officially Over?
Posted-In: News Trading Ideas Best of Benzinga
View Comments and Join the Discussion!