The Sky Bidding War: What It Means For Any Potential Fox Acquisition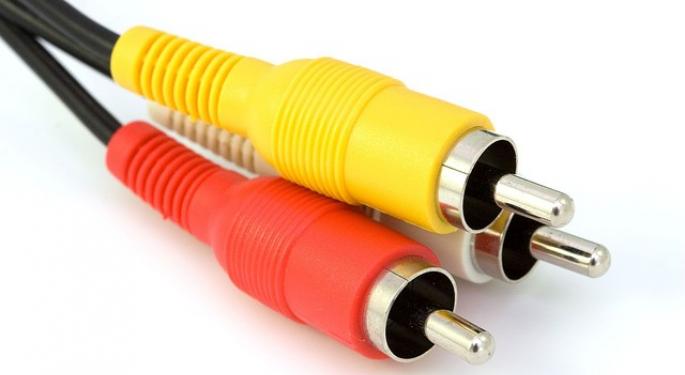 Twenty-first Century Fox Inc (NASDAQ: FOXA) and Comcast Corporation (NASDAQ: CMCSA) are competing for British broadcaster Sky, and as recently as this week, Walt Disney Co (NYSE: DIS) and Comcast have been vying for Twenty-First Century Fox.
It's a pretzel of a deal, but here's a bite-sized breakdown.
Who Has What, And Who Wants What?
Since November, Comcast and Disney have been in a bidding battle for Fox's entertainment assets, which include a 39-percent stake in Europe's Sky and other global holdings. The latest round saw Disney edge out Comcast's $65-billion all-cash offer with a $71.3-billion cash-and-stock agreement.
With Disney now leading the Fox auction, Comcast is pursuing other options — but none too far from its core desire.
Comcast has its eye on the 61 percent of Sky that Fox does not own. Fox also wants it and has been working to secure regulatory approval for control of the entity for the last 18 months.
The two have gone back and forth over the overseas pay-TV company, and as of Thursday, Comcast led with a $34-billion offer at a 5-percent premium to Fox's last bid. The Comcast offer was approved by U.K. regulators and recommended by Sky's independent directors.
Fox is expected to strike back; media expert Brad Adgate said he expects Comcast is "really going to raise the ante up to make an offer that Fox can't refuse."
What Could Sky Mean For The Fox Deal?
While the Sky bidding continues, it may disincentivize ongoing bids for the rest of the Fox assets, as raising the value of Fox's 31-percent stake necessarily increases the value of the other 61 percent. That means any time Comcast raises its Fox bid, it also raises the Sky price.
A raise by Disney, if it puts Sky out of reach, could ultimately drive fresh competition for the Fox assets.
If Fox wins Sky, Comcast could still seize the bundle in the broader acquisition of Fox. Refocusing on Fox would drive competition with Disney and up the final purchase price.
If Comcast wins Sky, it could be content with the coveted asset and drop its pursuit of Fox. CNBC's David Faber already anticipates Comcast's surrender to Disney.
It's worth noting that Adgate presumes the combined Sky and Fox assets could be too expensive to pursue together.
"If Disney or Comcast get a unified deal where they're able to buy both of these assets from Fox, you're looking at something north of $100 billion," he said. "That's a lot of money, and these companies already have a lot of debt, so I don't know how the shareholders will feel about that. I don't know how the government regulators will feel about that."
Why Is It Important?
As Netflix, Inc. (NASDAQ: NFLX) and Amazon.com, Inc. (NASDAQ: AMZN) dominate in distribution and creation, the Sky transaction could prove critical. The takeout target is equipped to both produce content and distribute it online and via satellite.
"For both companies, it's scalability," Adgate said. "The more content that you have, the more you can stave off threats from streaming video companies."
Sky's 23 million customers in five European markets, as well as its sports broadcasting rights, bring "size, negotiating leverage and clout."
Who Needs It More?
By Adgate's assessment, Sky is more important to Comcast than Fox would be, and it's more important for Comcast than it is for Fox.
"For the most part, Comcast isn't a global company," Adgate said. "Its clout is really here domestically ... companies like Fox and Disney, they have a more global presence than Comcast, so I think that by this acquisition of Sky, it at least gives them a foothold outside the United States on a very prestigious brand."
Related Links:
Telecom M&A Poses No Near-Term Threat To Netflix, Says Bullish Pivotal Research
Disney Raises Offer For Fox, Murdoch 'Convinced' Of The Pair's Magic
Posted-In: Brad Adgate CNBC Rupert Murdoch SkyM&A News Media Best of Benzinga
View Comments and Join the Discussion!