Tariff Troubles: Focus Turns Back To Possible Trade War, Bringing Pressure
Trade with China appears to be back on the market's menu today, and the post-meal fortune doesn't look too positive for stocks.
Going into Friday's session, focus turned toward the U.S. decision to impose new 25% tariffs on $50 billion worth of Chinese products. Stocks fell in pre-market trading, following the path of most European and Asian markets. One thing we could possibly see today is a divergence in which the Dow Jones Industrial Average ($DJI) gets hit harder than the S&P 500 (SPX) and Nasdaq (COMP), in part because more of the big industrial stocks that could get hurt by China's response to U.S. tariffs reside in the $DJI. However, only time will tell.
In addition, investors could conceivably gravitate back toward small-cap stocks that many believe might suffer less of an impact from possible trade wars. The Russell 2000 (RUT) has performed well in the recent past when trade became a front-page issue, though a repeat isn't guaranteed.
It isn't just the big industrial stocks that could feel heat from worsening trade relations with the Asian giant. Wal-Mart (WMT) sources 75% of its merchandise from China and could also be hurt, TheStreet.com noted.
Also, trading in the pre-market hours Friday showed a repeat of a pattern seen yesterday in which some investors sought out so-called "defensive" parts of the market, like U.S. Treasuries and utility stocks. Yields on the benchmark 10-year Treasury note fell to 2.92% early Friday, a sign of strength in the interest rate complex.
The focus on tariffs today is a reminder that this game between China and the U.S. is still far from over. We're in about the second inning, and this could be on the front page for a while as the two combatants squawk at each other. One thing to watch as this plays out is the performance of tech stocks. Nasdaq, which is heavily focused on tech, closed at a new record high yesterday. There's a school of thought that suggests tech stocks might not be hurt as much by a tariff war because their products are difficult to replicate, making them tough to put tariffs on. Again, we'll have to wait and see, but so far tech has weathered the storm pretty well.
Tariffs are stealing some of the thunder from another event today: Quadruple witching. It's the one day in the quarter when index futures and options and stock futures and options all expire. There's often increased volatility at the open and close on quadruple witching days, so traders should take note.
2017 Nostalgia Hits Wall Street
Anyone nostalgic for 2017 might have appreciated Thursday's market action. Bond prices and rate-sensitive stocks like utilities got a boost despite a more hawkish central bank climate, and technology also shined. Volatility eased. The exception to the 2017 rehash was financials, which struggled.
The market's behavior seemed a bit puzzling, and there's really no way to explain it. The Fed's rate hike Wednesday followed Thursday by the European Central Bank's (ECB) tapering announcement seemed likely to be a catalyst that could send U.S. 10-year Treasury yields up to 3% or above, and that simply didn't happen. Many investors appear to be taking a more defensive tone.
One reason people might be feeling defensive potentially could be found in the yield curve, where 2-year yields again gained on 10-year yields Thursday and the gap reached 10-year lows. Two-year yields recently traded at 2.58%, just 38 basis points below the 10-year yield. Last year, the two traded 70 basis points or more apart at times. Some economists see a narrowing yield curve as a sign of possible economic weakness, which would seem a bit surprising considering Fed Chairman Jerome Powell's sunny comments this week. However, Minneapolis Fed Chair Neel Kashkari recently warned about the yield curve, noting in a question-and-answer session that an inversion can sometimes predict recession, MarketWatch reported.
Banks Trip Over Yield Curve
Though some might argue about the long-term impact of the falling curve, there's arguably less mystery about how it affects financials in the near-term. Lenders make money on net interest margin (NIM) — the difference between what they charge for loans and what they pay on deposits, Briefing.com pointed out, so the narrowing yield curve could help explain the financial sector's weakness Thursday.
Looking across the sector world, utilities took first place Thursday as investors seemed to gravitate toward some of the dividend payers. The strength in utilities appeared to demonstrate that with any weakness in rates, investors jump on these rate-sensitive stocks. That's true not just in utilities but also in the energy sector, where some other major dividend payers reside. However, energy as a whole turned lower Thursday as many analysts now expect OPEC to consider a production increase when it meets later this month.
Over on currency row, the U.S. dollar is re-approaching last month's highs in the wake of the Fed's latest move. Plus, as commodities pull back from recent highs, commodity-linked currencies such as the Australian and Canadian dollars have been drifting lower vs. the greenback. Even the British pound has softened, possibly due in part to the looming Brexit.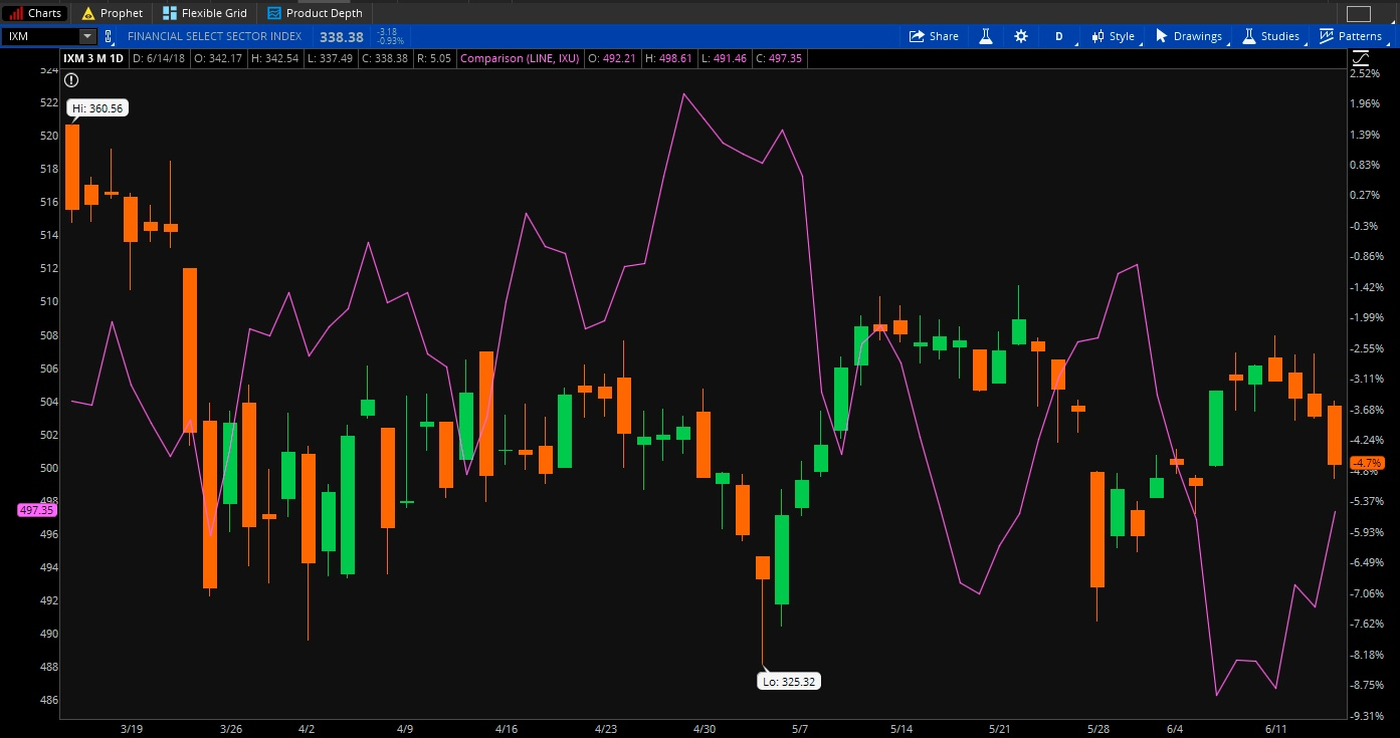 Figure 1: Going Nowhere Fast: It's been a largely forgettable three months for investors in both financial (candlestick) and utilities (purple line) sectors, as the above chart illustrates. Rising interest rates haven't helped the financial sector too much, perhaps because the yield curve remains under pressure. Utilities tend to perform weakly in a rising rate environment, but they've done a bit better lately, perhaps because some investors still find their dividends attractive. Data Source: S&P Dow Jones Indices. Chart source: The thinkorswim® platform from TD Ameritrade. For illustrative purposes only. Past performance does not guarantee future results.
Don't Count Your Pipelines
For decades, many investors watching the crude oil market have often counted on Saudi Arabia to be the supplier of last resort. The kingdom pumps about 10 million barrels a day and has the most spare production capacity of any country, according to OilPrice.com. Though many analysts think Saudi Arabia could raise production to 12.5 million barrels a day if necessary as Iran and Venezuela face issues, that isn't necessarily the case.
"Production on several large fields...has been hit by a long list of issues," OilPrice.com reported this week. "In addition to the normal upstream problems, such as black powder, corrosion...and misuse of seawater injection for decades, other issues could also affect overall capacity. Sources have seen major pipelines being blocked by corrosion and scaling, while other production has been hit by major sludging threats. Additionally, there are other indicators that Saudi Aramco (the kingdom's state-owned oil company) could be fighting an increasingly difficult battle to keep overall production up in its existing fields. While analysts differ about the exact rates, production declines can be expected to be above 6% per year on average." That's a bit alarming and perhaps something investors should keep in mind if crude oil bottlenecks start to develop and importers lean on Saudi Arabia to make up the difference.
Staying Put
Homebuilder stocks doubled in 2017 but lag the market this year amid growing concerns about how higher interest rates might affect demand for new housing. The homebuilder stocks came under pressure again this week when weekly mortgage applications fell and an analyst put out what some investors perceived as a negative report on the group. However, a couple of stocks that sometimes can act as another barometer on the housing market—Lowe's Companies, Inc. (NYSE: LOW) and Home Depot Inc. (NYSE: HD)—continue to shine. There's no real puzzle here. As home builders have trouble keeping their orders flowing and mortgage applications fall, many people are staying in their current homes longer, and they may go to home improvement outlets such as HD and LOW to make upgrades to those existing homes. If they move, they go to the home builders. The builders' stocks tend to fall before the HDs and LOWs do.
Looking Ahead
Speaking of housing, next week brings a slew of data that could give investors a better sense of just how that sector is performing. The calendar includes housing starts and building permits for May on Tuesday, and May existing home sales on Wednesday. The other key report is leading indicators Thursday. Earnings season is still a month or so away, but some major companies plan to report results next week, including Oracle Corporation (NYSE: ORCL), FedEx Corporation (NYSE: FDX), Kroger Co (NYSE: KR), and Micron Technology, Inc. (NASDAQ: MU). So although the coming week lacks some of the central bank and inflation data fireworks we saw this week, it still could generate its share of headlines. That said, without any really key numbers like inflation or employment, geopolitics and other factors could still dominate. Investors might want to consider watching volatility and taking extra caution amid possible low volume. As for volatility, the VIX has been trading at low levels lately below 13 and might be heading into a bit of summer doldrums. We'll have to wait and see.
Information from TDA is not intended to be investment advice or construed as a recommendation or endorsement of any particular investment or investment strategy, and is for illustrative purposes only. Be sure to understand all risks involved with each strategy, including commission costs, before attempting to place any trade.
Posted-In: TD AmeritradeNews Eurozone Commodities Markets
View Comments and Join the Discussion!