The Eurozone First-quarter GDP Rises 2.5% y/y
This article originally appeared on FXStreet.
The Eurozone first-quarter GDP rose 0.4 percent over the quarter while rising 2.5 percent over the year.
Household consumption was the largest upward contributor to GDP followed by the change in inventories and investment.
The first quarter seasonally adjusted GDP rose 0.4 percent over the quarter in the Eurozone, decelerating from 0.7 percent in the final quarter of 2017, the Eurostat, the European statistical authority reported on Thursday.
"Household final consumption had a positive contribution to GDP growth in both the euro area of +0.3 percent and the contribution from the gross fixed capital formation was also positive with +0.1 percent contribution. The contribution of the external balance to GDP growth was negative," the Eurostat wrote in the report.
Looking at the regional distribution of the GDP growth in the European Union, the emerging market economies' growth rate was higher compared with the traditional countries of Western Europe. The highest growth rate over the year was recorded in Latvia that rose 5.1 percent y/y, with Poland and Slovenia following at 5.0 percent y/y.
Denmark was the only country in the European Union to report a negative GDP growth rate of 0.5 percent y/y with the United Kingdon coming out second with 1.2 percent y/y GDP rise. Both countries are though outside of the Eurozone. Out of the Eurozone countries, the lowest GDP growth rate of 1.4 percent y/y was made by Italy and 1.5 percent y/y by Belgium.
Looking at the industries, the largest positive contributor to GDP growth in first-quarter in the Eurozone in terms of added-value creation was the communication and information technology sector rising 3.8 percent over the year followed by professional services with the gross added value rising 3.4 percent in the first quarter.
GDP growth rates on the quarterly basis in the European Union, the Eurozone, the US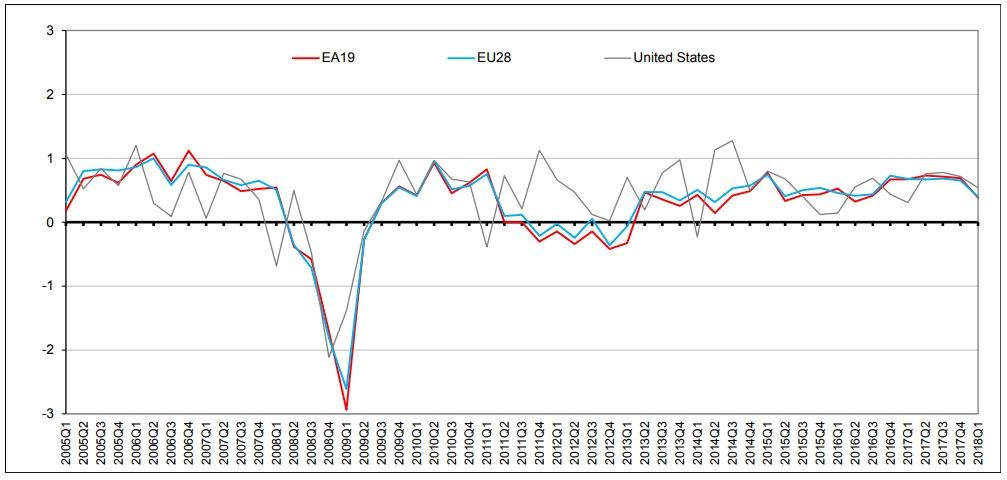 View Comments and Join the Discussion!