The Stocks That Could Wilt Under Pressure From China's Soybean Strike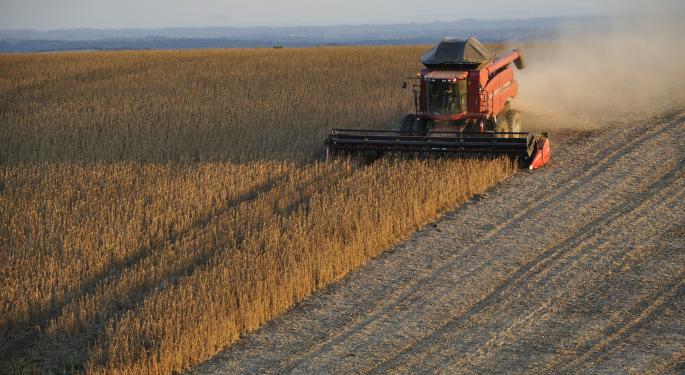 President Donald Trump may have stirred up a hornet's nest with his belligerent stance on trade with China. For starters, Trump imposed a series of tariffs on Chinese imports that include solar panels, washing machines, steel and aluminium.
More recently, the Commerce Department clamped down on Chinese handset makers Huawei and ZTE by imposing a ban on component imports from the U.S. In return, China threatened the imposition of 25-percent tariffs on shipments from the U.S.
Even as China is contemplating more stringent retaliatory measures, it appears that soybean exports to the nation from the U.S. may be tapering off to the point to cessation, Bloomberg reported, citing Department of Agriculture export data for the week ending April 26.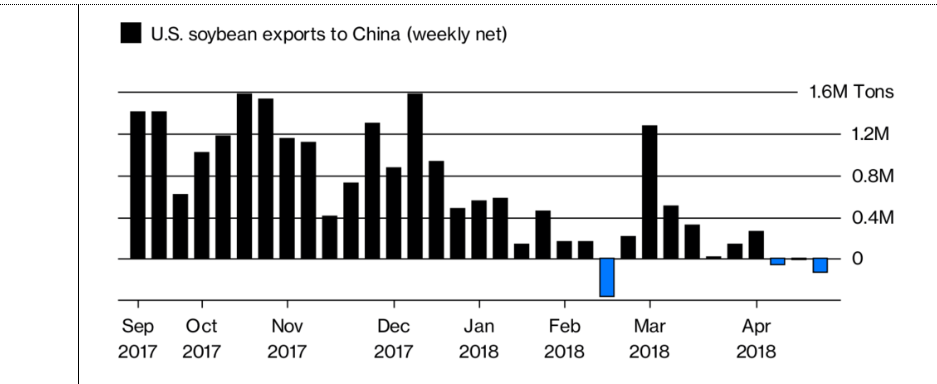 Source: Bloomberg
A separate Bloomberg report also suggested Chinese importers are canceling shipments from the U.S. and buying from South American countries.
"They're buying beans in Canada, in Brazil, mostly Brazil, but very deliberately not buying anything from the U.S," oilseed processor Bunge Ltd (NYSE: BG) CEO Soren Schroder was quoted as saying in Bloomberg.
Here are some of the stocks that could be hit due to the reported stance of Chinese importers:
Bunge
Bunge recently reported a loss from continuing operations of 20 cents per share for its first-quarter, which included a negative mark-to-market of $120 million related to forward oilseed crushing contracts. The company expects to offset the negative impact going forward with improving margins.
The company's agribusiness — comprising the purchase of grains and oilseeds from farmers and sales to domestic customers and exporters — fetched 70 percent of revenues in Q1.
The stock was up 0.34 percent at the close Friday.
Archer Daniels Midland
Oil seeds origination and processing, accounted for about 36 percent of Archer Daniels Midland Co (NYSE: ADM)'s Q1 revenue as well as $350 million of the $704 million segment operating profit.
This segment consists of other oilseeds apart from soybeans.
ADM was up 0.64 percent at the close Friday.
See also: 3 Market Winners From A Bipartisan Farm Bill In 2018
DowDuPont And Monsanto
DowDuPont Inc (NYSE: DWDP) and Monsanto Company (NYSE: MON) are major agri-input suppliers, both seeds and herbicides, for the $40-billion U.S. soybean market, according to a Reuters report.
Unilever
Unilever NV (ADR) ADR (NYSE: UN) procures sustainable oils such as soy, sunflower and rapeseed oil for a host of its consumer products such as Hellmann's mayonnaise. It remains to be seen how the U.S.-China standoff will hurt its margins.
The Teucrium Soybean Fund
The Teucrium Soybean Fund (NYSE: SOYB) gives investors exposure to soybean without the use of a futures contract. It invests in the CBOT Soybean Futures Contract, with different weightings to different expiry periods.
The negative headlines on soybean could impact the instrument.
Related Link:
Morgan Stanley Overweight On WABCO, Deere, Caterpillar, United Rentals Among Machinery Stocks
View Comments and Join the Discussion!
Posted-In: Bloomberg Donald TrumpNews Commodities Markets Media Trading Ideas Best of Benzinga