Israeli Prime Minister Netanyahu: Iran Hid Nuclear Weapons Program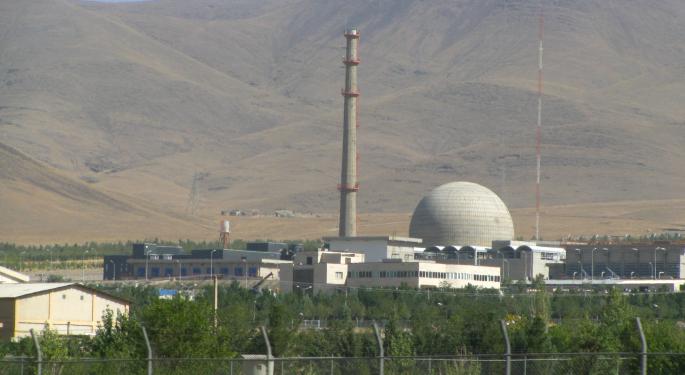 In an address to the Israel Ministry of Defense on Monday, Prime Minister Benjamin Netanyahu revealed a set of files obtained by Israeli intelligence from Iran's atomic archive that he said implicate Iran in a secret nuclear weapons program, "Project Amad," from 1999-2003.
What Happened
The files offer "new and conclusive proof" of a clandestine Iranian nuclear weapons program, Netanyahu said.
The "incriminating" charts, blueprints, documents and photos prove Iran planned to design, build and test nuclear weapons, the Israeli prime minister said.
Iranian Deputy Foreign Minister Abbas Araghchi called Netanyahu's presentation "a very childish and even ridiculous play" calculated to sway President Donald Trump's decision on the fate of the U.S. nuclear deal, The New York Times reported.
Why It's Important
While Iran's leaders have repeatedly denied that the country ever intended to develop nuclear weapons, the files show plans to design and test five warheads, each with a 10-kiloton TNT yield, according to Israel.
"Iran is brazenly lying when it says it never had a nuclear weapons program," Netanyahu said.
The files also contained Iranian plans for yellowcake production, warhead projects and tests, he said.
"We found that Project Amad had all of the five elements ... the five key elements of a nuclear weapons program," Netanyahu said.
The files show Iran's plans to continue the country's nuclear ambitions even after 2003, a directive that came "directly from Iran's top leadership," Netanyahu said.
What's Next
Israel shared the information with the United States and plans to share with the International Atomic Energy Agency.
Trump, who has been critical of the Iran nuclear deal, will soon decide whether the U.S. will continue to suspend or restore sanctions against Iran.
Related Links:
Trump Calls Out OPEC, Says 'Oil Prices Are Artificially Very High'
Amazon Says May Face Penalties For Running Afoul Of Iran Sanctions
Iran's Arak IR-40 heavy water reactor is pictured in 2012. Photo by Nanking2012/Wikimedia.
Posted-In: Abbas AraghchiNews Commodities Politics Global Markets Media General Best of Benzinga
View Comments and Join the Discussion!