German IFO Business Climate Points To Deceleration
This article originally appeared on FXStreet.
The IFO business climate indicators fell below expectation lining up with other forward-looking indicators for the German economy.
The IFO index was rebased as more service sector companies were added to the survey.
The business climate is cooling in Germany as fear of US-led trade wars escalating and the strength of Euro are both weighing on the export-oriented German economy. The headline IFO business climate indicators deteriorated to 102.1 in April, down from 103.3 reading in March and came out below market expectations. Highly respected German IFO business climate indicators lined up with the forerunner like ZEW index of investors confidence and the purchasing managers´ index published earlier in April.
The headline IFO business climate index was rebased and recalibrated in April after the IFO research Institute changed series from the base year of 2000 to the base year of 2005 as of May 2011 and then changed series to include services as of April 2018. The survey now includes 9,000 monthly survey responses from firms in manufacturing, service sector, trade and
construction.
Both sub-indices of headline IFO business climate indicator decelerated above expectations in April with expectation falling to 98..7 in April from 101.0 in March while current economic situation sub-index fell to 105.7 in April, down from 110.6 in March.
Within the sectoral structure of the IFO business climate indicator, the manufacturing deteriorated for the third consecutive month on deteriorating business expectations that dropped to their lowest since August 2016.
In the newly included service sector, the business climate index dropped markedly due to far less optimistic business expectation while assessments of the current business situation were also poorer than last month.
The business climate index also fell in wholesale and retail trade with the downturn in both current business situation and the short-term business outlook.
In construction, the business climate index hit a new record high as builders were positive about their expectations and their assessments of the current business situation remained almost unchanged.
German economic cycle clock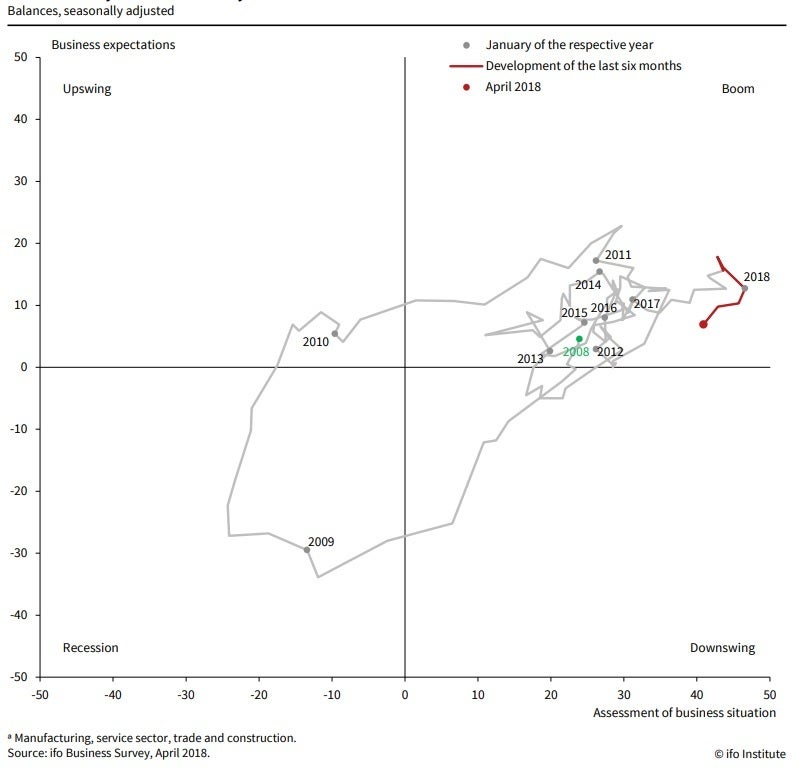 View Comments and Join the Discussion!