Damn The Torpedoes: Defense & Aeronautic Sector Barrels Forward In Spite of Headwinds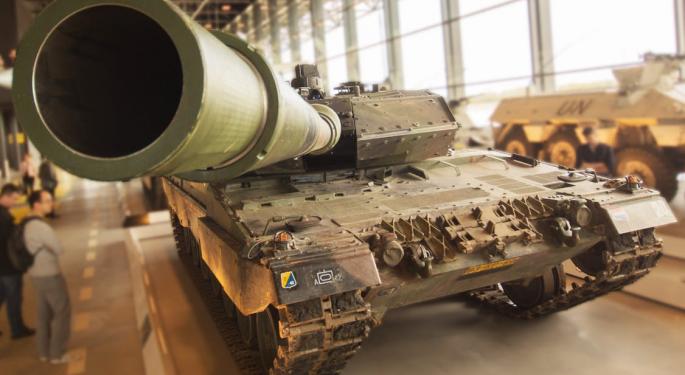 There was little question following the results of the 2016 election that government defense and aviation contractors would receive a boost under the bellicose Trump administration. During the campaign, then-nominee Trump made frequent overtures about rebuilding the military, revamping America's aviation infrastructure and beefing up the government's cybersecurity network.
While the administration has yet to deliver on much of these promises, and an impending trade war between the U.S. and China could lead to rising costs, that hasn't stopped stocks belonging to aeronautic, defense and other government contractors from taking off into orbit.
This isn't to say specific defense stocks haven't wavered in the policy shuffle, but the Direxion Daily Aerospace & Defense Bull 3X Shares ETF (NYSE: DFEN), which tracks the Dow Jones U.S. Select Aerospace & Defense Index, is up by just over 35 percent since its creation just over 10 months ago.
The chart below shows the difference between DFEN and the SPDR S&P 500 ETF (NYSE: SPY).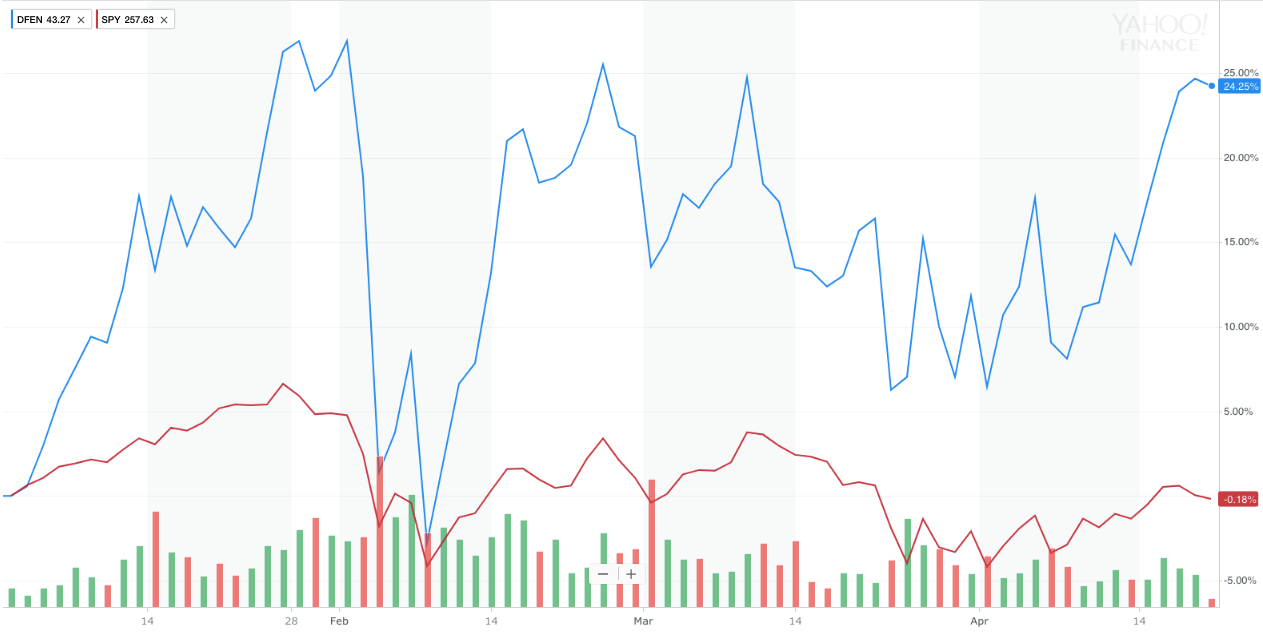 <
Further, in spite the recent volatility, DFEN is still up about 23 percent YTD.
What gives? Well, all of the top six holdings in the fund—Boeing Co (NYSE: BA), United Technologies Corporation (NYSE: UTX), Lockheed Martin Corporation (NYSE: LMT), General Dynamics Corporation (NYSE: GD), Raytheon Company (NYSE: RTN), and Northrup Grumman Corporation (NYSE: NOC)—all either met or exceeded Q4 earnings estimates. Together, those six companies make up about 45 percent of the fund.
More evidence of strength in the contractors can be seen in a uptick in both government and private contracts. Boeing might be winner of the most high-profile and sizable agreements, recently winning both a $3.9 billion contract to modernize the Air Force One fleet as well as a deal with American Airlines Group Inc (NYSE: AAL) for 47 planes valued at $12 billion.
By that same token, Raytheon Company (NYSE: RTN) also landed an impressive $876 million cybersecurity contract with the U.S. Army, although it is being split with Peter Thiel's Palantir.
Northrop Grumman Corporation (NYSE: NOC), which also recent landed a $417 million contract with the U.S. Navy, had a similarly large acquisition in rocket manufacturer Orbital ATK late in 2017.
Other names in the sector have also received attention from some of Wall Street's biggest investors. General Dynamics Corporation (NYSE: GD) has just this April completed an offer to acquire IT contractor CSRA, and was also helped out by activist investor Dan Loeb, whose hedge fund Third Point Management took a position in the stock. Further, United Technologies Corporation (NYSE: UTX) just became a new position in Bill Ackman's Pershing Square Capital Management.
While there may be a lack of direction, predictability or cohesiveness underlying government spending policy, that has seemingly not stopped the beneficiaries of those policies from making their own deals. Despite the fact that Wall Street appears confused about Trump's combativeness with China, investors certainly like what they're seeing from the defense sector.
View Comments and Join the Discussion!
Posted-In: direxionNews Sector ETFs Markets ETFs