Sentiment In The Eurozone On A Free Fall
ZEW index of investors sentiment fell to the lowest level since July 2016.
German business sentiment indicators are set to slide lower as trade wars and geopolitics weigh.
With the forward-looking sentiment indicators like purchasing managers indices (PMIs) in the Eurozone reaching higher highs until they peaked at the turn of the year 2018, the growth prospects for the Eurozone looked very positive. Now the mood in the Eurozone is changing. Rapidly changing.
German investors sentiment indicator piled up by ZEW Institute in Mannheim is the early warning sign with the investors' sentiment index out for April already and the news are rather negative.
Related story
Since February this year, the ZEW index fell from 17.2 level to -8.2 in April. So for the investors' sentiment indicator, it took just two months to swing from positive to negative reading last recorded in July 2016 when the sentiment was hammered by post-Brexit referendum uncertainty.
The reasons behind the downturn in investors sentiment are stemming from both geopolitics and the international trade after the US-led push against both China and Syria.
"The reasons for this downturn in expectations can mainly be found in the international trade conflict with the United States and the current situation in the Syrian war. The significant decline in production, exports and retail sales in Germany in the first quarter of 2018 is also having a negative effect on the future economic development," professor Achim Wambach and ZEW Institute president said in the release.
Now with the main gauge of German business confidence indicator due on April 24, the IFO business climate indicator is set to follow the pattern of ZEW index, possibly falling below 110 from 117.6 peaks in December 2017.
German ZEW index of investors' sentiment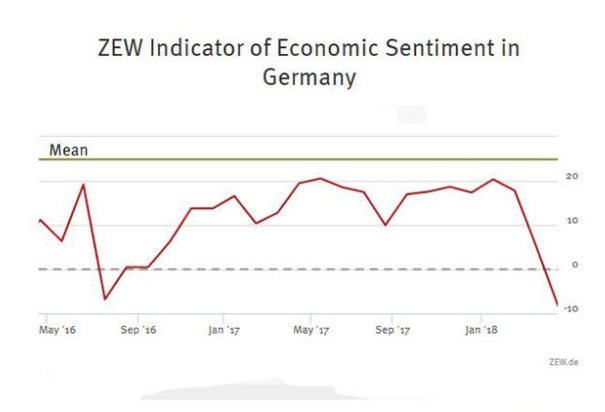 View Comments and Join the Discussion!