Volatility Up Again After U.S. Missile Threat Vs. Syria Spooks Market
Geopolitics stormed back into the picture early Wednesday, threatening to wipe out Tuesday's sharp gains as investors fretted about possible U.S missile strikes on Syria and growing tension between Washington and Moscow.
President Trump told Russia early Wednesday to get ready for a missile strike against Syria, whose government Russia supports. This comes after a Syrian attack on civilians there a few days ago. The early-morning hours saw investors scurrying back into so-called "safe-havens" like bonds and gold, while oil prices and the VIX — the closely followed indicator of market volatility — continued to soar. Pre-market trading hinted at a sharp drop for stocks, while European indices traded lower.
Wednesday might be another one of those days where long-term investors should consider not obsessing over every headline and every move in the market. For people who trade regularly, caution continues to be warranted, and it's important to have a game plan. The VIX jumped 4 percent to above 21 early Wednesday, so volatility remains a big factor.
Important data crossed the wire early Wednesday as the March consumer price index (CPI) revealed a surprising 0.1 percent drop in the headline number when Wall Street analysts had expected no change. However, the report might be viewed as mixed, because core CPI, which strips out volatile food and energy prices, rose 0.2 percent. Also, the year-over-year numbers advanced slightly, with 2.4 percent rise in headline CPI over the last 12 months and a 2.1 percent rise in core CPI. Those are both above the Fed's inflation goal of 2 percent, though the Fed looks more closely at Personal Consumption Expenditure (PCE) prices.
Even before Wednesday morning's geopolitical rumblings, warning lights had flashed during Tuesday's rally even though there had been some bullish momentum during the session.
Warning Signs Amid Tuesday Rally
First the positive takeaways from Tuesday, which now seems like a long time ago: A number of "momentum" stocks — including the so-called "FAANGs" — put in strong performances, as did most of the info tech complex. In addition, financials and materials were up big. Looking at just the headline numbers on some of the major indices, you might come away thinking the market had turned a corner, especially considering the impressive comeback from Monday's closing weakness.
Under the surface, however, some of the same variables that kept volatility elevated over the last few weeks continued to raise questions about the potential quality of this particular up-move. For instance, the VIX remained elevated at above 20 even as stocks moved much higher. If VIX — the market's most closely watched measure of volatility — had moved back under 20, it might have suggested a more lasting kind of positive momentum in the market. That didn't happen, though.
Also, prices in the interest rate complex didn't decline too much Tuesday, and yields on the benchmark 10-year Treasury bond remained below 2.8 percent by the time the closing bell rang. Frequently, investors step out of some of the market's "safe haven" areas when stocks rally, but there wasn't much sign of that. The yield fell to 2.77 percent by Wednesday morning.
A bunch of the higher-dividend stocks also performed pretty well Tuesday. These shares often decline when investors get really bullish. Volume during the day was better than Monday, but still not enough to truly convince that a change in the weather is coming. There are a lot of reasons not to feel great about the rally, because many downward signals remain active.
Facebook CEO Testimony, Day 2
Many eyes and ears were on Facebook, Inc. (NASDAQ: FB) CEO Mark Zuckerberg Tuesday afternoon as he spoke to more than 40 U.S. senators about his company's problems with data privacy, and he speaks again today. He put in a very nice performance. Zuckerberg struck a note of confidence in his remarks last week and that seemed to carry through into his testimony at the Capitol. Sure, he's likely going to be taken to the woodshed by politicians again Wednesday, but that's to be expected. FB shares climbed sharply as Zuckerberg faced down senators, rising 5 percent. If you're a long-term investor, check your portfolio. Many people now have FAANG stocks like FB in their hands and may not even know it as these shares have grown increasingly popular with portfolio managers.
Banks Ring the Earnings Bell
That old saying about how Friday can't come soon enough seems apt for this week. That's because when Friday dawns, investors will get a look at the first batch of big bank earnings. This has the potential to really turn the market's attention away from some of the headline risk it's suffered recently as outside events buffet prices around, and back toward stuff that ultimately matters most — company results.
Ahead of Friday, a couple of analyst reports came out upgrading some of the big banks, so that's perhaps a positive development. In other corporate news Wednesday, Procter & Gamble Co (NYSE: PG) raised its quarterly dividend.
The International Monetary Foundation (IMF) also made headlines overnight as Managing Director Christine Lagarde warned in a speech that the world trading system "is in danger of being torn apart" by protectionism.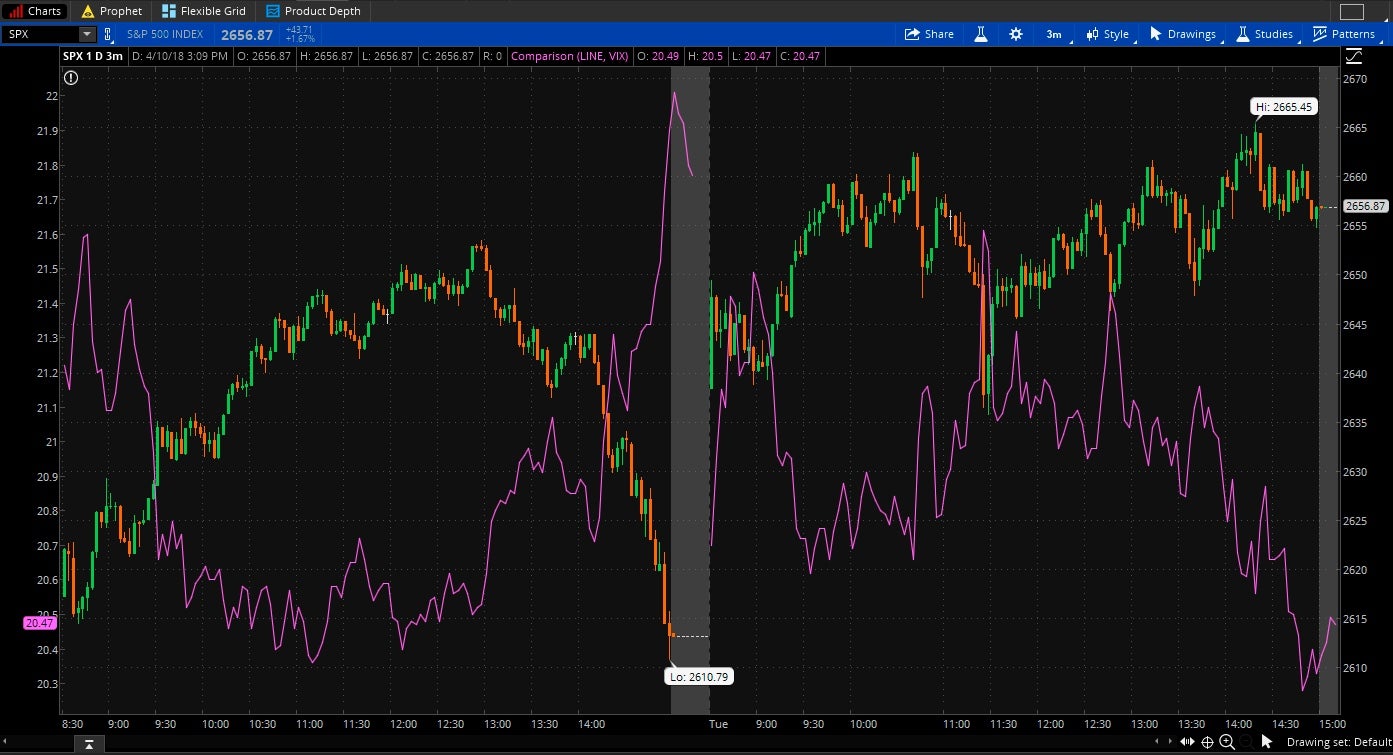 FIGURE 1: LOTS TO LOOK AT. This two-day chart of the S&P 500 Index (SPX) and the VIX (purple line) has a lot of interesting nuggets. First, it shows that despite the rally in stocks Tuesday, VIX remained above 20, one sign that the uptick might be on shaky ground. Also, the SPX challenged key technical resistance near 2670 late in the session, only to falter in the final minutes. That's another potential sign of shakiness going into Wednesday. Data source: CBOE, S&P Dow Jones Indices. Chart source: The thinkorswim® platform from TD Ameritrade. For illustrative purposes only. Past performance does not guarantee future results.
A Nod to Technicals
Almost a week ago, the S&P 500 (SPX) was on the cusp of a technical resistance point at 2670. Then the bottom fell out last Friday and the index dipped briefly below 2600. Tuesday's brisk rally brought 2670 back into sight, but once again, the SPX pulled back in the last minutes of the day. This potentially gives another signal that Tuesday's rally might be on less than solid ground. Still, 2670 remains a level worth watching if the market can recover from Wednesday's early weakness. In early trading Wednesday, SPX sits near the halfway point between the upside resistance point and the 200-day moving average at 2595.
Inflation Corner
As investors appeared to celebrate conciliatory trade language out of China on Tuesday, they also apparently brushed off a bit of potentially concerning news on inflation. The 0.3 percent rise in producer prices during March was only a tad above the 0.2 percent consensus from Wall Street analysts, but it's the yearly number that might tell the bigger story. Over the last year, producer prices are up 3 percent, compared with 2.8 percent in February. Things look a little more benign if you strip out volatile food and energy prices, which leaves the core PPI up 2.7 percent over the last year. That's up from February, as well. Prices for both services and health care seem to be picking up, and March featured the highest monthly rise for food prices in nearly four years.
The key takeaway, Briefing.com noted, is that producer prices are trending higher, which could feed concerns about a pass-through to consumers and perhaps give the Fed more worries about inflation. Chances of a fourth rate hike this year, however, hover around 25 percent, according to Fed funds futures.
Buick in Beijing Part Two
The other day we mentioned the popularity of General Motors Company (NYSE: GM) brands like Buick and Cadillac in China. When Chinese drivers buy those iconic American cars, however, they're not usually getting them off a boat. GM, along with Ford Motor Company (NYSE: F) and Fiat Chrysler Automobiles (NYSE: FCAU), all have joint ventures in China with Chinese counterparts, meaning most "American" cars sold in China were actually made there as well. That's why China's seemingly conciliatory tone about reducing its 25 percent import tariff on automobiles might ring hollow to some who follow the car industry. However, an analyst told CNBC Tuesday that one U.S. company, Tesla Inc (NASDAQ: TSLA), might benefit from lower Chinese tariffs. TSLA doesn't make cars in China, but China seeks to pump up sales of electric cars and promote an electric grid that encourages consumers to buy non- gas-burning vehicles. TSLA shares, which had been beaten up lately, surged more than 5 percent Tuesday.
Information from TDA is not intended to be investment advice or construed as a recommendation or endorsement of any particular investment or investment strategy, and is for illustrative purposes only. Be sure to understand all risks involved with each strategy, including commission costs, before attempting to place any trade.
Posted-In: JJ Kinahan TD Ameritrade The Ticker TapeNews Econ #s Markets
View Comments and Join the Discussion!