Testimony And Tariffs: Zuckerberg To Face Lawmakers; China Comments Ease Trade Fears
Equities futures were higher this morning, with investors apparently recouping some of the optimism that had faded toward the close yesterday. China's president gave markets a shot in the arm Tuesday with investors apparently taking heart from his comments about further opening the nation's economy, including lowering tariffs on automobiles.
Although stocks closed higher Monday, that was after paring gains toward the close amid more political noise out of Washington. Elevated volatility continued, and the big three U.S. indices settled with just modest gains.
Facebook CEO to Face Lawmakers Tuesday, Wednesday
The U.S. House Energy and Commerce Committee's release of Facebook, Inc. (NASDAQ: FB) CEO Mark Zuckerberg's prepared remarks ahead of congressional testimony seemed to calm investors on Monday. But his appearance today and tomorrow before lawmakers could result in different market sentiment depending on Zuckerberg's answers to potentially tough questions from politicians.
Long-term investors may have to stomach large percentage moves in FB's stock in the coming days. While it may be difficult to watch these potential gyrations, it's a reminder that these things do tend to smooth out in the long run, meaning it's usually a good idea to not trade emotionally.
Data Release: IMX, PPI, CPI
Despite some TD Ameritrade clients selling FB shares, they were also buying shares of Amazon.com, Inc. (NASDAQ: AMZN) and Netflix, Inc. (NASDAQ: NFLX) in March, giving the indication that they may believe in tech's ability to lead markets higher in the future, according to TD Ameritrade's Investor Movement Index (IMX) . The IMXSM, which measures what TD Ameritrade clients are actually doing and their exposure level to markets, fell for the third-straight month in March, moving lower by 12.3 percent to 5.22.
Market volatility was once again prevalent during the March period, and the IMX reached its lowest point since August 2016.
Meanwhile, investors will get to eye a fresh reading on inflation as the latest Consumer Price Index (CPI) data is released Wednesday morning. The Producer Price Index (PPI), released this morning, came in a little higher than some analysts were expecting, up 0.3 percent. This reading may or may not be a precursor to tomorrow's CPI release. Recall two months ago, the release of January CPI up 0.5 percent sparked fear of coming inflation, but the subsequent release came in at a more modest 0.2 percent.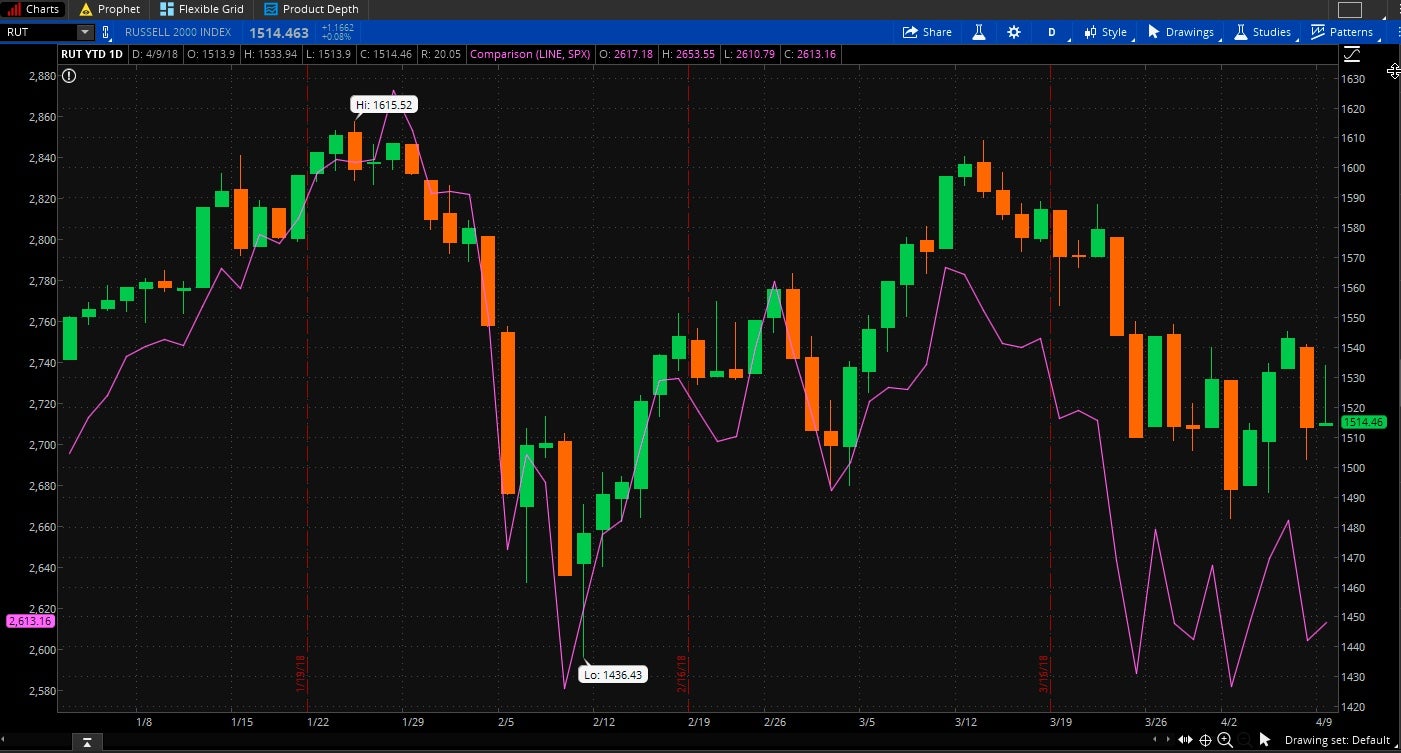 FIGURE 1: SMALL FAVORS. The small-cap Russell 2000 (RUT), seen here as the candlestick, has generally done better so far this year than its bigger cousin stocks in the S&P 500 (SPX), shown by the purple line. Some analysts say this could be because investors have less fear of small-caps getting hurt in a potential trade war. This is opposite of the pattern last year when small-caps under-performed amid thoughts that the tax bill would help bigger companies most. Data source: FTSE Russell, Standard & Poor's. Chart source: The thinkorswim® platform from TD Ameritrade. For illustrative purposes only. Past performance does not guarantee future results.
Up Close With Powell
Attending a speech by the Fed Chair can be a memorable experience. During Fed Chair Jerome Powell's speech last Friday at the Economic Club of Chicago, a couple things became clear: First, he has a very good sense of humor. Second, he has some observations about the economy that people not actually attending one of his appearances might not normally hear. A couple takeaways from being in the audience Friday: Powell noted that the labor force participation rate has been steady for the last 10 years even as the total number of jobs have grown, in part due to many people retiring. He also intimated that due to the terrible nationwide opioid abuse crisis, many able-bodied people are essentially not in the workforce.
Core CPI Rise Expected Mild
Speaking of the Fed, there's data out on Wednesday that the central bank as well as investors are likely to be paying close attention to — the consumer price index. A consensus of Wall Street analysts expects March core CPI, which strips out volatile energy and food prices, to rise 0.2 percent, according to Briefing.com. That would be in line with February's rise, and another indication that consumer inflation is rising but not by enough to necessarily be problematic. If there is an unexpected jump in CPI numbers, stocks could take a hit on fears of more-hawkish-than-expected activity by the Fed.
Earnings Revving Up
Lack of guidance from company executives could be one of the reasons the markets have been so choppy in recent days. It's possible some investors are just nervous ahead of earnings and want to get some actual numbers in hand—both Q1 results and guidance for Q2 and the rest of the year. In the meantime, many participants seem to have focused an outsized amount of emotional energy trading on fears about the trade spat with China and on worries over the tech sector. But this week, corporate earnings season starts in earnest, which likely means investors will have more information on which to trade. Wells Fargo & Co (NYSE: WFC), Citigroup Inc (NYSE: C) and JPMorgan Chase & Co (NYSE: JPM) report before the bell Friday. With the banks, as well as other sector stocks, consider listening to what company leadership says about their expectations for the trade tiff with China and whether they are preparing for tariffs in their industries. Also keep in mind that a few slip-ups in earnings have the potential to change market sentiment.
Posted-In: JJ Kinahan TD Ameritrade The Ticker TapeNews Econ #s Markets
View Comments and Join the Discussion!