Snapchat Under Fire Again After Rihanna, Chris Brown Condemn Ad That Made Fun Of Domestic Violence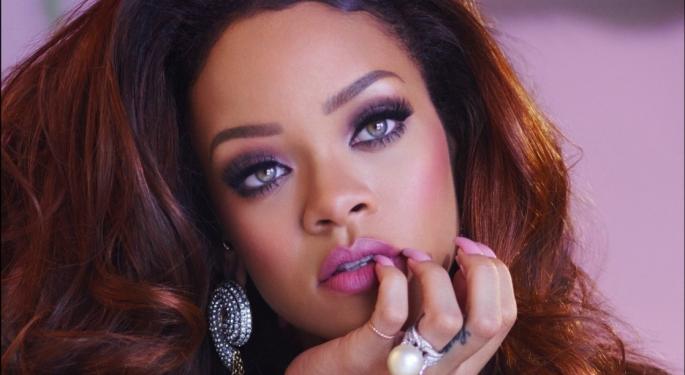 Less than a month after Snap Inc (NASDAQ: SNAP) was hit by some high-profile Hollywood criticism from Kylie Jenner, the stock is down more than 4.5 percent Thursday after taking some heat from pop stars Rihanna and Chris Brown.
What Happened
Rihanna posted on her Instagram account and called on her followers to delete the Snapchat app in response to a new ad on the Snapchat platform which asked users if they would rather "slap Rihanna" or "punch Chris Brown."
"Now SNAPCHAT I know you already know you ain't my fav app out there! But I'm just trying to figure out what the point was with this mess! I'd love to call it ignorance, but I know you ain't that dumb!" Rihanna wrote. "You spent money to animate something that would intentionally bring shame to [domestic violence] victims and made a joke out it!!!"
Below is an image of what the ad looked like: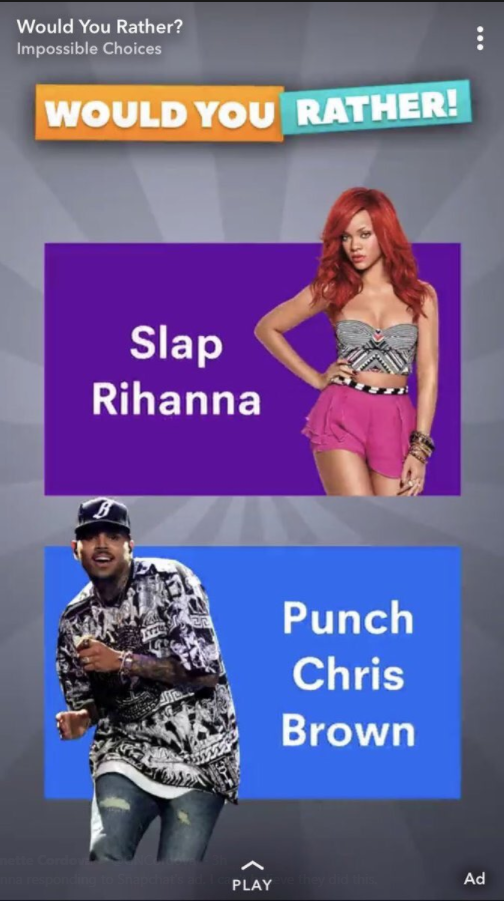 Close To Home
Rihanna was famously a victim of domestic violence. Former boyfriend Chris Brown was convicted of assaulting her back in 2009 and sentenced to five years of probation.
At the conclusion of her post, Rihanna said to "throw the whole app-ology away," seemingly requesting her followers should delete the Snapchat app.
Brown's attorney Mark Geragos also condemned the ad in an interview with Us Weekly.
"They should change their name from Snapchat to Tone Deaf," Geragos said.
Snapchat Responds
In a statement, Snapchat apologized for the ad, calling it an oversight.
"The advert was reviewed and approved in error, as it violates our advertising guidelines. We immediately removed the ad last weekend, once we became aware," the company said.
When Rihanna talks on social media, people listen. Forbes recently rated her the top social media superstar in the world with more than 23.8 million followers on Twitter Inc. (NASDAQ: TWTR) and 59.6 million followers on Facebook Inc. (NASDAQ: FB).
If only a fraction of Rihanna's followers comply with her request to bail on Snapchat, the app could potentially lose millions of users.
Snap's stock was trading around $17 at time of publication.
Related Links:
Kylie Jenner Tweet Lands Snap Short Sellers $163 Million Profit
More Than A Phone: The 'Light Phone 2' Fights Back Against Addictive Technology
Posted-In: Chris Brown Kylie Jenner Rihanna SnapChatNews Top Stories Tech Best of Benzinga
View Comments and Join the Discussion!