EUR/USD Forecast: Rejected At Downward Resistance, But The Euro May Win The Ugly Contest
The EUR/USD is trading around $1.2380, shaken by Draghi's dovishness, weak US retail sales, and Rexit.
The technical picture looks slightly bullish for the pair.
The EUR/USD is trading around $1.2380, a tad lower on the day. It received a minor boost to the upside by weak US Retail Sales. Headline sales disappointed with a drop of 0.1 percent, worse than a rise of 0.3 percent that had been expected. More importantly, the Retail Sales Control Group rose by only 0.1 percent to 0.4 percent expected. This core of the core measure falls short for the second month in a row.
The broader story for the US Dollar is "Rexit." The ouster of Secretary of State Rex Tillerson, a moderate and his replacement by CIA Director Mike Pompeo, a hardliner closer to Trump, worries markets. The intended new tariffs on Chinese goods and the previous tariffs on steel and the resignation of Gary Cohn, all move the Administration closer to Trump's America First protectionist agenda and away from trade.
In the euro-zone, ECB President Mario Draghi opened the Bank's conference in Frankfurt with dovish comments. He said that patience is needed regarding removing stimulus and that the high exchange rate of the Euro is weighing on inflation. The EUR/USD reacted negatively. The drop of euro-zone Industrial Output by 1.0 percent against a smaller slide of 0.4 percent that was projected did not help either.
Both currencies received negative news, but in this ugly contest, the Euro still looks better.
EUR/USD Technical Analysis - More upside than downside
The low of the day is $1.2361, just at the support level of $1.2360, which is a definite separator of ranges. Holding onto this level is a bullish sign. Moreover, the RSI is firmly above 50, and also Momentum is slightly positive.
Looking up, the $1.2412 is not only the high of the day but also where downtrend resistance meets the chart. So far, the pair has been rejected at this line. Further above, $1.2447 was the March 8th high, and it is followed by $1.2555, the 3-year high seen in mid-February.
On the downside, $1.2360 is even stronger now. It is followed by $1.2270, the March 5th low, and then $1.2205, the mid-February trough.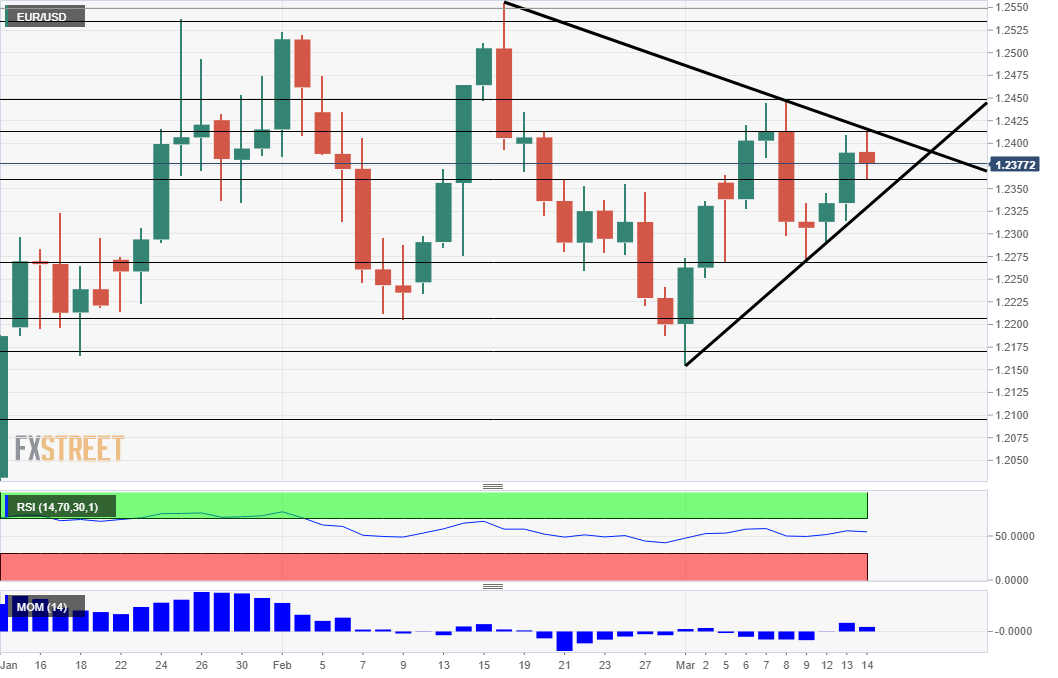 View Comments and Join the Discussion!