GBP/USD Forecast: Rexit, Not Brexit, Results In A Bullish Break
The firing of Rex Tillerson by Donald Trump sent the US Dollar lower and overshadowed other events.
The GBP/USD broke above a critical confluence line, and indicators turned positive.
The GBP/USD is trading around $1.3965, up some 60 pips on the day and it is trading at the highest in two weeks. US President Donald Trump fired Secretary of State Rex Tillerson and nominated current CIA Director Mike Pompeo to the job. Tillerson was seen as a moderating force while Pompeo is closer to Trump's views on Iran and North Korea.
The move, dubbed Rexit, sent the US Dollar lower across the board and Sterling took advantage of this. Earlier, the focus was on other events.
The US inflation report came out as expected: 1.8% YoY and 0.2% MoM on Core CPI. Headline figures came out as expected as well. A drop in the growth rate of real hourly earnings to 0.4% from 0.7% was a minor downer.
In the UK, Chancellor of the Exchequer Phillip Hammond laid out his Spring Budget which consisted of a small upgrade to GDP growth forecasts for 2018 but contained few other surprises. The Office for Budget Responsibility published assessments for Brexit and said it would hurt international trade, an unsurprising conclusion. The event was marginally positive for the Pound.
GBP/USD Technical Analysis - Turning bullish
The GBP/USD reached a high of $1.3970, the highest since February 27th. On the way up, the pair broke above $1.3935, which was a high point on March 6th and also downtrend resistance. The break of this level is a bullish sign.
Moreover, the RSI rose above 50 and Momentum turned positive. Adding further fuel to the fire, the pair advanced above the 50-day Simple Moving Average it has been battling with.
The next level of resistance is $1.4000, the round line, followed by $1.4070, a mid-February high.
$1.3935 now switches to support, followed by $1.3850 and $1.3770, which is already a healthy level of support.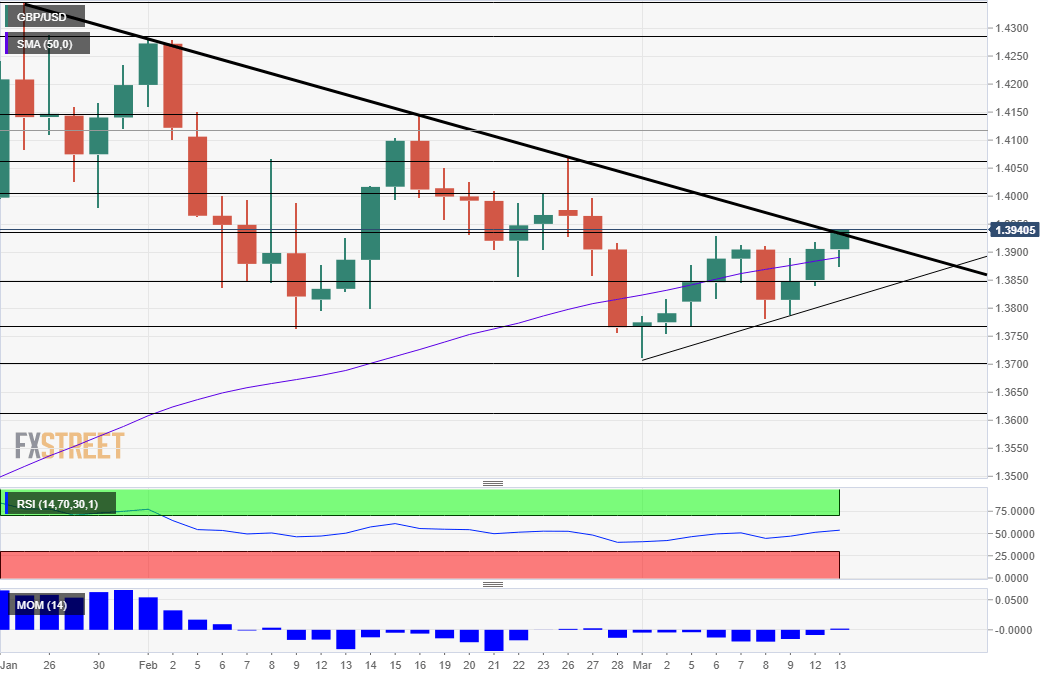 View Comments and Join the Discussion!