USD/CAD Forecast: Surging For 3 Reasons - Will It Break 1.3000 This Time?
The USD/CAD made a sharp move higher above C$1.2920.
There are three drivers for the pair to the upside: Poloz, Tillerson, and oil.
The pair has momentum but may enter the overbought territory.
The honeymoon the Canadian Dollar enjoyed after Trump expected the nation from the new steel and aluminum tariffs is over. The USD/CAD is on the rise, shooting higher to C$1.2939 before consolidating its gain.
Here are three reasons for the rise:
1) Dovish Poloz: The Governor of the Bank of Canada Stephen Poloz gave a speech in which he said that the Canadian economy can sustain further growth without generating inflation. In the speech at Queen's University in Ontario, the Governor also hinted the BOC may wait for inflation to appear before raising rates, rather than trying to stay ahead of the curve. This is a dovish comment that puts rate hikes on the ice, at least in the near future.
2) Rexit: US President Donald Trump sacked his Secretary of State Rex Tillerson. The ex-Exxon executive and now the ex-top diplomat was seen as one of the moderates. The nomination of CIA Mike Pompeo for the job will put a hawk in the job. Together with the ousting of Chief Economic Adviser Gary Cohn last week, the Administration is now leaning towards Trump's hard line. For Canada, it means a higher chance of trade tensions which have hurt the C$ so much.
3) Falling oil prices: The price of Canada's primary export is sliding. WTI Crude Oil is down to the $60 handle, trading some 1.50% down on the day. There is no immediate trigger but the ongoing slide in the price of black gold is also weighing on the loonie.
USD/CAD Technical Analysis - Nearing 1.3000 but also overbought levels
The pair broke above the 1.2920 level which was a triple-top. While the level was temporarily breached last week, the fresh surge above the line is still meaningful. The next line is quite obvious: 1.3000. Not only is this a round, psychological, level, but also the place where the pair stalled last week.
Above this level, 1.3080 is the 100% extension of the move from 1.2920 to 1.3000 and also worked as support in the past. Further above, 1.3180 is also a notable old line.
Looking down, 1.2800 is another round level and also the low point this week. Below, 1.2760 was a swing high in late February and it is followed by 1.2680, a swing high from early February.
The RSI is quite high, nearly 70 which already represents overbought levels. While the fundamental reasons support another spike, the pair may be out of fuel.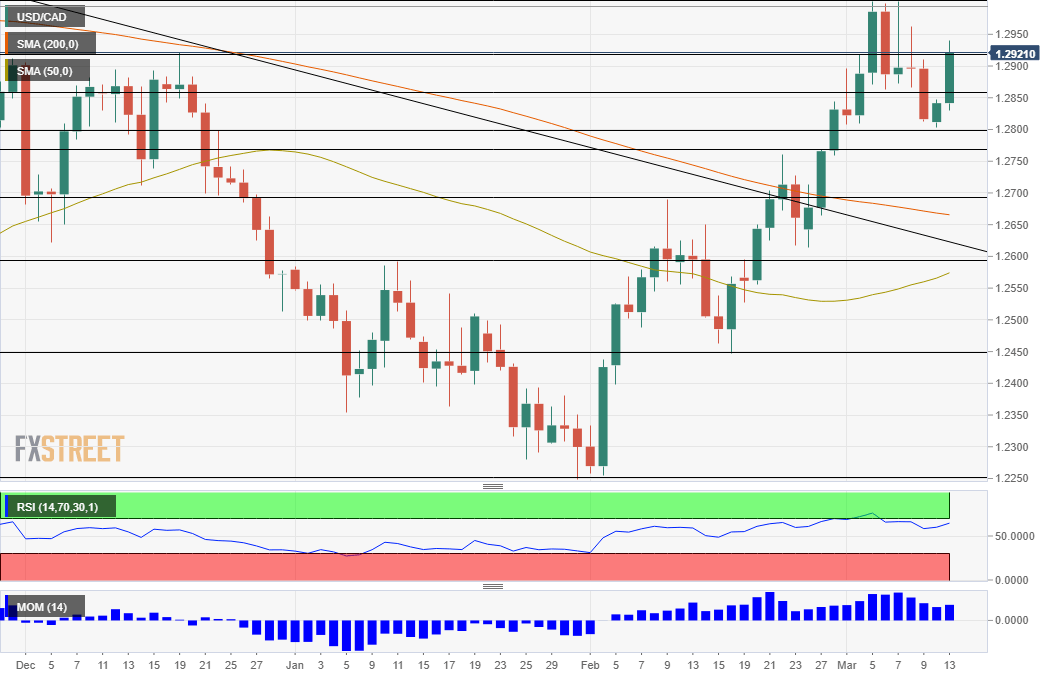 View Comments and Join the Discussion!