Where AI, Data, Blockchain Fit In The Trucking Industry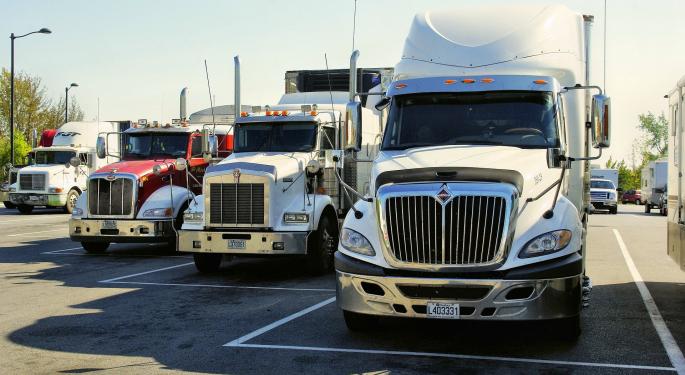 Experts expect an influx in autonomous vehicles in 2020, but the lane change may take longer for cargo carriers.
"This transition is going to be occurring over a five- to 10-year period in certain segments, but not everywhere," Steve Boyd, cofounder of Peloton Technology Inc, said Monday during a panel at the South By Southwest Conference in Austin, Texas.
Inch by inch, though, the trucking industry is converting to the tech of the times.
What's Changing?
There's fresh leveraging of data analytics, with KeepTruckin' tracking driver patterns and routes to improve fleet management. The firm improves efficiency with electronic logging and truck-to-truck connectivity.
There's data curation, with FR8Star — the "Airbnb of trucking" — managing a marketplace for flatbed trucks. The company automates the matching of truckers and clients and uses machine learning to streamline bidding and negotiate pricing.
KeepTruckin's artificial intelligence and video surveillance alert drivers drifting lanes or riding bumpers, and Peloton Technology's sensors and safety mechanisms improve driver teamwork in platooning.
Blockchain, too, may be on the horizon, reducing fraud and theft by confirming party identity in the freight-delivery process. "It's a perfect application for blockchain," Matthew Kropp, cofounder of FR8Star, said at the conference.
What's Not Changing?
Much is changing, but a lot will stay the same, including the need for human presence for wide or heavy loads.
"I would wager that you maybe never see those going on fully autonomous transport," Kropp said. "There's so much to how to load the truck, how to strap it down, all the safety concerns about moving things of this size… The idea that those kinds of loads would ever run without a driver in the car — probably not going to happen."
Even segments better suited for autonomous transport wouldn't necessarily obviate the driver.
"I foresee the vehicle being attached to the driver for quite some time," Lori Heino-Royer, director of business innovation at Daimler Trucks North America, said during the panel.
The human manager would be freed to work on logistics while overseeing the delivery process and remaining on-hand for roadside maintenance.
What Does It Mean?
Tech integration is a big deal for companies like Knight-Swift Transportation Holdings Inc, USA Truck, Inc. (NASDAQ: USAK), Werner Enterprises, Inc. (NASDAQ: WERN) and J B Hunt Transport Services Inc (NASDAQ: JBHT).
For one, it optimizes platooning and route matching, which ultimately saves on fuel. Access to driver-safety data also sets the stage for cost-cutting insurance incentives, and automated negotiating cuts brokerage fees that eat into earnings.
"Trucking companies by and large are small businesses," Kropp said. "…They don't have the access to technology that the bigger fleets have, they don't have an IT department, so they really don't have the ability themselves to create really efficient operations, and they rely a lot on these brokers to give them business."
Those small-scale players, in particular, are seen to get a significant and long-awaited leg up.
"What we were able to do is bring that technology in the market into the small carriers, giving them the same tools that had only been available to the big guys for a very long time," Boyd said.
Related Links:
What Is Machine Learning? Deep Learning? Here's Your AI Glossary
The Tesla Semi: Why Truckers Want It And How Important It Could Be
View Comments and Join the Discussion!
Posted-In: artificial intelligenceNews Travel Events Top Stories Tech Trading Ideas General Best of Benzinga