MoviePass To Offer $7.95 Subscription, Launch Streaming-Bundle Package In Push To Get 5 Million Subscribers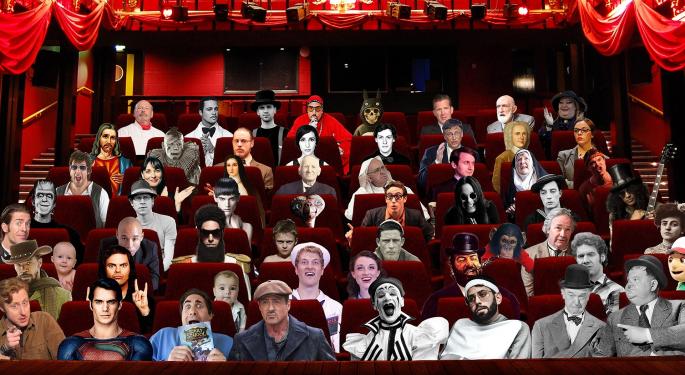 MoviePass on Monday will lower its monthly price from $9.95 to $7.95, in the company's first bundled package that will include a subscription to streaming service Fandor.
The $7.95 offer, available only to new customers, includes a $19.95 activation fee and one-year access to Fandor, which offers about 5,000 titles.
MoviePass became the fastest growing paid subscription company in tech history, according to Helios and Matheson Analytics Inc (NASDAQ: HMNY) Chairman and CEO Ted Farnsworth, with over two million subscribers in six months.
Farnsworth told Benzinga he expects the latest announcement to push the company to 3-5 million subscribers, which will ultimately have big implications on the box office. The service currently has about 2 million subscribers.
"The big misconception with our model [is that] everybody always assumed it was about making money on the subscription," Farnsworth said Thursday in an interview. "That was never the focus. The focus was on data.
"We're a data company. We are the only company that can actually tell [someone] went to the movie," he said.
This news first appeared on Benzinga Pro. Sign up for a free trial here.
'We're A Data Company'
Farnsworth said when he first bought control of MoviePass in August of 2017, it had just 20,000 subscribers. His theory was that you can get millions of subscribers and move people from theater to theater, disrupting an industry "and make money along the way."
More than 5 percent of all movie ticket sales last week came from MoviePass, Farnsworth said. The company has been able to grow with virtually no marketing costs, generating all the buzz through word of mouth.
"The other thing people don't realize, when you look at a Netflix or Spotify, their cost of acquisition is around $25-$45 per user. Our cost of acquisition per user since we launched in August is zero," Farnsworth said.
The company is able to drive revenues to the movies it partners with, and is starting to become an essential catalyst for movie studios that want to make sure they have a big opening week.
"We definitely have flipped Hollywood and they are definitely paying attention," Farnsworth said.
At time of publication, shares of HMNY were trading around $8.60, up 8.4 percent.
Related Links:
The Pros And Cons Of MoviePass
Helios And Matheson CEO: MoviePass Open To Netflix, Amazon Prime Partnerships
View Comments and Join the Discussion!
Posted-In: Fandor MoviePass SpotifyNews Top Stories Exclusives Tech Interview Best of Benzinga