GM, Toyota, Honda Pull Ahead With January Sales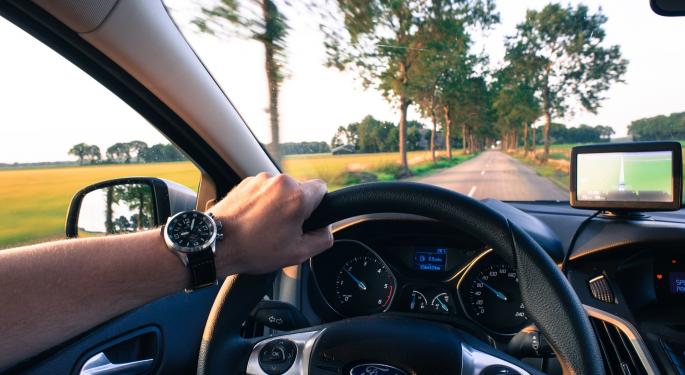 The last month could have been an acceptable loss in the automotive industry.
"January is typically a ho-hum month for auto sales following the major holiday blowout sales we see at the end of the calendar year," Jessica Caldwell, executive director of industry analysis at Edmunds, said in a press release. "Shoppers at this time of year are driven by necessity, and the disproportionate drop in luxury sales drives down the average price."
A ho-hum month it was, but only for some. Ford Motor Company (NYSE: F) and Fiat Chrysler Automotives NV (NYSE: FCAU) saw year-over-year sales declines, while General Motors Company (NYSE: GM), Toyota Motor Corp (ADR) (NYSE: TM) and Honda Motor Co Ltd (ADR) (NYSE: HMC) posted improvements.
GM topped the rankings with 198,548 vehicles sold, followed by Toyota (167,056), Ford (161,143), FCA (132,803) and Honda (106,380).
Here are the company breakdowns:
Ford Fades On Fleet
Ford's retail and fleet segments waned 4.3 percent and 12 percent, respectively, contributing to an overall annual sales dip of 6.6 percent.
The decrease was driven by a planned paring of the daily rental segment, a 23.3-percent drop in car sales and a 5.9-percent decline in SUVs. Trucks, alone, posted positive gains at 2.2 percent.
Amid the stumble, Ford set the company's record average transaction price of $37,000 against the industry's January average of $32,100.
"U.S. economic factors are very healthy and we're seeing the effect in the auto industry — not just in strong demand for SUVs and pickups, but in demand for high trim versions of vehicles," Mark LaNeve, vice president for U.S. marketing, sales and services, said in a press release.
GM Buoyed By Government, Commercial Sales
GM reported a 1-percent increase in January sales driven by a 20-percent pop in crossovers and 7-percent increase in trucks. Retail weighed on the total with a 2-percent decrease, while fleet sales popped 16 percent on commercial and government deliveries.
Fiat Chrysler Fumbles
Despite posting its second-highest retail sales in 17 years on a 2-percent year-over-year improvement, Fiat Chrysler saw a 13-percent decline in total sales.
Chrysler (down 21 percent), Dodge (down 31 percent), Ram (down 16 percent) and Fiat (down 43 percent) all suffered double-digit declines, while Jeep (up 2 percent) and Alfa Romeo (up 1,426 percent), a newer brand with hardly a comparative term, reported increases.
The firm continued to reduce fleet sales with a 50-percent cut.
No Negatives For Toyota
Toyota North America recorded a 16.8-percent total sales increase driven by a 17-percent rise in Toyota and 15-percent pop in Lexus.
The divisions posted best-ever sales in light trucks, the RAV4, 4Runner, Highlander and NX, with increases across all other segments.
"We're encouraged by the strength of the market and the momentum we have with a full calendar year of the all-new Camry, followed by the launch of the all-new Avalon in the spring," Jack Hollis, group vice president and general manager of the Toyota division, said in a press release.
Honda Posts Record Sales
American Honda set a new January sales record on a 5.9-percent year-over-year rise.
The Honda division posted best-ever sales for the month on a 7.7-percent increase, while Acura figures faded 10.2 percent.
"Our conservative approach to growth was criticized when the industry was growing faster but it is clearly paying dividends now as industry sales are flattening," Jeff Conrad, senior vice president and general manager of the Honda Division, said in a press release. "A steady cadence of products and disciplined sales tactics is the right approach for customers and dealers."
What's Down The Road
Cox Automotive expects a positive economic backdrop to support automotives throughout the year.
"There's a lot of good economic news to support an optimistic view of automotive sales this year," Charlie Chesbrough, senior economist at Cox, said in a report. "Record equity markets, low unemployment, strong consumer confidence — a recipe for robust vehicle demand. And the recent passage of tax reform will only add additional support."
At the same time, Edmunds forecasts a right-sizing of bloated industry levels.
"The industry continued to do a good job of addressing aging inventory in January, but it remains an issue heading into the rest of 2018," Caldwell said. "The only time the proportion of prior model-year vehicles was higher in January was in 2009, after sales collapsed due to the recession in the closing months of 2008. The good news is that automakers are adjusting their product roadmaps to avoid making the same mistakes they made in 2017."
Related Links:
Fiat Chrysler CEO Sergio Marchionne Talks Succession Plan, NAFTA, EVs
Honda, Volvo, Lincoln Win Vehicle Of The Year Awards At NAIAS
Loup Ventures: Detroit Auto Show Strengthens AV Timeline, Inspires Confidence In Motor City
Posted-In: Charlie Chesbrough Cox Automotive Edmunds Jack Hollis Jeff Conrad Jessica Caldwell Mark LaNeveNews Best of Benzinga
View Comments and Join the Discussion!