The XFL Is Coming Back: Vince McMahon Promises 'Fan-Centric, Innovative Experience'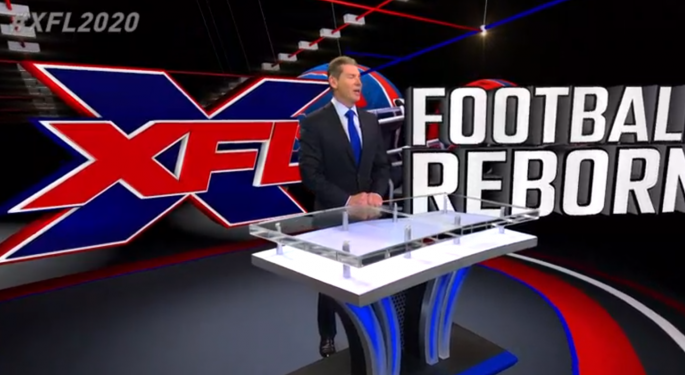 It's official: Word Wrestling Entertainment, Inc. (NYSE: WWE) CEO Vince McMahon is taking another shot at what many consider the biggest flop of his business career—the XFL.
McMahon announced that the XFL will be back on the gridiron in 2020, only this time he will be taking a more family friendly approach and doing it through privately-owned Alpha Entertainment rather than using funding from WWE.
WWE stock initially tumbled more than 8 percent in December when McMahon sold more than $100 million of his WWE stock to raise cash for a professional sports venture.
WWE shares showed little reaction following Thursday's 3 p.m. ET conference, as McMahon assured shareholders the XFL would have no major financial ties to WWE and his duties with the new football league will not impact his daily responsibilities at WWE. McMahon plans to hire an entirely separate management team to work on the football project while he takes a back seat.
Few Details
As far as the league itself, McMahon provided few details but said the goal is to take a multi-platform approach and create a faster, simpler more fan-friendly game.
"We want a faster game. We want a more exciting game. We want rules that are simplified. In the end, we want it to be more fan friendly with more engagement," he said in an interview with Sports Business Daily.
Are you excited for the new XFL? #XFL2020

— Benzinga.com (@Benzinga) January 25, 2018
McMahon is targeting an average game length of two hours. He said the league will initially include eight teams with 40-man rosters, and the teams will play 10 regular season games. City selection will take place in the coming months.
McMahon told Sports Business Daily there will no cheerleaders, no players with arrest records, and that players must stand for the national anthem. He said during the press conference that the "quality" of the human being would be a factor. "You want someone who does not have any criminality whatsoever associated with them. Even if you have a DUI you will not play in the XFL," McMahon said.
Dollars And Cents
Alpha Entertainment will start with $100 million in funding, and McMahon said he will have "plenty of capital" to bring his vision to fruition.
WWE and partner NBC reportedly lost $35 million each on the original XFL, which launched in 2001 and lasted just one season. Professional football represents an estimated $14 billion market, which is currently dominated by the NFL.
WWE's stock closed at $34.13, an all-time high. Shares are up 75 percent over the last year.
Related Links:
Vince McMahon's 5 Biggest Business Flops
Posted-In: Alpha Entertainment Vince McMahon XFLNews Sports Events Top Stories General Best of Benzinga
View Comments and Join the Discussion!