Today In Blockchain: KodakCoin, AMERI, NQ Mobile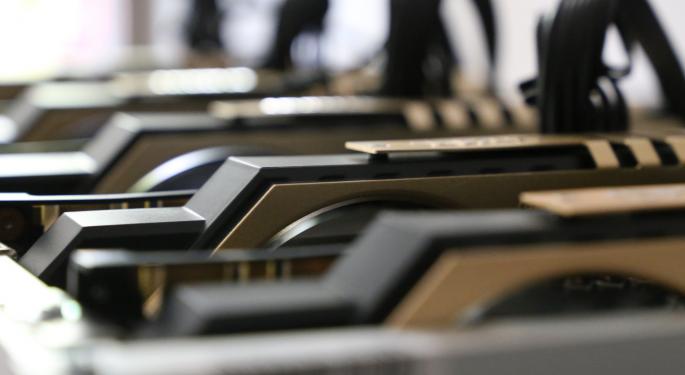 The past few weeks have seen multiple stocks moving sharply on blockchain-related news, a trend that continued in Wednesday's pre-market session. Among some of the movers were Eastman Kodak Company (NYSE: KODK), AMERI Holdings Inc (NASDAQ: AMRH) and NQ Mobile INC (ADR) (NYSE: NQ).
Kodak
Tuesday's news that Kodak is planning a photo-centric cryptocurrency through a partnership with WENN Digital Partners was met with heavy market attention. "KODAKCoin" will work in conjunction with the KODAKOne image rights platform, which will allow both professional and amateur photographers to license their work for compensation via KODAKCoin upon sale, according to the Rochester, New York-based company.
Despite concerns that the growing market for cryptocurrencies is risky and speculative, WENN CEO Jan Denecke said in a statement "it is critical photographers know their work and their income is handled securely and with trust." KODAKOne will be subject to the "highest standards of compliance," Denecke said.
Following news of the ICO, which is set to take place Jan. 31, Eastman Kodak shares rallied, closing up 121 percent at $6.85 on Tuesday. The spike continued Wednesday, with the stock up 61.76 percent at $11 at the time of publication.
AMERI Holdings
AMERI Holdings, a Princeton, New Jersey-based technology services firm offering SAP cloud, digital and enterprise services, announced the establishment of a blockchain initiative aimed at improving supply chain visibility, transparency and efficiency. The initiative will "yield substantial time and cost savings," CEO Brent Kelton said in the announcement, adding that the deployment of blockchain technology represents "an investment in the company's future success."
Following the announcement, shares of AMERI Holdings saw Wednesday pre-market session gains of 186.5 percent, with that momentum continuing into the trading session. Shares were up 93.68 percent at $6.62 at the time of publication.
NQ Mobile
The Beijing-based smart ride developer saw a strong start to the trading day on Wednesday after the company's subsidiary Linkmotion Holdings released a paper on the company's plans to integrate blockchain and AI capabilities into their CarBrain project for software-designed cars. CEO Pasi Nieminen said the company is "positioning Linkmotion for the future," a future in which Nieminen said "vehicles will become an integrated part of a connected infrastructure."
NQ Mobile was trading up 0.75 percent at $4.01 at the time of publication, down from an opening price of $4.52 on Wednesday.
Find Blockchain News Fast With BZ Pro
The Benzinga Pro platform offers traders and investors a quick way to find news related to blockchain and cryptocurrency.
Users can also employ the same filter for keyword "cryptocurrency" by replacing "blockchain" in the search field.
To see even more related news, click the SOURCES button in the top left of the Newsfeed widget. Turn on Press Releases by clicking the checkbox next to that phrase. Users will now be exposed to not only Benzinga Pro headlines, but also press releases which contain that keyword.
View Comments and Join the Discussion!
Posted-In: Blockchain ICO initial coin offeringCryptocurrency News Intraday Update Movers Trading Ideas Best of Benzinga